Lulu eGames winfall for Ataristicians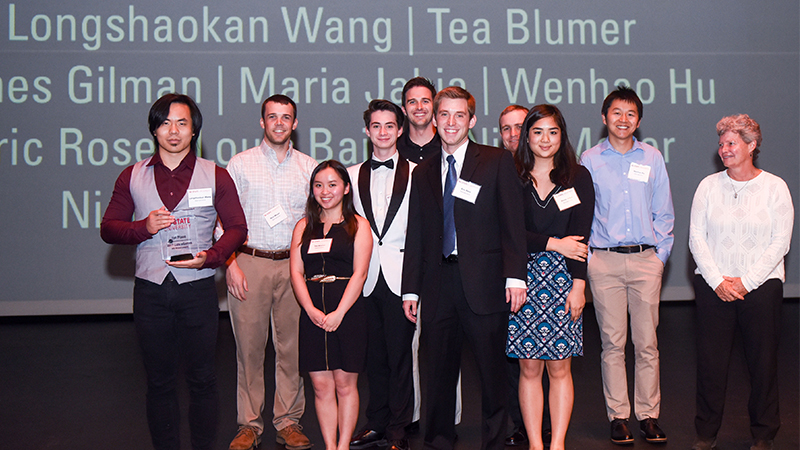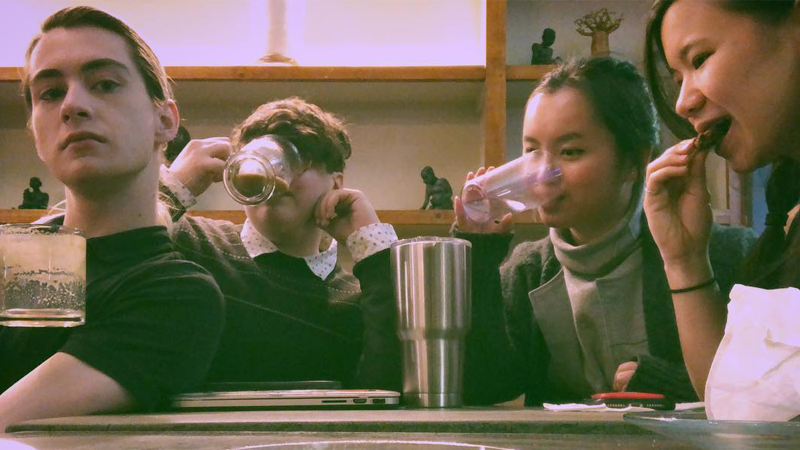 The Lulu eGames is NC State University's largest startup competition, with more than $100k in prizes up for grabs. The annual event takes place during the spring semester and includes two rounds of competition for entries within six unique categories: New Venture, Design & Prototype, Social Impact, Arts Venture, Built on Cloud, and Daugherty Endowment. This competition is funded by the generosity of Lulu.com.
The 2017 Lulu eGames received a record number of entries with 192 submissions, representing 10 of the academic colleges. From these entries, a panel of judges chose 21 finalists. Entries were judged on the submission of a two-page executive summary and a 60-second video pitch. Each finalist had the opportunity to do a live-pitch during the final selection process. In addition, all video pitches were part of an online voting platform for Fan Favorite within each of the categories.
On April 20th, the competition was held and included an Entrepreneurs Expo, a Networking Reception, and the Awards Ceremony held at the Talley Student Union.
Three of the final ventures included students from the College of Design:
Entry: Lytle: An ambient light source with a built-in iPhone charging port designed to support a healthy sleep cycle and screen-free bedtime ritual.
Design Student: John Clark Cochran, ID graduate program
Category: Design and Prototype: For ventures with a new product concept design or prototype
Entry: Rhythm: A data-driven health monitoring system for firefighters.
Design Student: Nancy Rekhelman, ID graduate program
Category: Social Impact: For ventures using the power of business to solve environmental and social challenges
Entry: Ataristicians: A venture aimed at combining video games with artificial intelligence research and statistical teaching
Design Students: Lisa Wong, senior in Graphic Design; Téa Blumer; sophomore in Art + Design, and Louis Bailey, senior in Industrial Design
Categories: New Venture: All students ventures were eligible to compete in this category;
Social Impact: For ventures using the power of business to solve environmental and social challenges;
Built on Cloud: For ventures utilizing IBM's Cloud Services;
Arts Venture: For art-based ventures or ventures that support the arts community.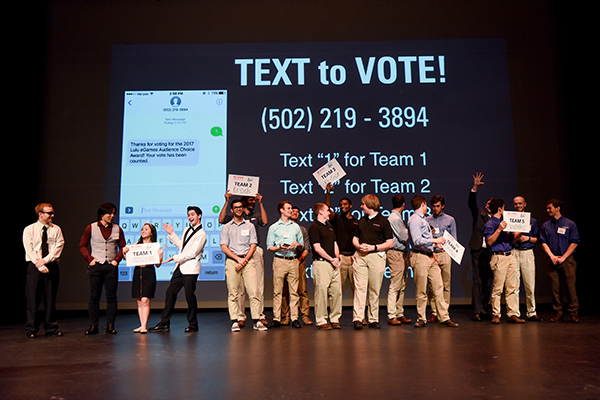 Atariasticians took home several prizes including 1st Place in Arts Venture, 3rd Place in Built on Cloud, 3rd Place in Social Impact, and Fan Favorite for Video in the Social Impact category. The team comprised of: Longshaokan Wang, Téa Blumer, Eric Rose, Nick Meyers, Nick Kapur, James Gilman, Wenhao Hu, Lisa Wong, and Maria JahJa, is an interdisciplinary group of students from statistics and design. Together they made it clear that their product venture was just as fun as it is educational. Between a whimsical rhyming pitch video and a costumed live pitch, the team showed their creativity and ingenuity.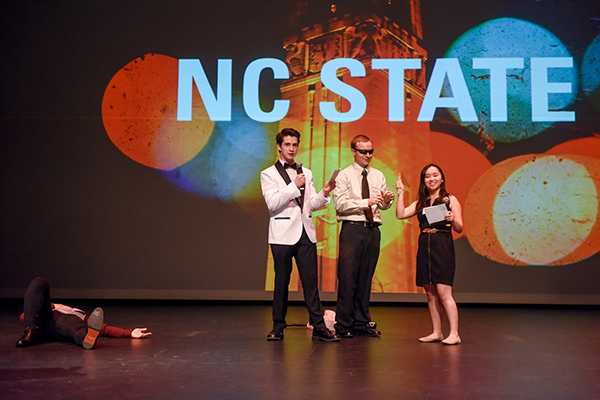 Atariasticians is a game-based program based on several modules that encourage students to learn more about statistics. The team wants to make learning fun, while building the next generation of data scientists. The name may sound complex, however, "It's a simple combination of games (Atari – the iconic digital game of the 70's and 80's) and statistics, which the group is focused on," states Lisa Wong.
The idea for the venture was formulated through student involvement with the NC State Laber Lab, led by Eric Laber, PhD, Associate Professor of the NCSU Statistics Department, Principal Investigator, and Faculty Scholar NC State. Laber was the team advisor and whom Wong describes as, "very enthusiastic about statistics and one of the nicest professors you will ever meet." She also believes, "having his credentials and helping us get the connections with the American Statistical Association (ASA), and additional networking opportunities, was very important."
Wong, originally the only designer on the team was asked to join the group by a high school friend, who was aware of her design talents. It was soon apparent that more designers were needed. Wong reached out to Téa Blumer. Together, the dynamic duo, have really enjoyed the opportunity. "We supplement each other with our abilities and bring out each of our strengths," Blumer states emphatically. They then brought on Louis Bailey, to do voice-over and are sharing their software knowledge so that he can assist with creating animation and video.
"Everyone else on the team is a statistic major whose focus was on coding and theoretical thinking. We were consulting and developing graphics on how to prepare the best presentations," say Blumer. "We developed the graphics to compliment these games, in addition, we were creating animation that educate you on different topics of statistics."
The experience has been rewarding and challenging, however, both designers would certainly do it again. "I love the inter-disciplinary work and being able to interact with these statistic majors to create these products. They are interested in different parts of statistics and to be able to create and share this product with others has been amazing, says Wong. "So interesting to consider and learn that there are other majors out there and what they do is interesting."
For Blumer, she sees the possibilities, "Design can be applied to almost anything, its is so versatile. It is another form of communications to express and translate information and ideas to others."
While working on the projects, both Blumer and Wong learned a lot of about statistics and collaborating with others. "I'm making the graphics for Snack Attack [one of the modules], and they [the stats majors on the team] are trying to explain the concept of how they developed something and I need to understand it so that I can translate this to graphics." She continues: "so we have to have an understanding of each other and the language that we use is specific, so you sometimes have to step back to be able to communicate. We are being educated by each other."
With the winnings garnered from the Lulu eGames, the team has decided to continue the production of their venture. "Possibly bring on more designers," says Wong. "With seven developers and two or three designers, the work gets halted at times."
"Our pitch was for marketing," states Blumer. "We already have a partnership with ASA to promote and spread the awareness of Ataristicians." Blumer, whose mom is a teacher, understands the value of their product. "It would be interesting if we are able to provide these animations and modules to teachers for free. We are hoping to integrate them into AP Stats within the high school's as a fun alternative or supplement to standard teaching."
"We are in the process of developing modules for summer camp with different levels of difficulty," interjects Wong. "A way to show the concept in action of the game – even if you know nothing about the concept you can still learn the game. The game allows you to explore it further if you so wish—it's not forceful."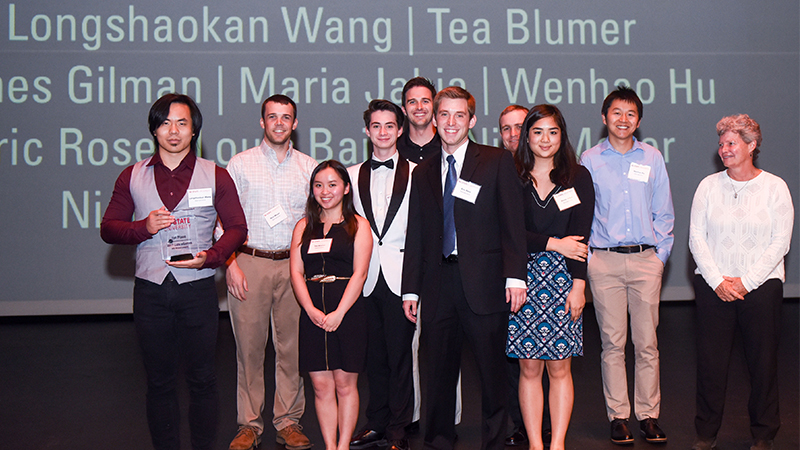 One of the strengths of the Ataristicians team was the fact that their venture was originally not intended for the purpose of the Lulu eGames, it was a coincidence that timing and planning coincided. "We had a prior vision," says Wong, "it was easy to translate the business plan and we already had the games and modules ready to show. It wasn't built specifically for Lulu, it worked to our advantage."