Industrial Design Student Receives Coveted Celia Moh Scholarship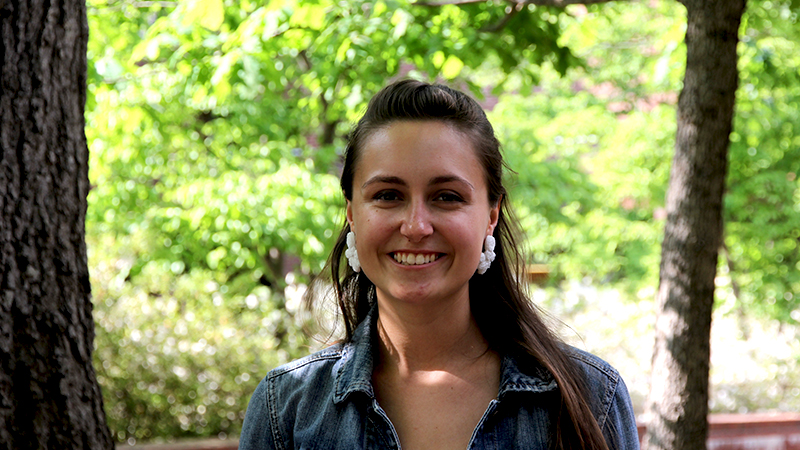 Olivia Koval, an undergraduate industrial design student at the College of Design and student director of Art2Wear, was selected to receive the Celia Moh Scholarship for her upcoming senior academic year. This extensive scholarship will pay for full tuition, room, board, books, and fees. Koval is one of only five students from around the country to receive the scholarship this year.
The Celia Moh Scholarship was established in October 2001 by furniture industry entrepreneur Laurence Moh to honor his wife, Celia. The scholarship program, funded by Mr. Moh's initial gift of $3 million, was established to provide full tuition scholarships for students whose academic endeavors would logically lead to careers in the home furnishings industry. The scholarship's purpose is to recognize and nurture the academic endeavors of preeminent college undergraduate students enrolled full-time in home furnishings programs.
The Celia Moh Scholarships cover the cost of full-time tuition, fees, room, board and books for college juniors and seniors at Appalachian State University, Catawba Valley Community College, East Carolina University, High Point University, Kendall College of Art & Design, Mississippi State University, North Carolina State University, and Virginia Tech.
The application process requires candidates to complete an extensive questionnaire, write a personal essay, obtain instructors' recommendations, and provide a college transcript illustrating exceptional academic achievement. A scholarship committee comprised of notable home furnishings industry executives selected Koval and the other students. Ninety-seven full scholarships have been awarded in the program's sixteen-year existence.
Koval learned about her award when her parents called to share the news. "It is just amazing," says Koval. I am so honored to have been asked to apply and then to receive the scholarship, It hasn't quite sunk in," she adds.
For more information about the Celia Moh Scholarship program, please visit www.mohscholarship.org.