Fusing Design and Engineering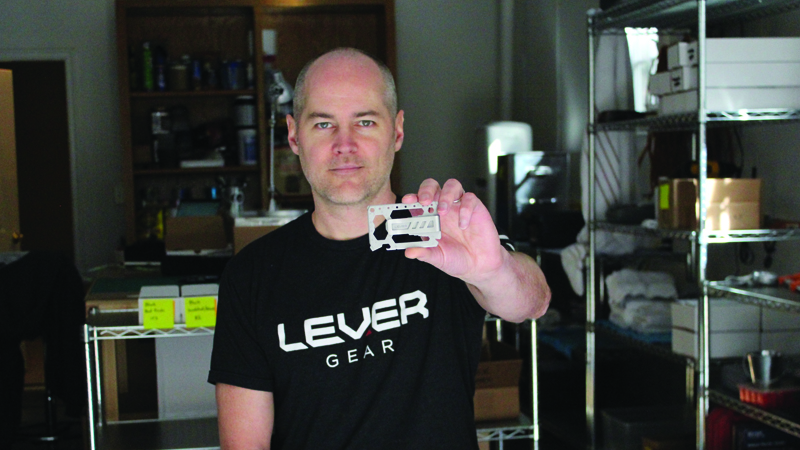 "I got into mechanical engineering because I liked to build stuff and tinker, solve problems, and I was good at math," states Mike Scully, the founder of Lever Gear, a manufacturer of handheld multi-tools. Based on his talents and interests, Scully was encouraged to pursue a degree in mechanical engineering at NC State. It was a good fit.
While attending, he was offered a co-op with IBM. He participated in a collaborative project that also included industrial design students. "Seeing what they did and the creative side seemed interesting and fun." This led him to take a design course for non-design majors; through that experience, he decided he would complete his engineering degree and continue his education at the College of Design.
He became a graduate student in industrial design. A Track 3 student's first year is focused on learning the fundamentals of design and the needed skills: drawing, ideation, design thinking, and the iterative process. The environmental change from engineering to design was unique and refreshing to Scully. "In engineering, there are a lot of right and wrong answers, and it is very rigid," he says. "In design, it is wide open, and there is more flexibility."
"There is a purposeful design process to go through—a very structured creative process" that Scully describes as part of the ideation and brainstorming to discover the design possibilities. "It's broad to narrow, broad to narrow, until you formulate the best design solution."
As a design student, Scully took part in the Product Innovation Lab, an interdisciplinary course in which student teams from various disciplines formulate, design, and evaluate new product concepts. This PIL course was co-founded by Professor Emeritus of Industrial Design Haig Khachatoorian, IDSA (in 2009, the course was named by Forbes Magazine one of the top ten innovative business courses in the US). It was during this course that Scully realized the value of his engineering degree complimented by design. He also learned an invaluable lesson: In engineering, there are tight constraints to solving problems. Design is all about "letting go of the constraints of the project at the beginning and [being] more creative," he says. Scully credits Vince Foote and Bryan Laffitte, both professors of industrial design, as continually impressing this upon him.
A summer internship with Compaq in their commercial laptop division, located in Houston, TX, provided additional real-world experience for Scully. He was given the opportunity to come up with a mini-thesis project of his choosing and develop it throughout the summer. The project became the property of IBM, but he was encouraged to use it in his portfolio.
In 2000, Scully received his MID degree and was ready to put his engineering and design skills to use and experience some fun. He headed to San Francisco, CA, and landed a job at a consulting firm. His dual degree was beneficial, as the firm provided engineering and design services. Being a part of a small firm offered him the opportunity to experience all aspects of the business, and he learned a lot.
Needing a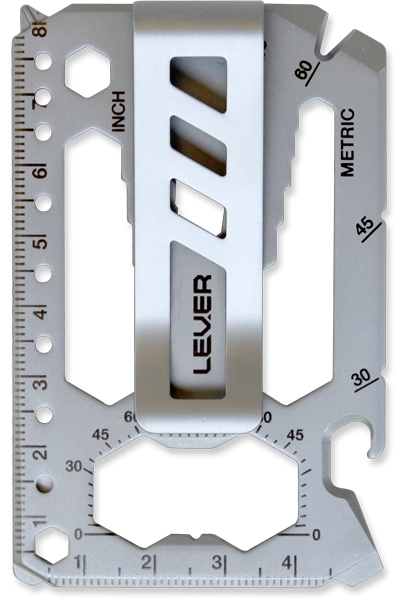 change, Scully started to look for a position in a larger firm. At the time, he had his portfolio online, which was garnering freelance work that continued to flourish. "I decided to start my own firm and became a freelance design agency working on contract projects," Scully states. "It was great experience, but I was missing the collaboration and group environment, and I felt isolated." He decided to ask around on Facebook "to find other designers who were in a similar position," and the response he received was enthusiastic. It led to the founding of Design Guild San Francisco, a collaborative studio environment for professionals with a variety of design discipline expertise to come together and share space, ideas, and resources. "It was co-working before co-working was an idea," he says. The creative space offered an opportunity to collaborate, as well as and the socialization and interaction Scully sought.
Business was great, but his clients were all companies who had their own visions of a product. Despite the resources and connections they offered, Scully was yearning to design his own products—from the inception to the manufacturing.
A move from San Francisco to Asheville, NC, became an opportunity to take the leap of faith and start a company that would satisfy his desire to design products that he says could "tick all the right boxes with aspects of design and engineering" and that were not just aesthetic, but functional and engineered to last.
"I was always looking for the right project and had a few stalled starts that didn't work for whatever reason," he muses. With his new company, Lever Gear, his intent is to design high-quality, timeless products that fit within the everyday carry market, or EDC, a niche of the items that you carry with you on a daily basis. Items include all aspects of preparedness and will be well-designed for a personal style.
"I discovered there was this whole market already built. The Toolcard, our first project, fit all the parameters of a quality product and the market I wanted to be in," he emphasizes. He also wanted his product to be simple, with a limited number of parts that would allow him to control the entire process. In the consumer electronic market, the product is so complex it may require a large amount of contracting out componen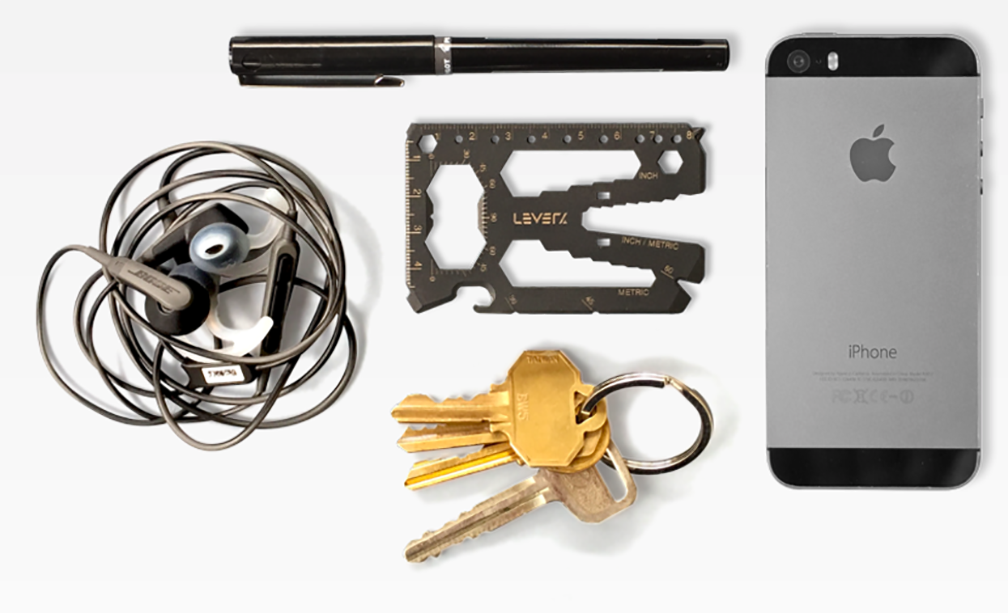 ts and pieces.
In addition, he wanted his product to be small, easy to store and ship, and be within a certain price point. The Toolcard, again, satisfied these requirements. The idea for the Toolcard started years earlier with a design exercise he self-initiated. The idea was to design something about the shape of a credit card; however, the design and the project never went anywhere. That is, until years later when he was in a gift shop and stumbled upon a multi-purpose wallet and realized that it was similar to his unfinished idea. "This item was neat, but not very well optimized, and I realized I could design this product and do it a lot better."
And so the Toolcard was developed. Scully did some market research to determine the viability, what was currently on the market, and how he could improve for better functionality. What he designed is a product that incorporates 40 tools and a detachable money clip into a compact, stainless steel device for under $30. Some of the features included are a bottle opener, a can opener, various wrenches, a ruler, a cord cutter, a nail puller, a screwdriver, and a protractor. The items can also be personalized.
Scully believes that "if you are going to carry something around for a while, [you should] get something that lasts." Sales seem to be supporting his vision.
Lever Gear is still in its infancy, however, Scully and his wife, who does the marketing and promotion for the company, are optimistic. "We have ideas for different products and are currently working on them," he states. "We want to take our time with the design and development process. It needs to be right—we don't want to rush it."