NCARB supports NCSU AIAS with $7500 Grant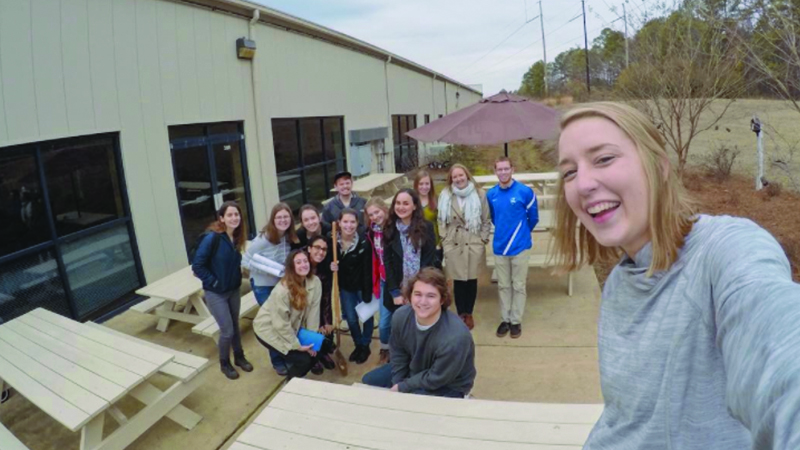 In June 2016, the National Council of Architectural Registration Boards (NCARB) initiated a partnership with American Institute of Architecture Students (AIAS) organizations across the country with the purpose of providing improved support and access to tools and resources through the Freedom by Design Materials Grants. These grants offer valuable funding to Freedom by Design (FBD) student projects. FBD is the community service design-program of AIAS, with a unique focus on outreach that enhances the lives of others in underserved populations. Each FBD Program organizes community-based projects that encourage students to give back to their communities through the creative design skills they acquire during their coursework and provides a unique opportunity for architecture students to earn Architectural Experience Program® (AXP®) hours towards licensure as architects.
NCARB CEO Michael Armstrong states that, "NCARB is honored to support a program that prepares the next generation of architects for real-world practice while giving back to the community." He continues: "Through Freedom by Design, students can see firsthand how their future profession[s] can improve the public's welfare."
Last week, the NC State College of Design's AIAS FBD chapter was notified of their award. Gabby Seider, M.Arch Candiate and AIAS NCSU Freedom by Design Director, says, "This is just amazing. The $7,500 grant will allow us to provide better solutions for the needs of our current partner, Life Experiences, Inc."
Life Experiences is a nonprofit organization based in Cary, NC, that provides work experiences for adults with varying disabilities while delivering services and products to the community. They operate five small businesses, including bakery services, shredding services, buckwheat hull packaging, laundry services, and sub-contracting services such as assembly, collating, and letter insertion. Employees are trained in specific tasks as well as life-sustaining skills including growing vegetables, cleaning, and social interaction. There are seven full-time staff and approximately 50 employees with disabilities who work at their 10,000-square-foot facility, situated on 2.5 acres.
Seider explains that the client wishes to improve the outdoor experience for their employees. "On the north-facing side of the building, they have a large patio area with picnic tables where employees often gather. Unfortunately, there is very little shade, and in the summer the direct sun makes it easy for employees to overheat while sitting outside. Life Experiences, Inc. is interested in sensory opportunities – fabrics, plants, and natural woods that can combine harmoniously to create a variety of spaces for both social gatherings and peaceful contemplation."
Last year, the NC State Design AIAS FBD chapter community project addressed the challenge of designing for individuals with developmental disabilities—in particular, childhood autism. Through a partnership with Living with Autism, Inc., the students were asked to build a play structure in the backyard of a group home that catered to three autistic residents. Through this experience, FBD members and volunteers successfully researched, designed, and built a system that incorporated the needs of all three residents and also fueled their interests and desire to do more.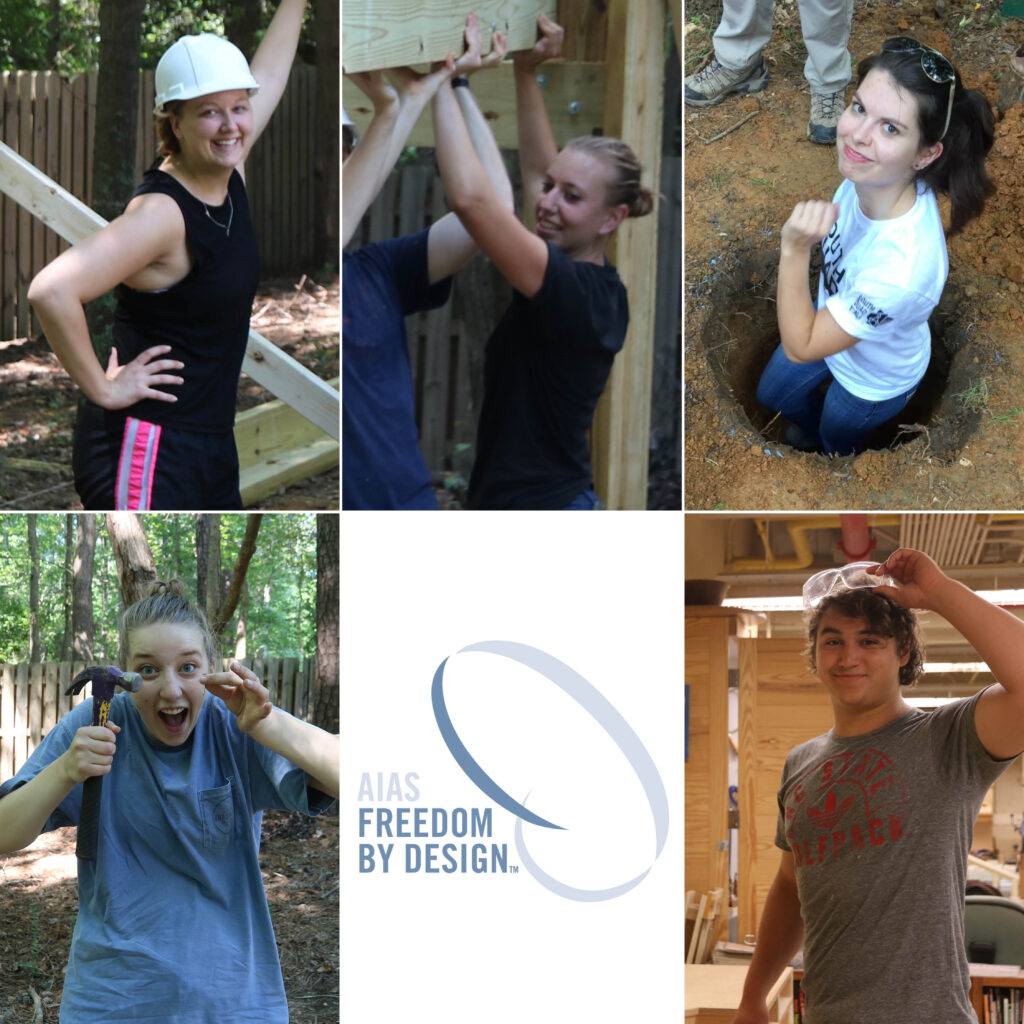 The 2016-17 NC State Design AIAS Freedom by Design Board:
Gabby Seider, Director
Allison Menius, Senior Project Manager
Giulio Giannini, Junior Project Manager
Kelsey Morrison, Fundraising Manager
Sam Lackey, Public Relations Manager
NC State Design AIAS Freedom by Design Local Mentors:
Associate Professor of Architecture Bryan Bell, Faculty Advisor
Andy Osterlund, Volunteer Architect
Richard Kaydos-Daniels, Volunteer Structural Engineer
Kurt Seider, Volunteer Civil Engineer