DesignWeek | Retrospective of Greenville, NC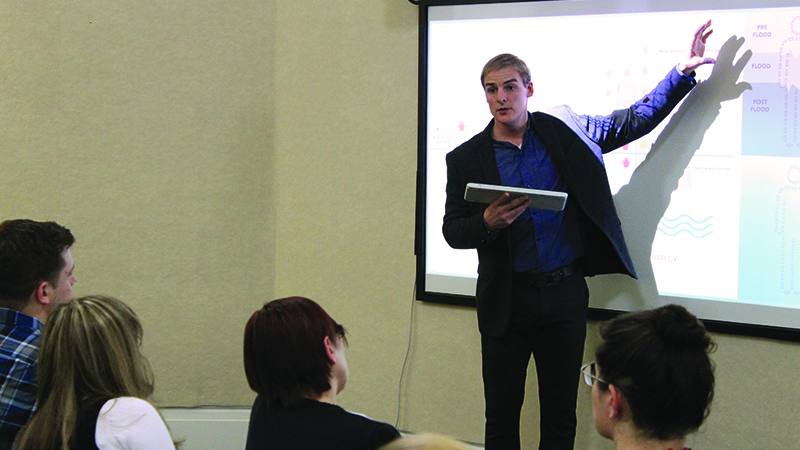 This is a blog written by Adam Walters, NC State University College of Design MLA Candidate 2017 | Teaching Assistant ES 100.001 | SASLA Leadership Board – Mentor Programs as a recap of his experience during DesignWeek 2017.
---
Now that the whirlwind of my first DesignWeek experience has settled, it is easy to look back and see a spirit that was created around the collaborative and creative process. This spirit was born out of an interdisciplinary team's mutual desire to create innovative solutions addressing a complex problem facing our state and nation.
Our team, DesignWeek: Living with Floods, started with a trip to Greenville, NC, where Hurricane Matthew brought the Tar River more than 11 feet over the flood stage, the highest the river has been since Hurricane Floyd in 1999. We spent the day with the Pitt County Planning Department learning about their methods for assisting impacted residents and discussing a few of the many complexities swirling around flood-prone areas of their communities. Having the opportunity to hear the perspective of the county officials while visiting some of the most impacted areas near Greenville offered our team the insights and inspiration needed to kick-start our creative process. We quickly learned that what seemed from the outside like a wholly environmental problem had layers upon layers of complexity linked to social equity, historic demographics, land-use patterns, and long-standing individual and community perceptions.
We left Greenville understanding that this is a social issue as much as it is an environmental one, and the means for change are inherently rooted in both the physical and human landscape.
The choice to focus on developing solutions to inland flooding for DesignWeek 2017 speaks to a larger paradigm shift happening in landscape architecture that has been championed by the faculty in LAR/Landscape Architecture. Historically, the undertaking of a landscape architect has been the beautification of our urban green infrastructure in service to aesthetics, recreation, and well-being of the mind. Increasingly, landscape architects are taking flight far above our traditional scale of practice, viewing our sites as pieces in large and complex interconnected systems where the needs and desires of our clients are weighted against the impacts upon the surrounding networks of humans and nature. More than ever, landscape architects are reaching out to employ principles from landscape ecology, urban planning, social sciences, systems engineering, and data visualization to create layers of function and meaning through inspired designs.
This transformation in the role of the landscape architect, however real, has not yet captured the public eye, and thus, the value of our profession is more misunderstood than ever. DesignWeek 2017 was a bold step out into the public eye, claiming our value in designing solutions to wicked problems.
In the course of a week, our faculty and students meaningfully engaged not just with students and faculty from the UNC Department of City and Regional Planning and the Architecture Department but with our professional community and representatives from the Federal Emergency Management Agency, North Carolina Emergency Management, Sea Grant, and several impacted counties and municipalities.
The intensive and collaborative effort of DesignWeek 2017 left me inspired by the power of interdisciplinary collaboration and design. I imagine that I speak for many of the participating students when I say that the challenge we were given drove us to apply the tools and concepts of our practice in new and exciting ways and shed light on the larger purpose of our study.
---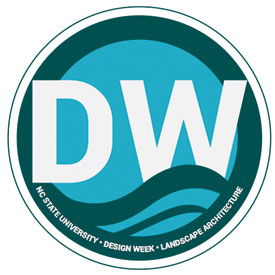 The NC State College of Design Department of Landscape Architecture, along with various college campus, and statewide partners, seeks to facilitate a design conversation about how North Carolina can adapt to climate change.
The intent of the inaugural edition of DesignWeek is to serve as a catalyst for discourse, debate, and action. Toward these ends, DesignWeek will demonstrate the role of design in building our state's resilience to natural hazards, identify innovative strategies and techniques to address known and anticipated future socio-environmental issues, and direct resources to communities that increases health, safety, and welfare for all. The effort will focus on the future of our great state, including discussions related to the development of new strategies for living with the realities of flooding. Work emanating from DesignWeek will confront design issues and opportunities across time and physical scales. Short-term questions will explore ways of better preparing for and responding to the crises of recurring flooding in our communities. Long-term questions will explore methods of communicating the benefits of proactive climate adaptation strategies and the resultant community impacts.
Key Eastern NC locations are: Windsor in Bertie County, Kinston in Lenoir County, and Greenville in Pitt County all incurred substantial damage from Hurricane Matthew