Accessibility in Design
Design should be inclusive, universal, and for the benefit of all. Human-centered design addresses the importance of meeting the needs of the user, regardless of ability, inability, or disability, and is a process in which the end-user of the product, service, or process is given extensive attention and evaluation at each stage of the design process. This approach and application is an integral part of the curriculum at the College of Design.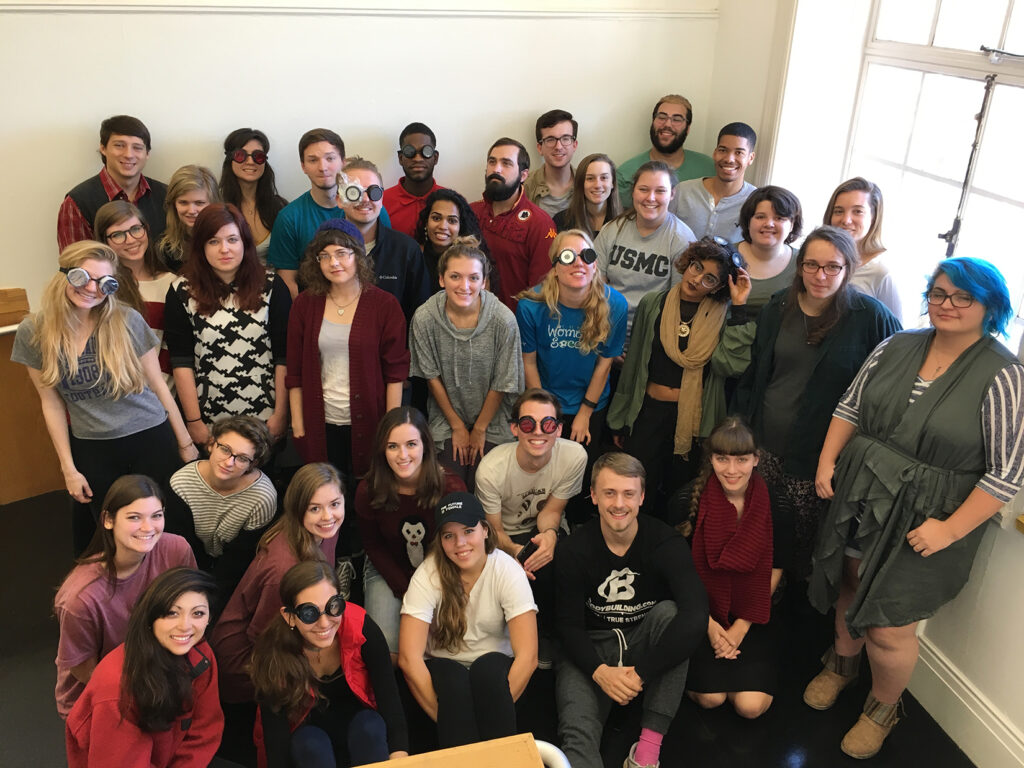 This semester, graphic design students participating in GD 417: Imaging and Technology had the opportunity to explore human-centered design through a collaborative studio led by Associate Professor of Graphic Design Helen Armstrong and in partnership with the Accessibility team at SAS (pronounced "sass"). This team is led by Ed Summers, an expert on the subject who has a visual disability that provides him with a unique perspective as a designer and end-user. "I bring expertise in this area," he says. SAS creates software that adapts to the needs of the users, and this makes it, as a company, more compelling and valuable to users. The positive impact that the SAS Accessibility team has on the lives of those with disabilities is something that Summers and others appreciate and recognize.
SAS began as a startup project at North Carolina State University to analyze agricultural research. The acronym stands for "statistical analysis system." The demand for the capabilities of this unique software began to grow, and SAS was founded as a company in 1976 with the goal to help customers in a wide variety of industries—from pharmaceutical to banks to academic institutions and governmental entities.
During the studio, students worked in groups to develop a tool that could potentially be implemented within the SAS workflow for customers with visual impairments. Students, as designers, needed to understand the actual impairment of their subjects (end-users). This involved research into the medical aspect and context of the disability. In order to learn, students met with doctors from the Duke Eye Center who shared the causes and effects of visual impairment. Beyond the medical aspects, which revealed a wide spectrum of varying levels of impairment, doctors emphasized the psychology of visual impairment and how a patient must adjust or modify their lifestyle, as the impairment may increase or change.
Armstrong shares the benefits that students gain with collaborative studios such as this one. "To effectively put human needs at the center of the project, students had to get into the mindset of the user. They had to understand the whole experience of using the product with an impairment—both mind and body."
Each group was paired with a mentor from the SAS team who provided guidance, feedback, and insight into the process and role of a designer within the SAS environment. Throughout the semester, SAS representatives met with students to review progress and offer feedback and collaboration of ideas.
Some teams had an assumed persona to design for, while others had an actual person that they could directly interact with.
For Sam Linville, a junior studying graphic design, the experience was a game changer. "We don't get a lot of exposure to actual user feedback, and in this case, we had a real person to design for," states Linville. He and his team started by sending packages of potential prototypes and then had the opportunity to speak directly with their subject. This "actual feedback," says Linville, is "invaluable information" and so much more specific than what one can learn on paper about a given condition. "Our subject was really good at verbalizing and explaining things to us—verbalizing 'why' in both medical and practical terms." This included "detailed feedback that you don't often get, and it opened up a lot for us in terms of how we adjusted our design," he concludes.
Another unique and important aspect of the project was the inclusion of goggles that simulated visual impairment. With the addition of filters, students could experience what it potentially might feel like to be visually impaired. "The goggles gave us a chance to see what our client (end-user) experience was and what things looked like," notes Linville.

The culmination of the studio provided students the opportunity to present their projects to SAS representatives at the campus in Cary, including Jim Goodnight, co-founder and CEO. In addition, the presentations were streamed live over the SAS network. "This presentation included a lot of animation and design ideation, and I think it pushed us in our public speaking skills," emphasizes Linville. He and his team encountered a last-minute glitch in which the audio was unusable and Linville was forced to narrate live. "It was scary, but a good experience to adapt to a bad situation on the fly," he says. "We didn't have a choice. We had to present the video, and it turned out to be good practice at staying calm."
Linville felt there were a number of positive takeaways from the project. "One of the things I learned the most [about] is how to present to users. When we were presenting to our subject, we were not in the same room, and we were forced to be very descriptive and efficient in order to convey what we were saying. To drill down into communicating with others was invaluable."
He adds, "Also, failing at developing prototypes—we probably presented 50—and [got] a no on so many of them." The repeated ideation forced students to think even more deeply about the needs of the user as opposed to their own egos. "[Developing these] was about our subject, and not if we felt bad that what we designed was not good—we needed to design for the best solution for the user."
In the end, the experience has only solidified what Linville is doing at the College and where he is heading, which is interactive and UX design, something, he says, "I really enjoy."