Reflections of an Internship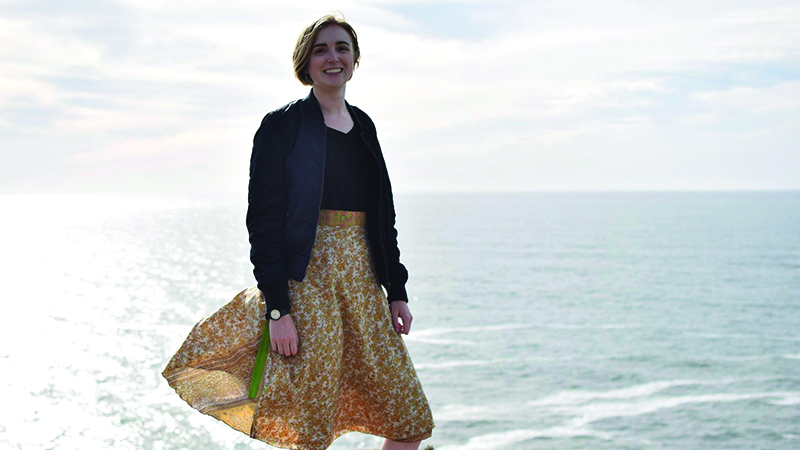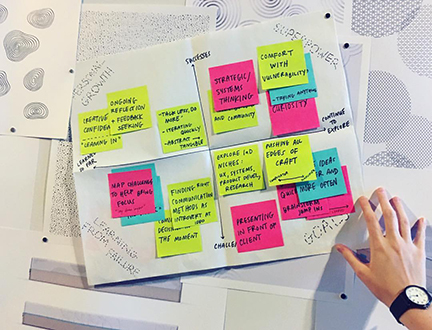 Allison Press [Graphic Design Senior] has spent the last six months interning at IDEO in San Francisco. As part of the Education Studio, Press has gained invaluable experience in the collaborative process of design as well as the opportunity to work within one of the most iconic and influential design firms in the world. In this Q + A, Press shares some of her experiences with us.
Q: Can you share more about IDEO's Education Studio and your interest in interning with them?
Press: The Education Studio is one area of work within the San Francisco office of IDEO. It is comprised of a group of designers passionate about using design thinking to advance education. These designers work to "imagine" how curriculum, spaces, tools, roles, and the very infrastructure of our education system can be best designed to serve all learners and prepare students for a rapidly changing world. They're perhaps best known for designing the Innova school system in Peru. In order to provide a quality, affordable education to Peru's growing middle class, IDEO's Education Studio designed an entire school system from the ground up. This included the curriculum, teaching strategies, buildings, operational plans, and everything else! It's a great example of the type of hairy, systemic problems this studio tackles, and the impact their work has around the world.
I applied to intern with the Education Studio specifically because of their mission. They work in this amazing intersection between education, the public sector, policy, and technology—it's the exact nook that I want to grow into as a designer.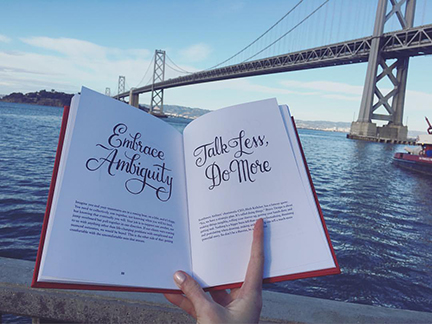 Q: What do you find most intriguing about the design process within the IDEO culture?
Press: Interaction designers generally work across four different areas: systems thinking, visual design, prototyping, and user research. I've been lucky as an intern in that each project I've worked on has been so different—from using interaction design as a method for storytelling, to developing and bringing a digital product to market—that I've been able to flex and grow in each of these areas.
But in reality, what I love most is how IDEO teams work collaboratively and how flexible each of these roles are. Working on interdisciplinary teams means that you're constantly collaborating across disciplines: interaction designers help brainstorm business models; business designers help create digital prototypes, etc. This type of harmonious collaboration allows team members to both take ownership over parts of a project that were initially unfamiliar to them, and make others successful by helping the rest of the team learn more about their individual discipline.
For example, one of my favorite projects was creating a digital service strategy for a government agency. This opportunity gave me experience in a line of work that I am incredibly passionate about, and exposed me to the skills that are necessary to drive change in the federal government. Two teams were working together: one was focused on delivering a holistic, long-term customer service strategy, while the other went deep into finding and implementing digital solutions in the short term. Not only was I able to collaborate with other interaction, communication, business, and service designers, but I was also able to bounce across both streams of work and soak up insights generated by both teams.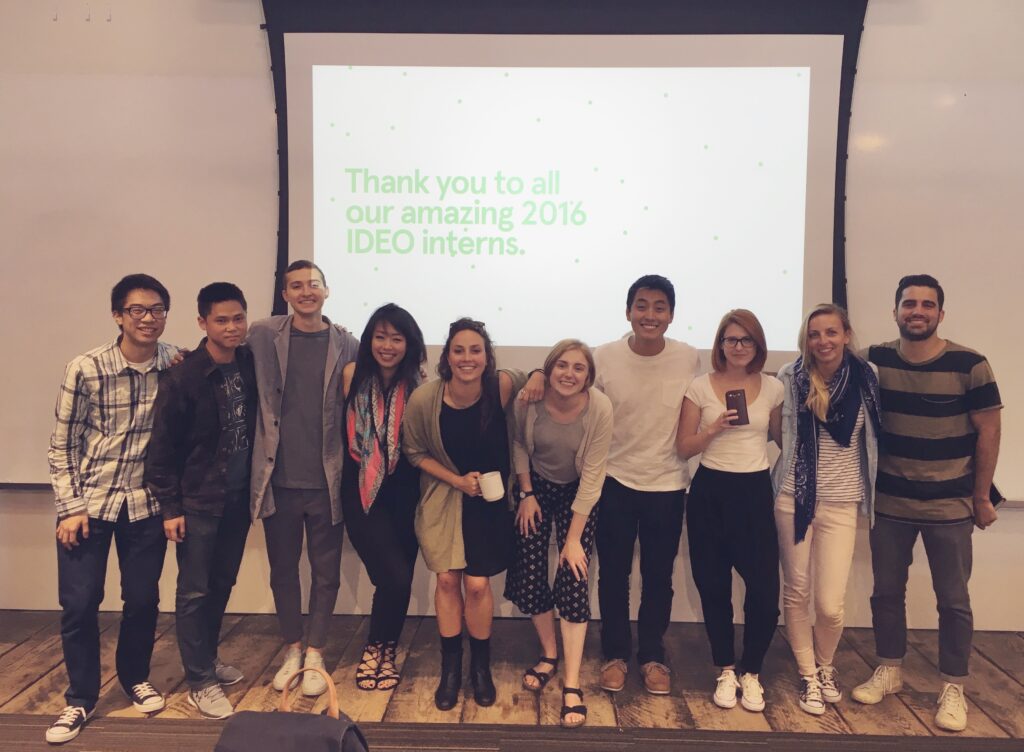 Q: You've had some amazing internships over the past several years. Do you feel that the College has encouraged you to experience these unique opportunities? 
Press: My internships have been with the Smithsonian National Portrait Gallery, the Smithsonian Office of Policy and Analysis, the Institute for Emerging Issues (nonprofit), and this current internship with IDEO. From my perspective as a student, I think the College of Design is great at encouraging students to go broad and explore how our different disciplines fit into a breadth of industries. But that emphasis on breadth may come at the expense of helping students like me find a career in a complex niche of work, within a specific industry or sector. This college did a wonderful job teaching me the skills and values I need to succeed as an interaction designer, and my internships have taught me for what purpose I want to use those skills.
Q: What has this experience offered you?
Press: My biggest takeaway from IDEO has been how important it is to embrace ambiguity in the design process. As students, when we begin a class project, our professors have already defined the constraints of the problem for us. They provide just enough context for us to feel comfortable starting to "make" or design. But when you're working with the type of clients IDEO attracts, the problems they are coming to you with are so complex and nuanced—it's impossible to understand the full context before having to jump into designing.
You have to be comfortable with being uncomfortable and start learning through making, rather than waiting to learn before making."
Q: What is next for you?
Press: After my internship ends in December (when I was originally planning to graduate), I'll finish my last semester and graduate in May with my BGD. Choosing to delay graduation in order to complete this internship has led to one of the most formative experiences of my life. I am more focused and committed to design for our government, whether it's in a consulting capacity like IDEO, or in-house at a state or federal branch.