2016 NC Masonry Contractors Association Sigmon Memorial Scholarship Design Competition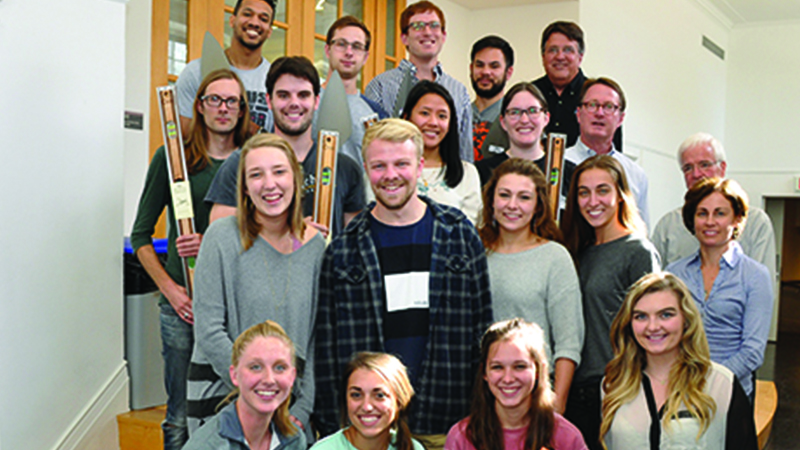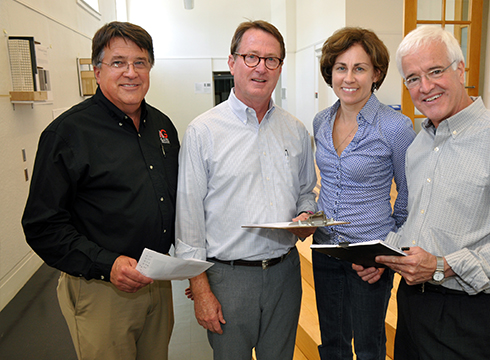 This past week marked the 16th annual NC Masonry Contractors Association Sigmon Memorial Scholarship Design Competition. This scholarship is named in honor of David, Randy, and Dwayne Sigmon and was initiated by their family.
The competition is part of Distinguished Professor of Architecture J. Patrick Rand, FAIA, DPACSA, ARC 432 Masonry Design Lab: Architectural Construction Systems.
Students worked in teams of four to develop unique solutions to design and model a hypothetical masonry office building. The prompt of their project included that the building needed to house a showroom and office space for the southeast region of The Masonry Society. Their proposals were to include the use of masonry construction in an insightful way. Evaluation criteria included: use of modular coordination; innovation; technical performance (stability weather resistance, etc.); and presentation clarity and quality. There were 10 teams who presented their entries to a panel of distinguished judges including:
Robert 'Bob' Gates, President NC Masonry Contractors Association
Doug Burton, President of Whitman Masonry Inc.
President-Elect Christina Subasic of The Masonry Society
After careful deliberation from the jury, four teams were selected for top honors. The winning team will share a semester's in-state tuition as their prize.
First Place: Sam Lackey, Nick Rossitch, Nicole Adam, and Emily Doyle
Second Place: Austin Marshall, James Popin, Lillian Wu, and Marianne Bowker
Third Place: Smith Marks, Nick Chandrasurin, Cam Westbrook, and Austin Loman
Fourth Place: Olivia Blue, Rebecca Linker, Cameron Elliott, and Morgan Harrison
A special thanks to Lynn Nash, Executive Vice President for North Carolina Masonry Contractors Association, the sponsor, who was able to view entries.