Sir Walter Raleigh Award: Public Service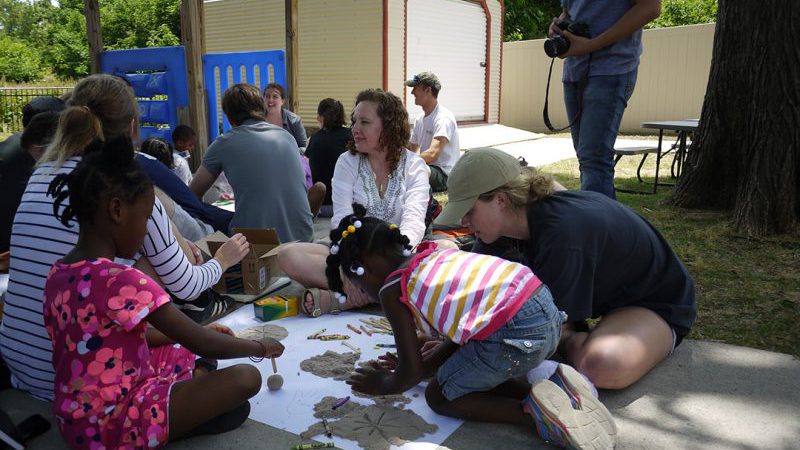 ­For the past two summers, two amazing educators—who have a lengthy decade-long personal relationship in academia and friendship—have combined their intensive 5-week summer classes into a cohesive, extraordinary and hands-on learning experience for their students. In addition, their collaboration has provided astounding public- interest solutions for deserving underserved community partners. They are: Teaching Assistant Professor of Landscape Architecture, Carla Radoslovich Delcambre, PLA from the College of Design, and Associate Professor from the Department of Horticultural Science, Julieta Trevino Sherk, PLA, ASLA from the College of Agriculture and Life Sciences.
During the summer, Delcambre teaches LAR 457: Construction, Materials + Methods, which Sherk describes as, "the nuts and bolts or standards and construction methods used to develop documents and to build landscape elements". Sherk teaches the LAR 582: Planting Design Workshop. Her students learn to develop solutions that improve environmental and social/cultural wellness through appropriate and thoughtful planting design. "Trees can cool buildings, provide environmental services and define spatial volume for place making." The class is about how plants are used strategically as organic elements in designing landscapes for people that are sensitive to the environment, expressive of the place and aesthetically valuable.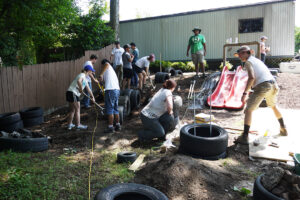 "Our summer classes are perfect opportunities to get our students outside, experiencing the landscape: observing projects under construction, looking at plants in bloom at nurseries, and visiting material suppliers who sell products our students will eventually specify in the projects they design," cites Delcambre.
Last year, the duo paired with Rosalind "Roz" Blair Sanders, director of the Beginning and Beyond Child Development Center in East Raleigh, and her team of teachers. The Center was devastated by tornados in 2012, and despite the extraordinary work of Sanders and her team, the center was still in need of playground updates. The project Delcambre and Sherk took on was motivated by an already established relationship with the College of Design's Natural Learning Initiative (NLI). NLI's Preventing Obesity by Design (POD) is an on-going, comprehensive health promotion design intervention focused on the outdoor environments of childcare centers. The goal is to encourage early childhood physical activity and food awareness through evidence-based design assistance, teacher training, and dissemination of information.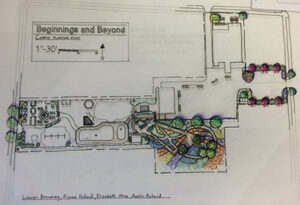 "Playing is a very important aspect of the total learning process," Sanders says. She has had a strong relationship with NLI since 2012, and the opportunity to implement landscape structures and environmental site improvements for the center was no less than amazing. The two classes collaborated to create a space that improves learning, for the children. The class' goals were to re-envision a steep area so it would: 1- be safer, 2- form a gateway, 3-clearly mark the entrance and 4- make a usable meaningful play space.
"Ms. Roz does so much. She is everything to these children," Sherk says. "It was clear that this was a magical community project, and seeing the enthusiasm and dedication—these ladies stay late, and work weekends for the children—inspired us!"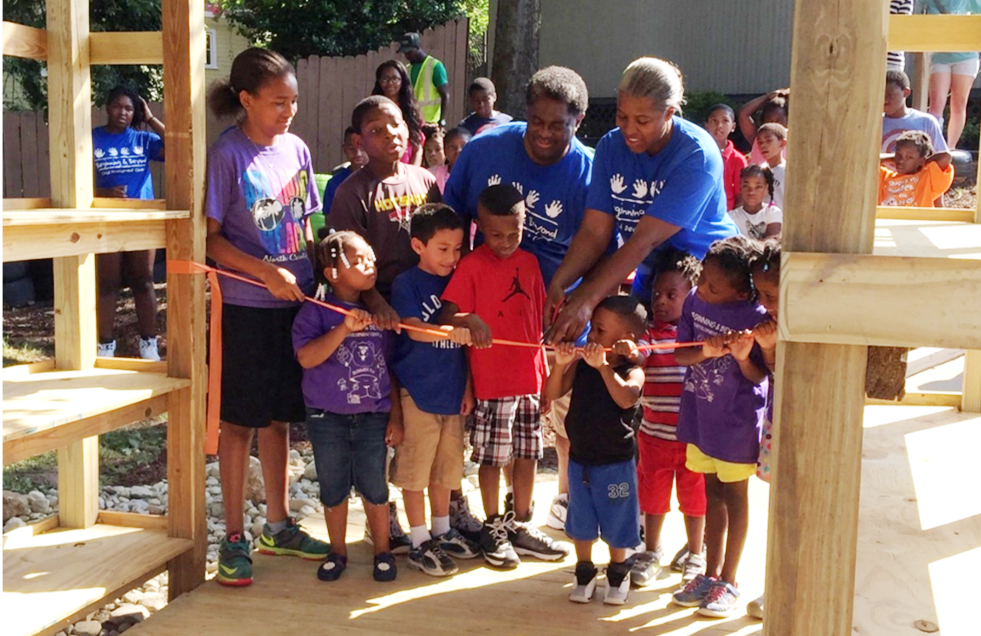 And celebrate a deserved success they will. Delcambre, Sherk, and their students are the recipients of a Sir Walter Raleigh Award for Community Appearance in the Public Service category. These awards recognize new contributions to the aesthetics, character, and environmental appearance of the City of Raleigh. The Public Service category is given to groups or individuals who have created and implemented projects of any scale to an environment within Raleigh. Both Delcambre, Sherk and their students have previously won similar awards for prior projects lending themselves to the beautification of Raleigh.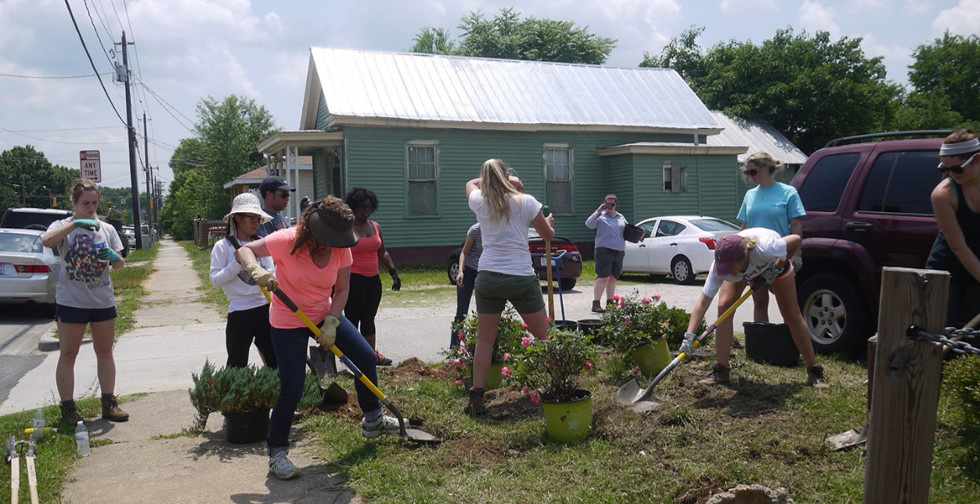 One of the best parts of this project, emphasizes Sherk, "is working with communities to leverage good design for people who ordinarily would not have access to design services."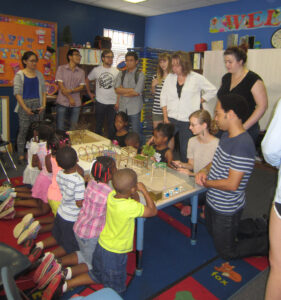 These classes are an opportunity for students to get hands-on practical experience with real-world client interaction, in addition to developing critical and creative thinking skills including the implementing of their designs within a tightly scheduled time frame. For Delcambre and Sherk, the preliminary work for last year's project was almost a five-month process. It included gathering information, garnering supporters and donations of materials and professional assistance, planning the sequence and components necessary for developing this educationally rewarding seminar. "There was great support from NLI, Carla is great at leadership and we had good connections with industry. Everything seemed to align perfectly," says Sherk. "There were a lot of community meetings to attend and coordinate in a compressed amount of time, but it was all worth it."
During the five weeks working with Beginning and Beyond, students visited the site with the goal of learning to think critically and creatively about their environment. Rather than imposing their ideas on the space, they needed to adapt, react to, and reflect the environment in their design proposals. They became sensitive to their social responsibilities to the community and users, and formulated action items that would address the critical needs of this particular community.
Through discovery workshops, students got involved in brainstorming including interacting with key stakeholders, who in this case were 5-year-olds. The children talked and drew pictures about what they would like to see in their playground. Additionally, the students had to address practical concerns including drainage, soil conditions, safety, and feasibility, as well as meeting the expectations of the Beginning and Beyond community.
The students came together to communicate their findings and develop designs. Through iterations and discussions they reached conclusions that aligned with the restrictions and possibilities of the project and addressed the feedback they had received.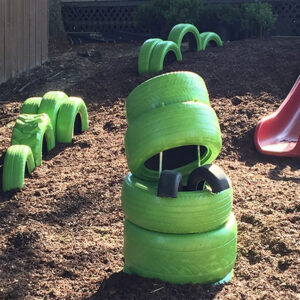 "It was amazing to get our hands dirty and see a plan become a reality for the first time," says Elizabeth Moss (current design student). "Working with the children and staff of Beginning and Beyond to build a better outdoor learning environment was extremely rewarding. I loved pulling our ideas together to make something these kids will enjoy, hopefully for years."
Sanders believes the hard work has paid off. "The work and assistance of NC State has made playing/learning at the highest level possible at Beginning and Beyond." This project gave a sense of place to the entrance of the play area, while also being a service-learning experience for students. It exemplifies NCSU's land-grant mission to use the learning and knowledge gained to benefit society. Not only did this project directly improve Beginning and Beyond, it introduced students to work that gives back to society.
Special thanks go to Dr. Nilda Cosco, Director of Programs, The Natural Learning Initiative at North Carolina State University; Robin C. Moore, Director, The Natural Learning Initiative at North Carolina State University; Rosalind Blair Sanders, Director and staff, Beginning and Beyond Child Development Center; Tim Baskerville, Business Development Manager, Ruppert Landscape, Branch Manager, North Carolina Landscape Construction Branch; Kurt Bland, President/CEO, Bland Landscaping Company; and Edward Nicholson, President, Capitol City Lumber.
Participating Students:
Stanford D. Barnes
Lauren Browning
Yu Chun Chiu
Casey Daly
Corey Dodd
Andrew Harrell
Joseph G. Hayden
Alyssa Holland
Sarah Morgan Lasater
Lan Lou
Elizabeth Moss
Ainsley Mumford
Briana Outlaw
Austin Roland
Karli Stephenson
Fangzhou Xie
Jinxin Zhen