The Fate of the Cards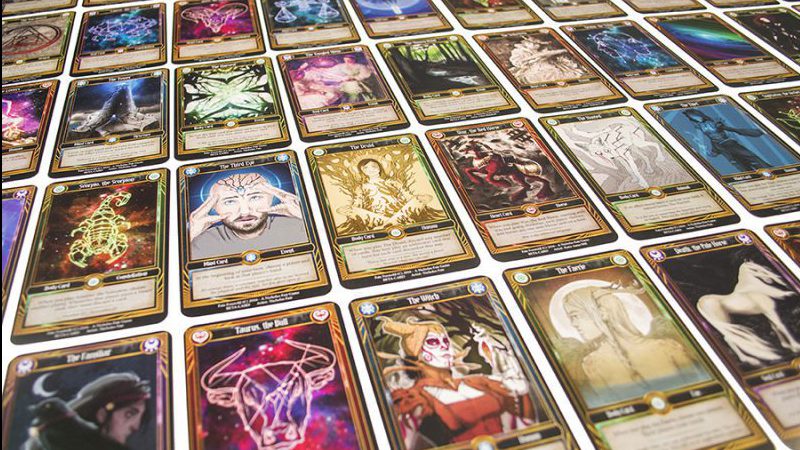 On a Thursday in late July, half a dozen 20-somethings were gathered around a plastic folding table in the window of Raleigh's Event Horizon game store, cradling sets of cards in their hands. Between them on the table sat the deck (or "nest" as it's referred to in the game), and before each of them lay their "fields," face-up cards that looked as though they were drawn from the designs of Czech Art Nouveau painter Alphonse Mucha.
"I'm going to play Death, the Pale Horse," said Sonia Hupfeld [junior BGD], eyeing another player's nearly-winning field. "You can choose three of your cards to preserve, and you have to bury [discard] the rest. Which means you can't win this round."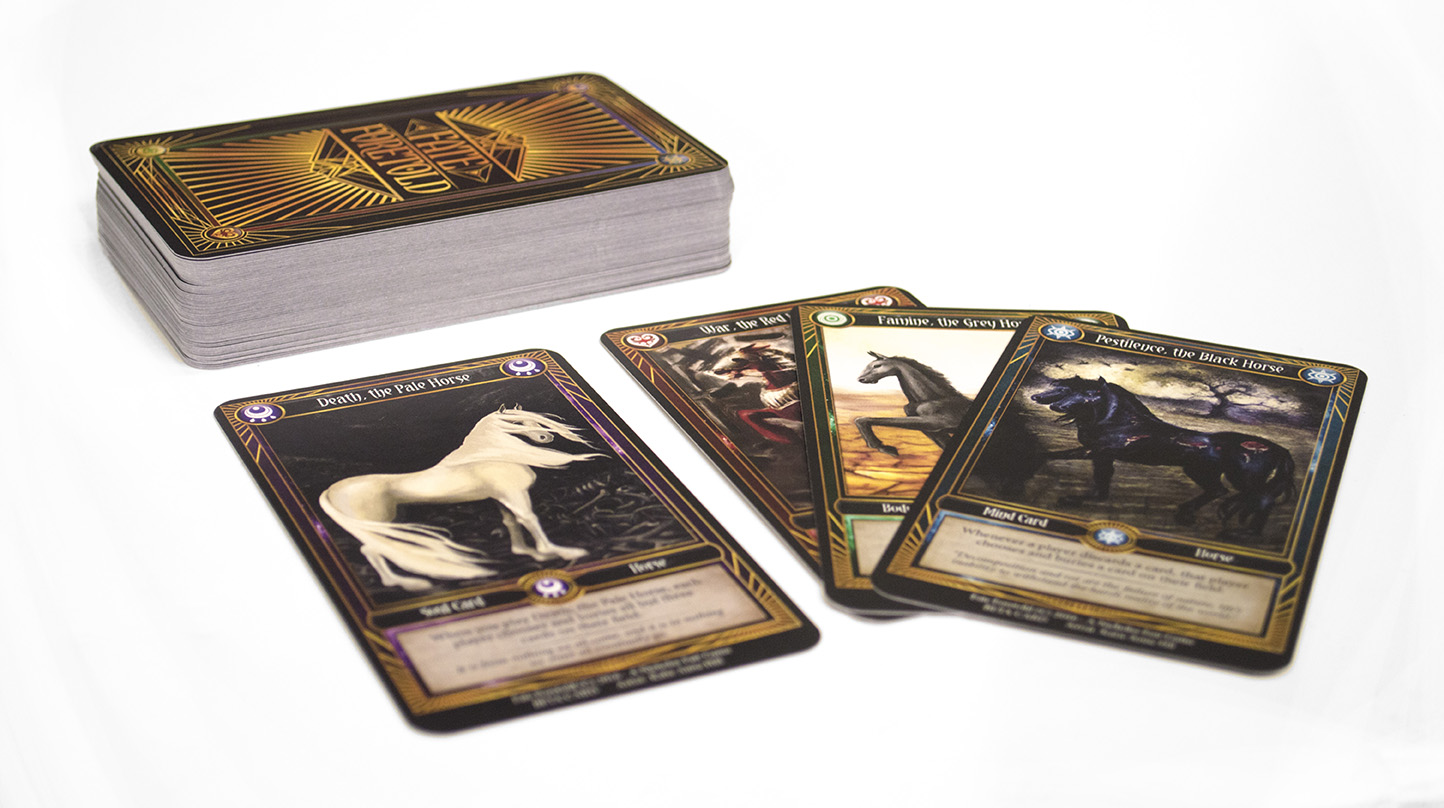 They were playing a beta version of Fate Foretold, a new card game designed by Nick Fair [BID '12] and a team of more than half a dozen artists and designers. (Including Hupfeld, Shelby Aranyi [BGD '14], Carlos Torres [BID '12], Chris Rinehart [BAD '14], Alyssa Torres, Amanda Otten [BAD '15], and Victoria Van Cantfort [BGD '15].) The gameplay is a little Go Fish—players must collect six cards of the same suit to win—and a little Magic: The Gathering—every card played has an effect that may change the outcome of the game, for better or worse. Add to those mechanics 60 uniquely illustrated cards based on the tarot, the zodiac, and other cabalistic icons, and the result is play that's fresh and challenging, with roots in a number of card traditions.
On September 1, Fair and his team are launching a Kickstarter campaign to see if it's in the cards for Fate Foretold to be produced professionally.
A freelancer and the lead graphic designer for the U.S. Environmental Protection Agency, Fair so far has backed Fate Foretold himself. With their Kickstarter launch, he and his team will roll the dice and leave the game's fate up to crowdfunding. They're asking for $15,000, enough to cover the costs of printing the game for distribution in stores and paying his team. For everyone involved, it truly is a labor of love. "We're not a company, we're not paying salaries; everyone's doing this because they really want to. If it takes off, we'll take it as far as we can go. If not, we learn from it and keep going," Fair says.
Fair built the game to be spun like a narrative. "It tells a story that will resonate with people. You're telling the future, aligning yourself with things like the constellations of the zodiac, or meeting a wandering fortuneteller, or hearing a secret. Each of those actions shapes your future; when you've reached six, you've worked in harmony with all elements in your life and set the right path you want to take while simultaneously screwing up all your friends," he laughs.
It's been more than three years since he came up with the initial idea on his lunch break a year out of graduation when he was living in Winston-Salem and working for ImageWorks Display & Marketing Group. An avid gamer since childhood (Fair was born in New Jersey and lived in London before his family settled in Cary/Apex when he was 5), Fair loved thinking about the mechanics of games like Chess, Poker, and Bridge. With his sketchbook in hand, he began jotting ideas for something new.
"I thought, 'maybe I can make something larger.' I started talking with friends and got the ball rolling. The initial group of people I worked with were bouncing ideas back and forth. They were good at fielding the fun factor." Fair knows the value of being able to blow off steam with a game—as an undergraduate, he used to keep a deck of cards handy between rigorous hours in the studio. "There's something enjoyable about a little escapism you can keep in your pocket," h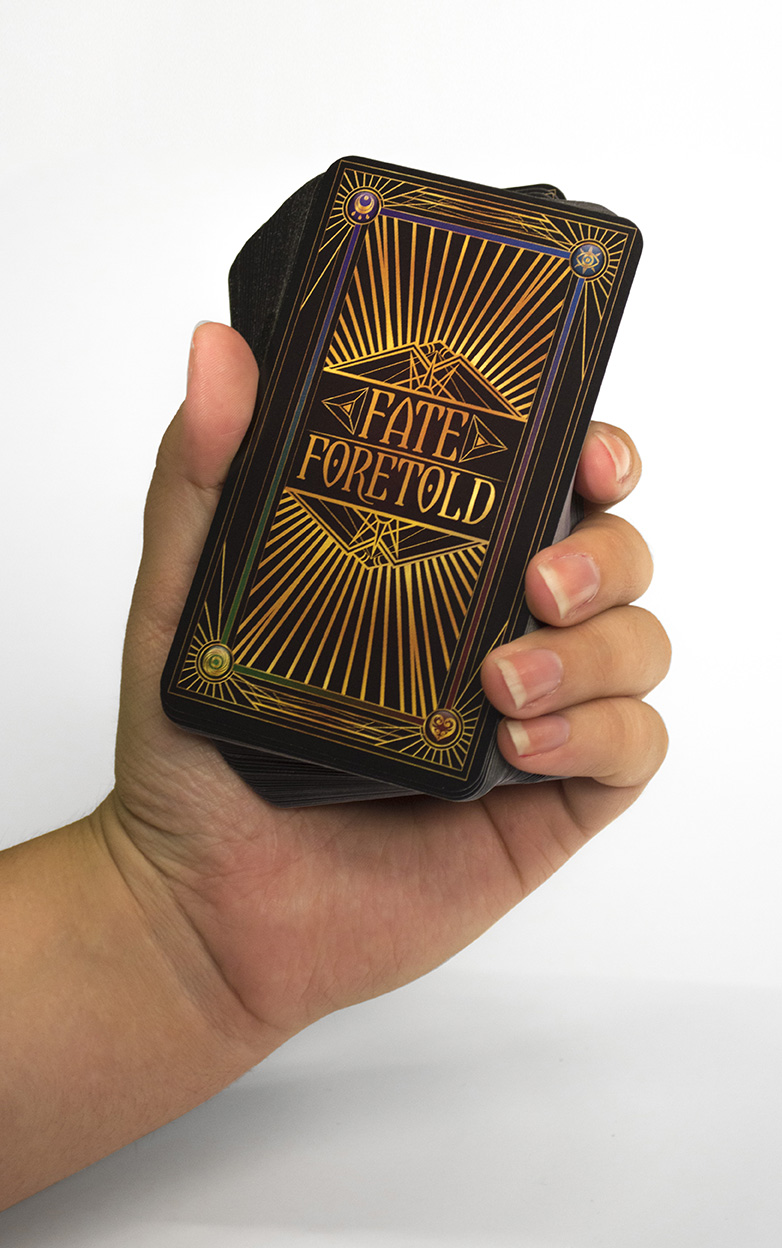 e says, adding, "The main point of a game is fun. You want to bring joy to people, to bring camaraderie. Games create a community around themselves if they're popular."
After months of ideation, visual development, public relations, research into production, and playtesting—taking the game into stores and inviting customers to take a seat and share their thoughts on the mechanics—they've got a game that they think will appeal to a broad audience with an easy learning curve that nevertheless offers hours of fun.
Many design decisions went into the unique appearance of Fate Foretold. "When people consider a card face, the front is very functional. It has to look cool and interesting, it has to be readable at a distance and easily identifiable if you've got different metrics. That's where design factored in the most, just making sure it was functional as well as aesthetically pleasing. We had to make a style guide with the core colors, textures, and elements to define the game and apply that to the website, business cards, everything," Fair says.
He also discovered he could apply what he'd learned in a psychology class, PSY 340: Ergonomics to developing the gameplay mechanics. "The class was all about human usability and human-centered function and design. I took the exact process and applied it to a game, and it works perfectly."
Fair, who pursued fine arts in high school but didn't want to be an artist, was impressed by a visit to the College of Design. Seeing the studios and meeting Associate Professor of Industrial Design Bryan Laffitte sealed his fate. "[Bryan] had a Copic marker and a coffee filter left over from lunch and a napkin, and with these, he did a beautiful drawing of a motorcycle that was photorealistic. I thought, 'I want that right there. This guy is amazing.'" How did he get from there to leading a team in developing a game? "When I was a kid it never even crossed my mind. I saw myself working on a game, but I always saw myself as the person brought in to illustrate or do one design element like the logotype or website. I never saw myself as someone who would make a game from the ground up, but as I dipped my toe into helping other game creators, I realized I had all these ideas of my own that I could pursue. In working with them, I learned the skills I needed to bring my own vision to reality."
by Julie Steinbacher MFA '16
Julie Steinbacher is a transplant from Parkton, Maryland. She writes science fiction, and her story "Chimeras" was a Notable Story in this year's Best American Science Fiction and Fantasy. She lives and works in Raleigh, NC, as a freelance writer and editor. To read her fiction, visit http://julie-steinbacher.com.