Q+A with Dean Hoversten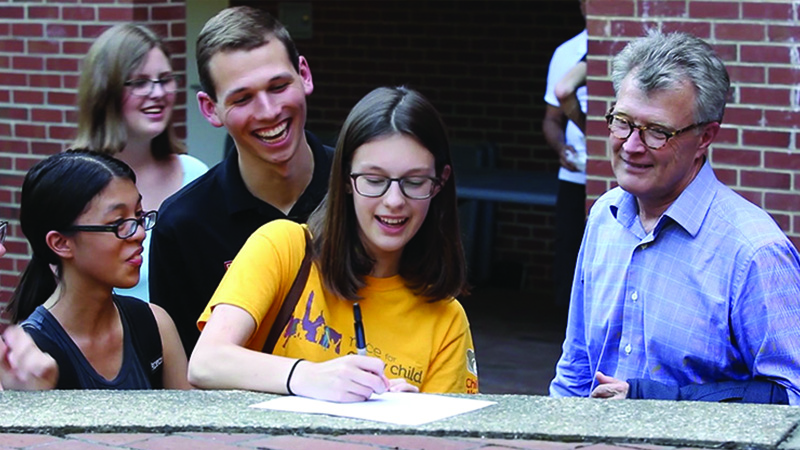 As of July 1, the College of Design has been in the hands of a new dean, Dr. Mark Elison Hoversten, whose most recent post was as dean of the University of Idaho College of Art and Architecture. Dean Hoversten Ph.D., FASLA, FCELA, AICP, Assoc. AIA brings enthusiasm, experience, and new vision to the College of Design, as well as an extensive knowledge of U.S. revolutionary history. He follows in the footsteps of Dean Emeritus Marvin Malecha FAIA, DPACSA, who served for 22 years.
Dean Hoversten took time out of his busy schedule to speak with me about his family, his hobbies, and the sort of person he is—driven to make a difference in his tenure here at the College of Design.
---
Q: What types of activities, outside the scope of work, do you participate in?
A: I run— including trail runs—hike, and, depending on the location and season, you may find me water skiing, cross-country or alpine skiing, or mountain biking. I'm also a commuter bicyclist. I enjoy the outdoors. Oh, and I doodle during meetings, but I'm really listening, so don't be offended.
Q: What else do you do in your free time?
A: I am an avid reader and usually have several books going at once. I just finished The French Broad by Wilma Dykeman, a history of the French Broad River in Western North Carolina. Now I'm reading The Quartet: Orchestrating the Second American Revolution, 1783-1789 by Joseph J. Ellis. It is based on the period between the first Continental Congress and the development of the Constitution and how George Washington, John Jay, James Madison, and Alexander Hamilton purposely moved from a state-centric model to a federal-centric model.
I read a lot of literature as well. I read—and reread—everything written by Wallace Stegner and Jon Hassler. Of course, I try to keep up with professional reading at least one evening each week. By the way, the College of Design has a great design library with a terrific collection of current design periodicals.
Q: Can you share something about your family?
A: We are musicians and have often been called the Von-Hoversten family singers. When we get together, we do the traditional table grace in a four-part harmony; it's quite entertaining.
Q: What is the best advice you ever received?
A: "Mark, your time will come," which is something my Dad told me (he was not angry when he said that).
Q: If you could invite any person or persons (living or deceased) to a dinner party, who would they be?
A: Well, the answer depends on whether I want the evening to be feisty or not! However, let's have some great conversation with an eclectic group of individuals: I probably would invite Wallace Stegner, an American novelist, short story writer, environmentalist, and historian, who was often referred to as "The Dean of Western Writers." Let's ask Louise Nevelson or Eva Hesse to represent fine arts. Leonard—Lenny—Bernstein is a must—he was an American composer, conductor, author, music lecturer, and pianist. We would need a philosopher such as the libertarian Robert Nozick, and for pure kicks, Martha Schwartz, an American landscape architect with a background in the fine arts. Our theoretician would be Elizabeth Meyer, also a landscape architect and critic, who for the last several years has been recognized as one of the most admired design educators in the United States by DesignIntelligence. I really wish I had known Henry Kamphoefner—he could represent architecture and the origins of the College. And last but not least, why don't we ask Katie Ledecky, the Olympic gold medalist who ran away with the women's freestyle, to join us.
Q: Can you describe yourself in one word?
A: Futurist. I live in the future of what could be. Everyone has a question—most people ask: "Why?" Engineers want to know: "How?" I always ask: "What if?"
It's a great time for the College of Design, with a lot of possibilities and opportunities for "what if."