Hampton Court Palace Flower Show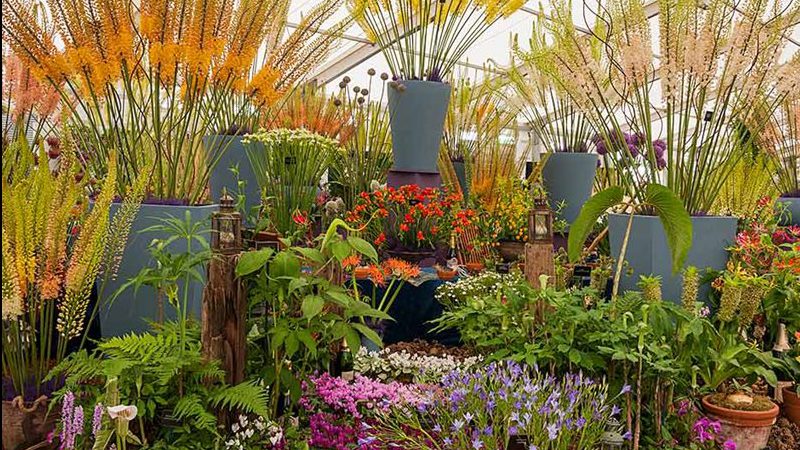 Angela Perez is a senior in Art + Design and recently took part in the Summer in London study abroad program. This is a recap of her experience while at the Hampton Court Palace Flower show. 
---
We went to the Hampton Court Flower show after class, some of us taking our embroideries with us to work on over the weekend. Our assignment for the flower show was to keep an eye out for inspiration for a final motif that combines crewel work and gold work.
As we approached the entrance, the large amount people was overwhelming. There were so many booths filled with flowers and cacti and shrubbery. Each booth was a different company and each specialized in different flowers and species. I never realized how many varieties there are just in one type of flower.
The most interesting aspect that I experienced was how each company displayed their flowers. Some just had their flowers in pots, while others made their display look more garden-like and added décor. Some even sold their bulbs of flowers for people to buy! Companies even sold their flowers. I was shocked at the amount of people who bought flowers.
It seemed that a lot of people had rolling carts with the flowers they purchased. It was interesting to see everyone trying to get onto the train with cartfuls of shrubbery and flowers!
I enjoyed the variety of flowers, but I think the presentation of the flowers is what was so astonishing. It gave the booth a WOW factor and was big for 'eye catchers.' The presentation caught people's eyes and then pulled you in to look closely at their flowers.
This was one thing that I started to pick up on that I could use in my design process—presentation. The attention to detail and placement of objects and their color relationship was something that connected for me in classes I have taken and in the embroidery, we are currently working on. I could see what colors worked within the flower naturally, as well as which color flowers the companies put together and how they worked together.
The color in the flowers influenced the colors I choose in my embroidery. I picked red and green and I was hesitant about it feeling like Christmas. After paying close attention to the flowers—especially the rose section—I could see that the colors could work if I used the right tones. I ended up choosing roses as my inspiration due to their color and my attraction to their petals and beauty.
Going to the flower show really informed my color choices as well as reinforcing how pertinent presentation is. Attached are some pictures of the some of the flowers.