Crafted by Hand: The Hand & Lock Studio Tour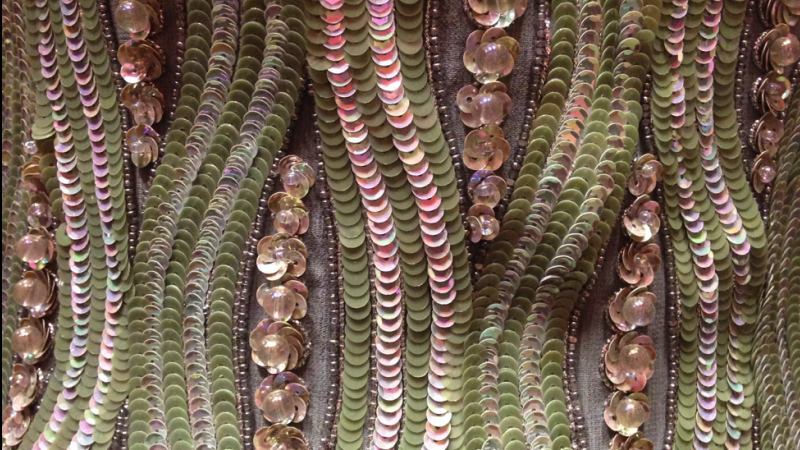 The history of embroidery design is rich indeed! Rising senior in Art + Design Carly Owens, studying abroad at the Royal School of Needlework in London, recaps her recent tour of the Hand & Lock Studio, where students got an in-depth look at the famous line of embroidery.
Since 1767, the Hand & Lock embroidery brand, formerly known as M. Hand & Co., has been keeping the art of hand embroidery alive. At its inception, the company produced military lace and eventually began making goldwork embroidery for the military as well as royalty. Today, Hand & Lock provides embroidery for a more high fashion clientele, including Burberry, Louis Vuitton and Chanel, while also still maintaining its roots in military and ceremonial embroidery.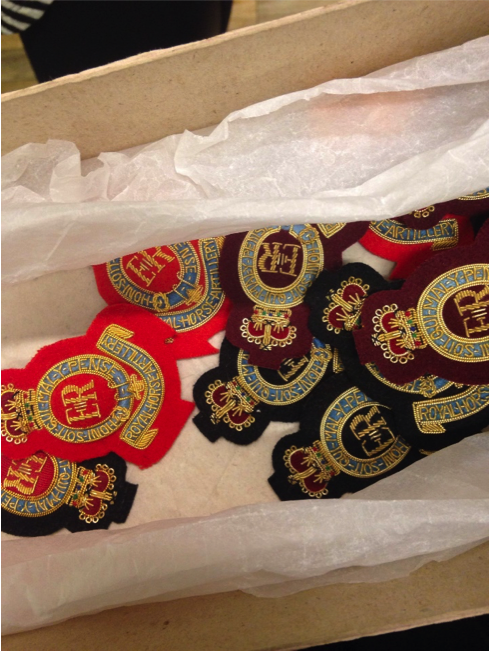 (embroidered artillery badges by Hand & Lock)
Upon entering Hand & Lock, the group was escorted into the bead room. Here, we were surrounded by numerous examples of Hand & Lock embroidery both contemporary and traditional, old and new. The embroideries ranged from a traditional military jacket encrusted with goldwork to an embroidery sample of a dress worn by Kate Moss and inspired by a cigarette burn she had accidentally inflicted upon the garment. There was also a tracksuit displayed on a mannequin in the corner of the room. However this tracksuit had been embroidered with over 30,000 navy and coral sequins and was valued at over 17,000 GBP. As it so happens the tracksuit has been a piece from Hand & Lock's first fashion collection inspired by punk streetwear.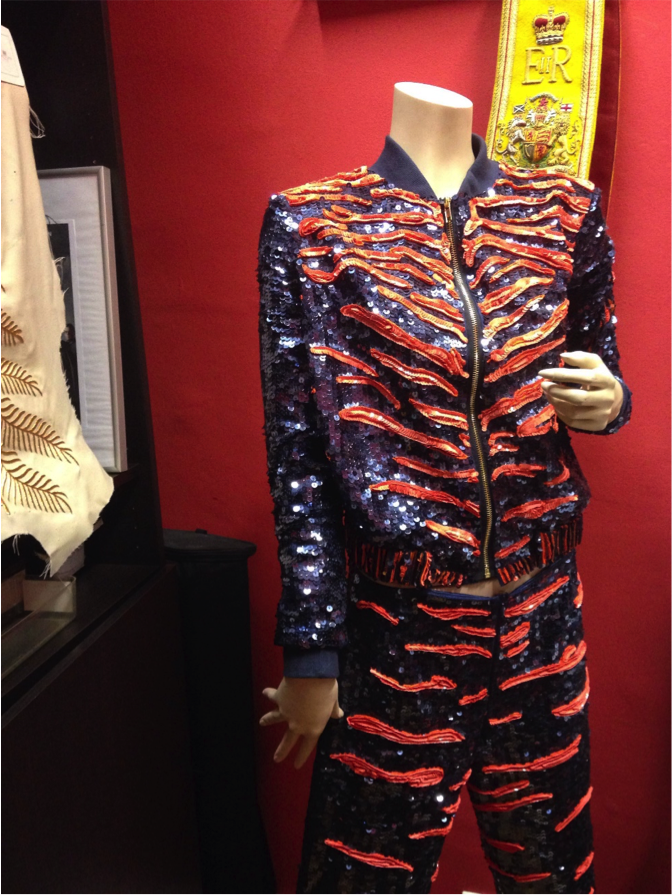 (embroidered tracksuit by Hand & Lock)
As our tour continued we were led into the Hand & Lock military stockroom. The room was lined with countless cabinets all of which contained military embroidery and badges as well as gold ribbons and laces. Today, the company is still able to produce the same gold laces that were produced by the company hundreds of years ago.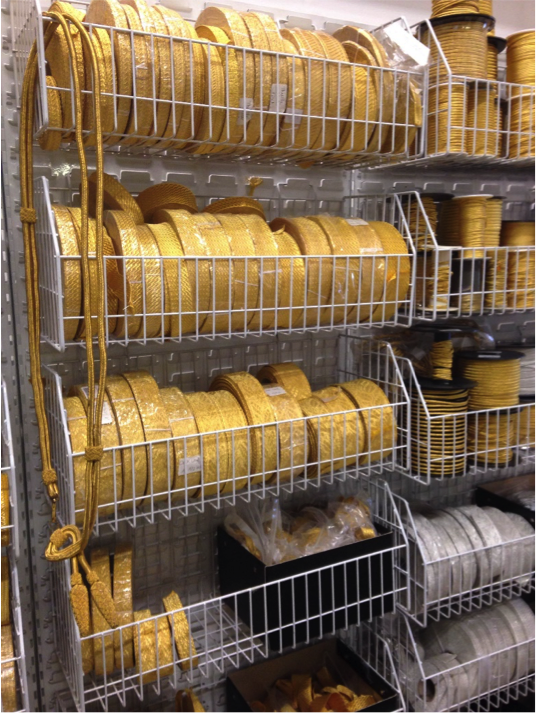 (gold laces in the military stockroom)
Next we entered the design room. A fairly small area where all of the embroidery designs are conceived. The design process at Hand & Lock today remains very similar to the way it was executed when the company first began. The designs are still drawn out using paper and pencil. When designing for Haute Couture and high fashion clientele, representatives from these houses will discuss a design with the Hand & Lock designers. Once a design is approved it is then ready for production. Here, the designer will annotate each design, specifying which stitches and what materials need to be utilized and where they should be placed.
For the last bit of the tour, we found ourselves in the Hand & Lock workroom. Here, the embroidery designs take form. The processes of creating these embroideries continues to be executed the same way it has always been done; by hand using the same techniques and tools used ages ago. Hand embroidery is a very time intensive process, so the projects that Hand & Lock executes can take hundreds of hours and are therefore very costly. To make their embroideries accessible to everyone, Hand & Lock also designs and produces quirky machine embroidered patches of motifs like lips, pineapples and hashtag hands for 5 GBP.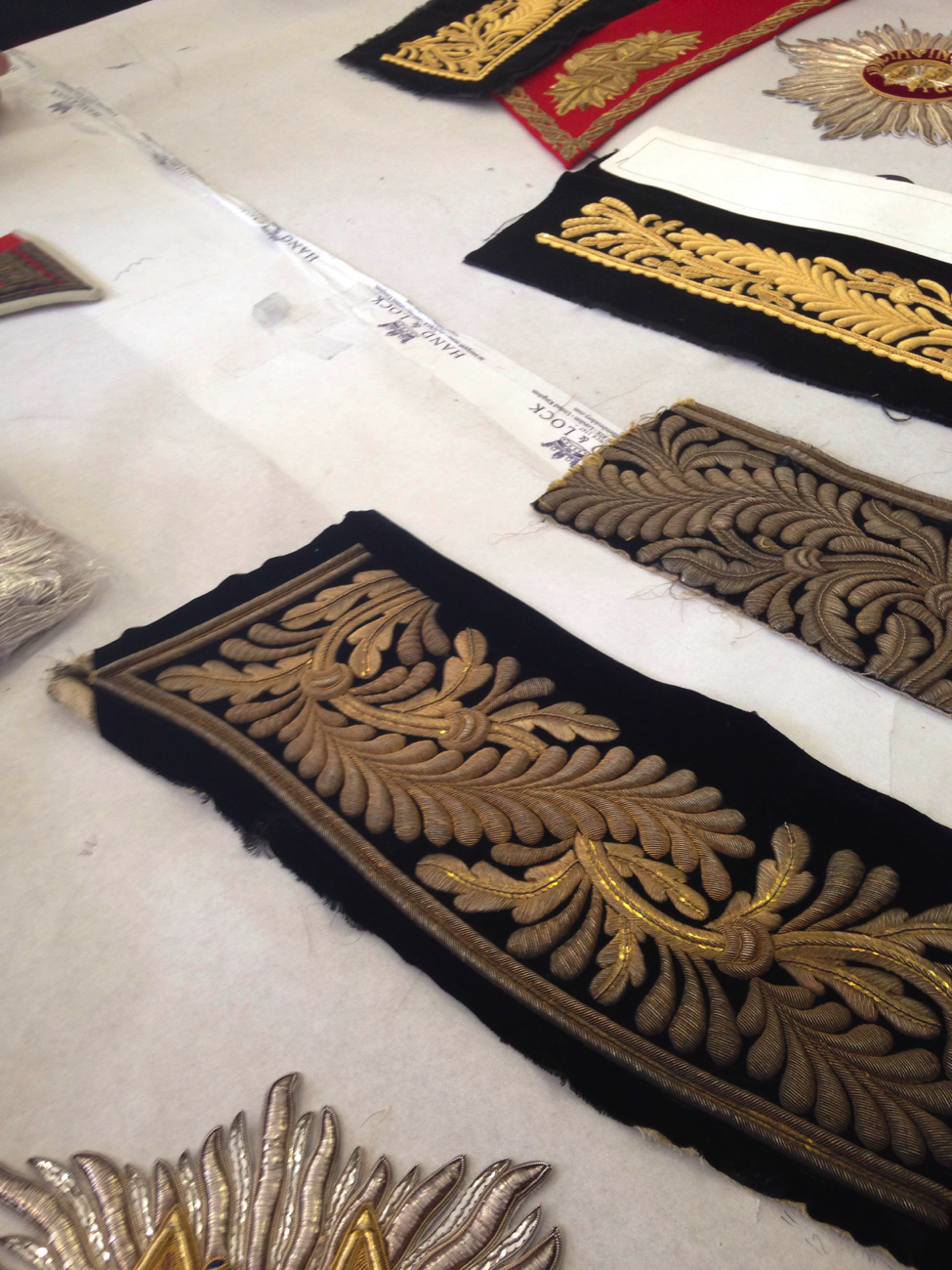 (examples of traditional goldwork embroidery)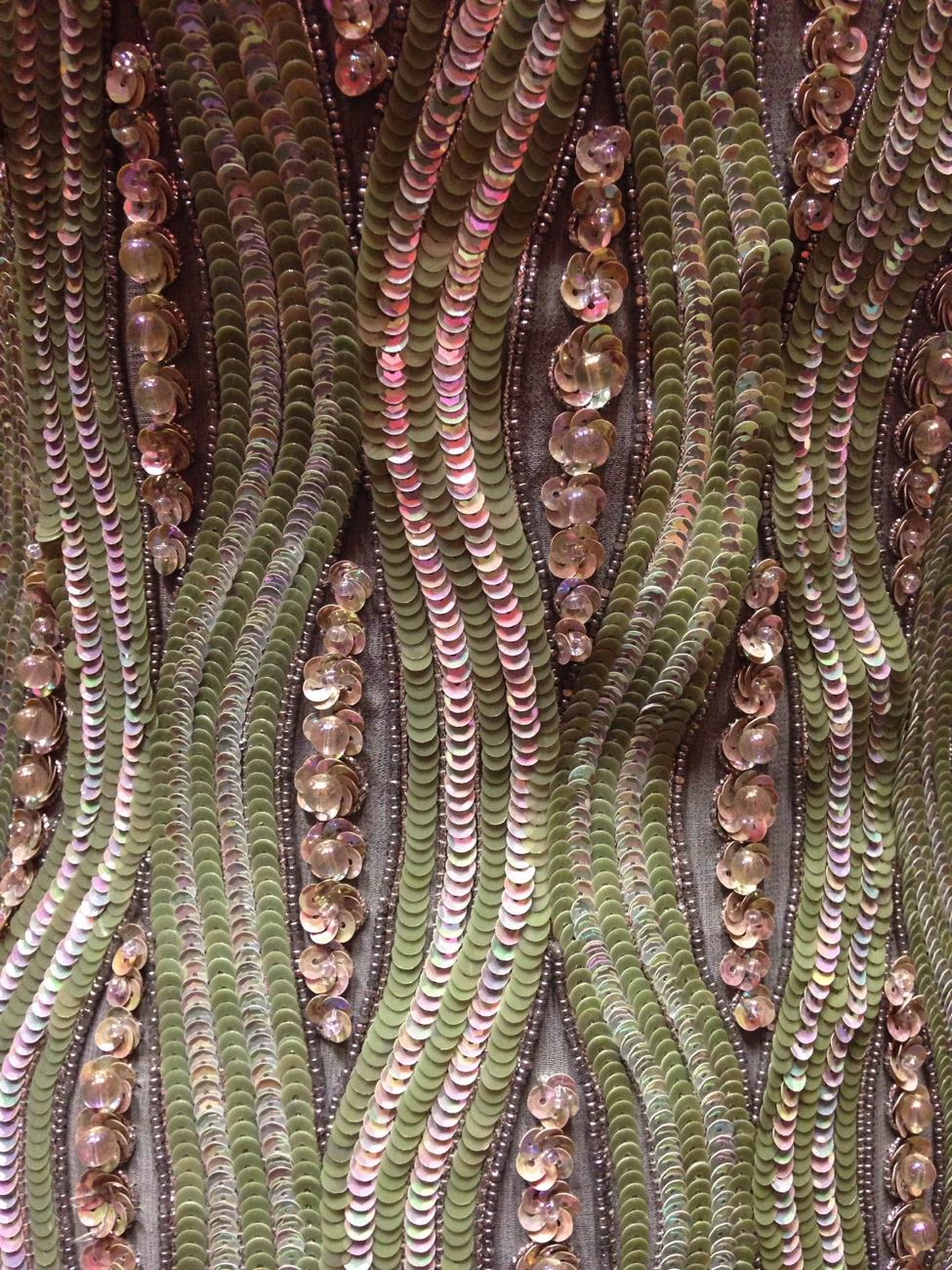 (embroidered garment by Hand & Lock)