500-Mile Pilgrimage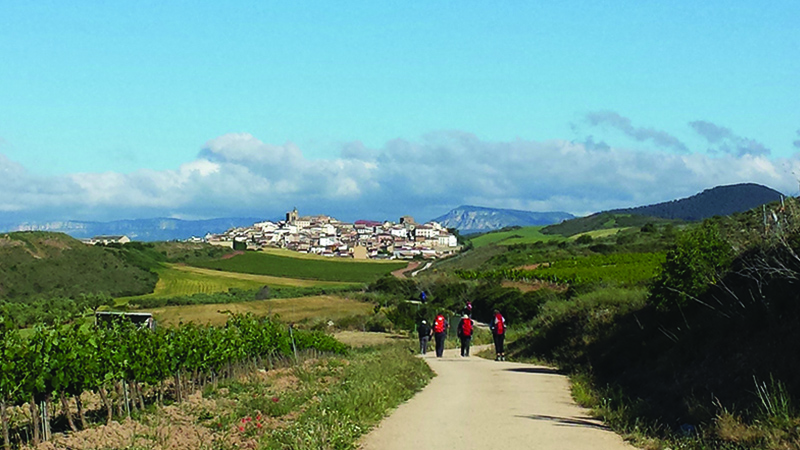 El Camino de Santiago, a student's 500-mile pilgrimage to the acclaimed cathedral and resting place of St. James made possible through the Noble McDuffie Study Abroad Scholarship; reflections of architecture, culture, personal insight and what scholarship has meant to him.
Eli Simaan ['15 M.Arch]: has always had a keen interest in history and adventure. In fact, Simaan spent much of his free time researching stories that pose opportunities for travel and expeditions. "It's exciting and exhilarating to experience places that are new to me. The opportunity to be exposed to something for the first time is part of the excitement. It is an awakening experience and brings a new sense of emotion and feeling – the opportunity for something new and wonderful to happen is always there," he states. In his research, he stumbled upon an article that listed the "Top 10 Treks to Consider," which included "El Camino de Santiago," a 500-mile pilgrimage to the acclaimed cathedral and resting place of St. James. El Camino de Santiago, meaning The Way of St. James, is a network of routes that leads to the Cathedral of Santiago de Compostela in the northwest highlands of Spain. Believed to house the tomb of the apostle St. James, the cathedral draws thousands of pilgrims who walk or bike the many historical routes annually. While some participate as a spiritual quest, others undertake the journey simply as tourists with an interest in culture, beautiful vistas, and adventure. It seemed like a perfect trip for Simaan.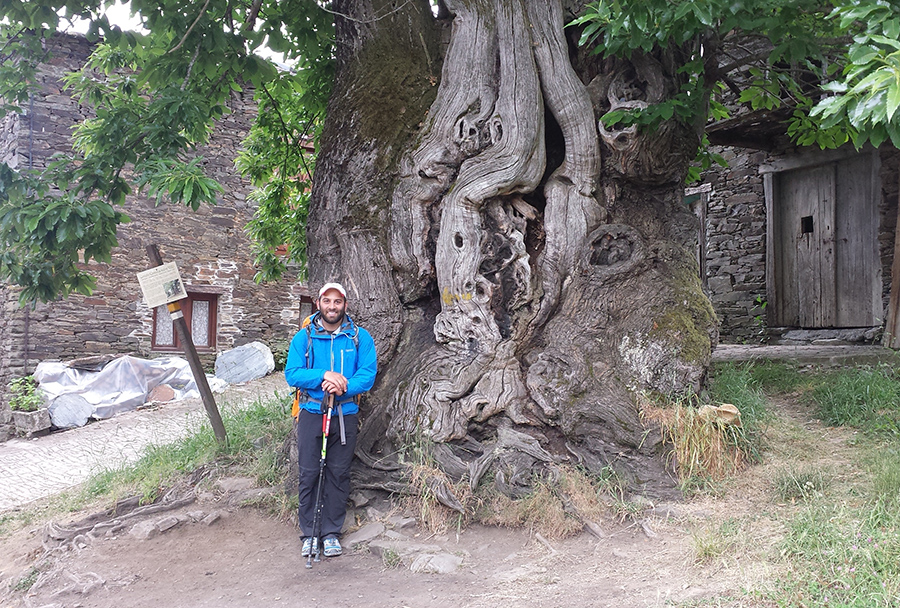 Simaan came to the College of Design with a Bachelor in History and a Masters in Renewable Energy from Appalachian State University (ASU). While at ASU, he participated in an assistantship with Chad Everhart ['98 BEDA, '03 M.Arch], an alumnus of the College of Design, on a project entitled, "Farmitecture." Through this assistantship, Eli was part of the team that researched and documented a 369-acre farmstead, willed to ASU by the late Beulah and Reeves Vannoy. The students measured, sketched, and rendered 3D models of the property, allowing them to study and understand the vernacular and vulnerable structures of the area. The goals of this research were to augment historical preservation and to learn more about the building processes and integrity of these historic structures. This experience and the influence of Associate Professor Everhart were the reasons Eli decided to come to the College of Design to pursue a Masters in Architecture.
"History and architecture have such similarities and parallel purposes, and I believe they complement one another," Simaan explains. "I truly believe that the history of something gives me insight into the cultural reasons something is there; a particular type of building in a certain area gives you cultural context of why that building is there (especially when it is unique to an area)."
Last year, he learned of the Noble McDuffie Study Abroad Scholarship. The scholarship, created by alums Linda Noble and Craig McDuffie, provides students with the opportunity to pursue other types of educational training or intense inquiry that are not part of a traditional, classroom-based learning experience. Simaan quickly realized that this could be a great opportunity to achieve his goal of trekking in Spain's mountainous landscape. After Simaan submitted his essay and completed the application, he was grateful to learn that he was selected as the recipient. Until recently, hiking the Appalachian Trail had been his most alluring trek. But now he would have the opportunity to be a peregrine (pilgrim) on a trek that tens of thousands of people have experienced for more than a thousand years. His journey through the culture, history, architecture and the religious experience of  El Camino de Santiago was finally underway.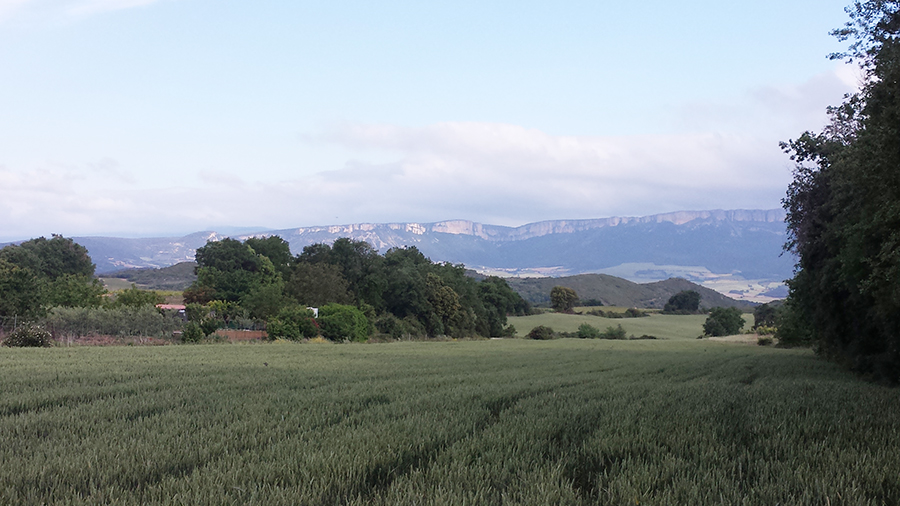 The route Simaan chose, called the "Camino de Santiago Frances" (The French Way), starts on the French side of the Pyrenees, and constitutes the most widely traveled path of the pilgrimage. For 30 days, Simaan walked the 500 miles that began in France and lead him through quaint towns, vast farmland, mountainous terrain, paved roads, and cobblestone and dirt pathways. His daily treks ranged from 18 km (11.25 miles) to 42 km, which is equal to a marathon (something he accomplished on the last day of his journey).
Simaan started his pilgrimage with no predetermined notions or ideas of what he would experience but with the realization and hope that it was going to be inspired. Open to what lay ahead and the many opportunities that would present themselves, and with only a backpack filled with the bare essentials, Simaan started his trek alone. "The language barrier and being in a new country with no organized itinerary or tour guide was at first a bit overwhelming," he states. "Then I met others who were in similar situations, and I relaxed." Some of the most amazing aspects of this journey were the people he met and the memorable moments this created. "One day I went to a famous café in Pamplona – a place that Earnest Hemmingway often visited – and I just walked up to some people who were sitting and asked if I could join them." 
There was always someone new to meet. People of every age, background, ethnicity, and belief take part in this pilgrimage. "While I was walking, I came to the realization that this journey was a metaphor to life. If you look at it carefully, people from everywhere are taking part. Everyone proceeds at their own pace, in their own manner. There is no discrimination of who, how, or what. Everyone goes on the journey of life and learns the importance of understanding that nobody has it easy, everyone faces difficulties and individual challenges. You realize that, at some point, you need help. It may be that you need food, shelter, or just directions. All of this has made me appreciate the human existence more."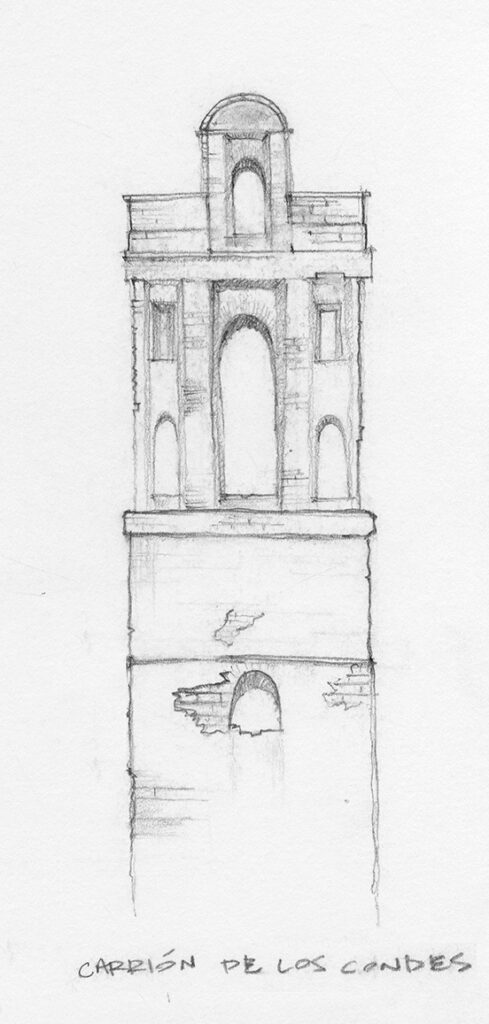 In the evenings, Simaan would journal his encounters and sketch in order to capture the memories and experiences. "Drawing is a universal language, and it was amazing that every night when I was sketching, people would approach me to see what I was doing. My sketches were not great, however, everyone was very encouraging and I could sense that they were able to understand what I was trying to capture. I knew that when I took out my sketch pad, I was going to make a new friend."
Every day brought a new adventure and an opportunity to learn. Simaan met with locals, tourists, and pilgrims while taking in the beauty of the land. Even the food provided a glimpse into the characteristics of the culture and way of life. "I learned to appreciate the differences that make everything special. These experiences were unique exposures to people and how they think. As an architectural student, I saw so many things that I would not get to see without this (scholarship) opportunity. These experiences are going to stay with me and probably influence me as a designer." As a designer, Simaan realizes that it's the sensitivity and understanding of the landscape, the people, the purpose, the use, and the availability of local materials that can make something great. He feels that he now has a better understanding and a broader sense of awareness that others may take for granted when working on a design project.
So what does one takeaway after completing a 500-mile journey in the course of 30 days through the historical and cultural beauty of Spain? Simaan thinks about this crosses his arms, takes a deep breath and exhales. His facial expression is peaceful and he says, "My one big take-away from this amazing experience that will be with me for the rest of my life is this: scholarship is a daily opportunity and you can expand your world and your thinking by just keeping your eyes and mind open to new things. Walking the route of 'El Camino de Santiago' offered more experiences than I can express today, but I do believe that going beyond your comfort zone and thinking about the challenges and differences of others is an aspect that is crucial to the process of design."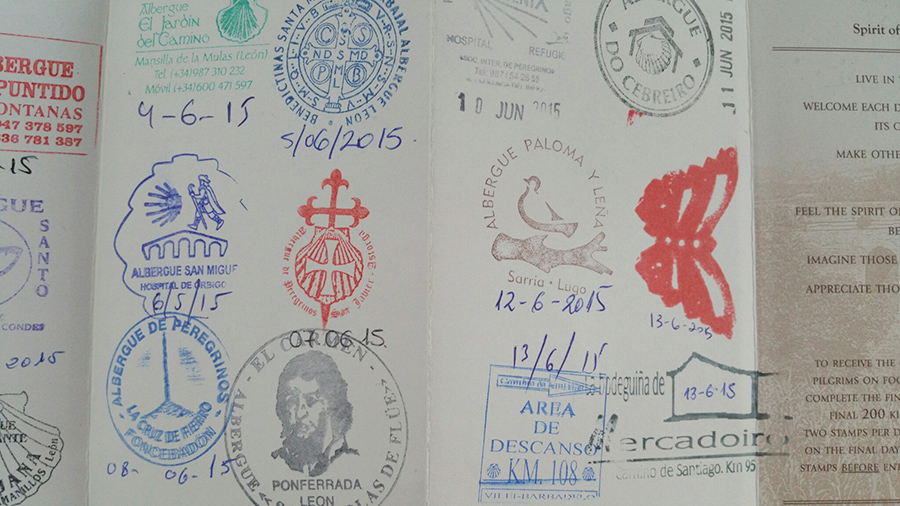 ---
At the College of Design, our goal is to provide an opportunity for all students to live a Designlife! Every gift is important to the future of design education and has an impact on the College's most important mission: teaching students to design for life. For more information contact Jaclyn Hage at jaclyn_hage@ncsu.edu.