Beyond their Wildest Dreams
In the design studios this summer, high school students from across the country and abroad sat in the dark, inside appliance boxes big enough to serve as unique, collaborative spaces, and mapped out the landscapes of their recurring dreams. Using glow-in-the-dark paint, fabric and other materials, and wearing headphones to limit outside distractions, the students designed dreamscapes that would become virtual reality (VR) environments. They photographed these with a 360-degree camera, uploaded the images to the Google app Street View to produce 3-D panoramic wraps, and then visualized them in Google Cardboard, an inexpensive VR headgear that pairs with a smartphone to divide the viewer's vision into two segments and merge those perspectives to simulate a 3-D environment. The results were immersive, virtual backdrops that generated a sense of space and dimension that they and their classmates could experience as though they were inside them.
The dreamscapes were built in a five-day summer studio piloted this year by NC State Design Lab K-12 Education. Assistant Professor of Graphic Design Helen Armstrong taught the virtual reality prototyping studio, "Dreaming in VR" at the graphic design camp (a second camp for architecture was also piloted this summer). Armstrong and Derek Ham, assistant professor of graphic design, developed the workshop together and premiered it in May at Moogfest, a festival of music, art, and technology that was held this year in Durham, N.C. Armstrong modified the curriculum for the Summer Studio to serve high schoolers who know the basics of design and want to focus more deeply within specific disciplines.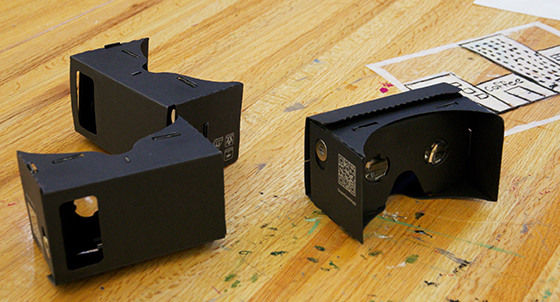 The studio opened with a day of brainstorming and creating visual solutions to design problems, followed by a day of research and developing branding projects. Armstrong developed prompts to keep the exercises fun. Students used their initials and drew brand attributes from a hat to further develop identities for a wide range of characters, from an optometrist to a butterfly collector.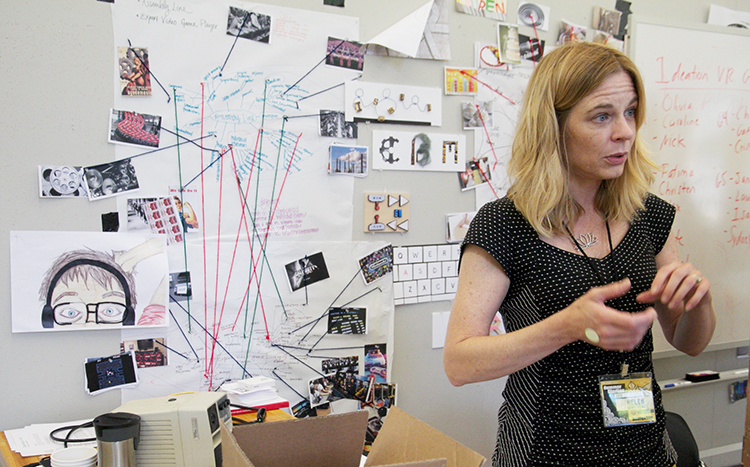 But Armstrong was most enthusiastic about sharing with students new technologies like Google Cardboard and using real-world materials to create in VR. Rather than doodling in virtual reality to produce something physical, Armstrong wanted to flip the process and get her students to draw from concrete details to build their virtual prototypes. "The students wore headphones to experience the space [inside their boxes]. They got in and thought about what type of space they were trying to construct physically. That alone gave them a lot of ideas for their environment—they could make an interface that felt like a steering wheel in their hands, or they could create characters above the head of a participant—things they might not have thought of if they were building these in a virtual environment."
Students collaborated to discuss ideas and construct their VR spaces. "The participants came together in groups and talked about recurring dreams they'd had, and then they selected one recurring dream that they found particularly powerful and came up with ideas for building or reconstructing that dreamscape in a VR space," Armstrong said.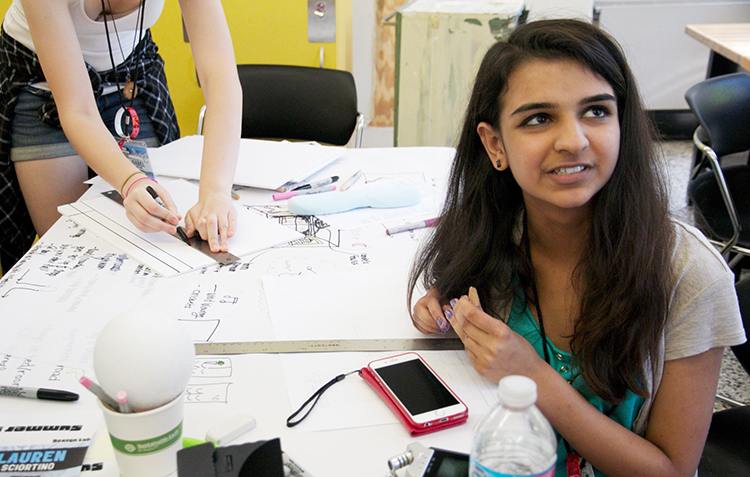 For some students, the Summer Studio was an opportunity to dive headlong into their passions. Janvi Shani, a rising senior from Flower Mound, Texas, in June attended Design Immersions A Camp, hosted by the Design Lab, and returned weeks later for this workshop. "I really enjoyed the in-depth focus on branding and advertising [in the Graphic Design Summer Studio]," she said. "I'm learning a lot of stuff I didn't know already and it really helps—plus I get to meet new people, and the teachers and counselors are amazing." She hopes to pursue graphic design and was excited about the main project the students put together. "We're combining all of our projects together to make a big dream."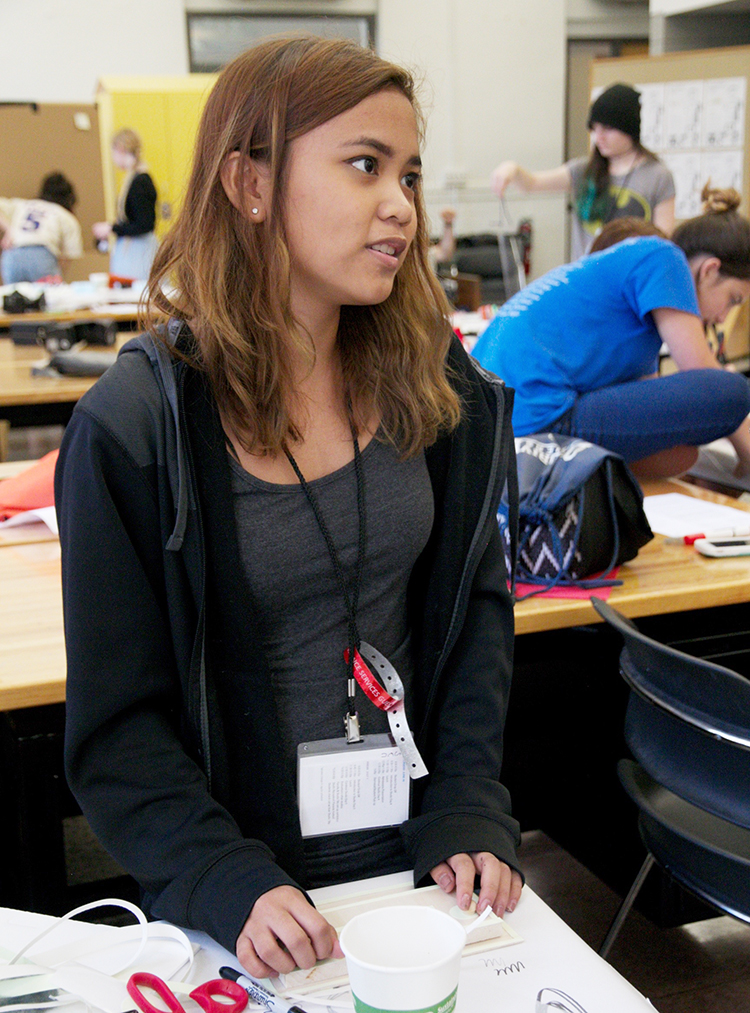 For others, the studio offered a glimpse of technologies they hadn't tested, as well as a better sense of NC State's design offerings. Crista Quintos, a high school junior who traveled from the Philippines, enjoyed working with VR, which she said isn't as available to students in Manila, and may consider a future at NC State. "I really liked NC State once I saw the campus and looked around. I had heard so many good things about it, and my interest has only grown. It seems like a really good school to go to."
Quintos was able to attend in part through the Design Lab's Financial Assistance and Scholarship fund. "The scholarship really helped," she said. And attending the studio was a validating experience for her. "I met really nice people that actually had the same interests as me, and teachers that listened to me. It's nice having people understand that it's not just a hobby or something I do in my free time; it's something that I'm actually passionate about."
---
In addition to the Marvin and Cindy Malecha Dream scholarship, the Design Lab has a Financial Assistance / Scholarship program that Design Campers can apply to upon registering for camp. The Design Lab Financial Assistance program provides partial fee waivers for students who apply based on family need and student motivation and interest. Students applying for Financial Assistance have the option of applying for additional support in the way of a Design Lab Scholarship by having a teacher or guidance counselor submit a letter of recommendation based on academic and creative merit. Design Lab Scholarship applicants are considered for additional assistance based on these criteria.

Visit design.ncsu.edu/designlab/support to make a donation. The Design Lab also works with Foundations and Organizations who are interested in creating special recurring scholarships for students meeting special criteria. Those interested in more information can reach out to Julia Rice at julia_rice@ncsu.edu.
by Julie Steinbacher [MFA '16]