Design for Versatility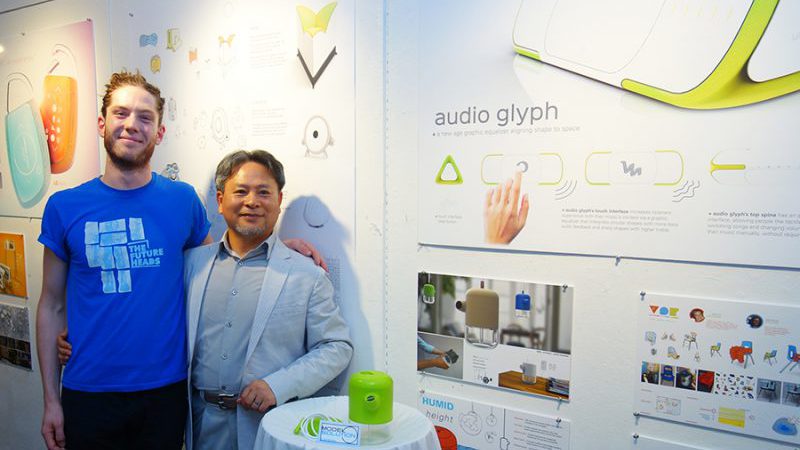 Graham Schaafsma ['16 BID] says it was a "readjusting of priorities" that led him to the College of Design and an industrial design degree. A self-proclaimed "oddball" with talents in theater, art, and athletics, Schaafsma started college at UNC Asheville with the intent of majoring in psychology and minoring in new media before he had a change of heart. "I fell in love with psychology and how people perceive the world and how they navigate through it to come to certain conclusions," he says. But he was less enthusiastic about continuing his studies for years in order to get a Ph.D. "I decided to switch to something more creative."
NC State's industrial design program caught his eye—with his background in psychology and interest in understanding how people think, Schaafsma realized he could design intuitive products that would address human needs.
"People don't always know how to articulate what they want (in a product), but their bodies do. I like to articulate [that] and sell it back to them—this is what an industrial design education does."
Beyond that, Schaafsma wants to focus on products that are both versatile and affordable. He believes products that deliver multiple options and functions are not a luxury but a necessity. He cites the Raspberry Pi as an example. This is a low-cost hard drive that can be adapted to work with any computer, making it interchangeable and accessible to a larger community of people.
The next big thing?
His opportunity came in his senior year when Associate Professor of Industrial Design Bong-Il Jin handed students a prompt: "what is the next big thing and why is it better than the last?" Students were asked to provide concrete reasoning to Jin for their designs and the purpose behind them.
Schaafsma spent weeks brainstorming what it was he would reinvent, but each time, he came back to the idea of a humidifier. "I had other designs and products pop up in my head, but there was no catalyst to these ideas. All the features that formulated in my mind in a nuclear, free-orbiting way, drove me to a humidifier. It all kind of collected around what it needed to be."
Deciding upon the humidifier led Schaafsma to a lengthy iterative process of developing a unique product that was better than what already existed. "The ideation included a rigorous set of considerations of all the things a modern design needed to be. I was going through or eliminating so many things that were necessary and keeping only the shell of the object, the impact of a shape or silhouette. I wanted the right jesters of form," he said. "I just knew that an aesthetic design that was insightful would provide the right solution."
Tools of the trade
Schaafsma incorporated SolidWorks, a modeling tool program he had never previously used, for this project. "I was able to access this 'beginners luck' or a natural intuition in the use of the program. I've grown to love SolidWorks as a tool and it has been a natural fit," he says.
The result of all his planning—taking into consideration user experience, psychology, theory, and the macro and micro aspects of the product—and modeling has been a success. His design was selected by Model Solution, the premier service provider for prototype model making, quick-turn tooling, and production of injection model parts, for further development and made into an actual appearance model. Schaafsma worked closely with Model Solutions in this process, providing the files that would break down his product's specific requirements and details such as color, finish, texture, and how things should move. Working back and forth with the manufacturer provided real-world experience that few students have the privilege of.
Although the appearance model is not operable, it has movable parts that demonstrate its intended use. In this case, the shell rotates, the top cap rotates, and the snap fit cable works and gives the impression of a final product.
Most designers, let alone student designers, will never see an actual prototype of their creations—the estimated cost for this one is between $10 and $12 thousand dollars.
The prototype was unveiled at the Senior Industrial Design show, which was the first time Schaafsma had the opportunity to see it. "I got to hold my design and my product. It was indescribable that I was able to do this."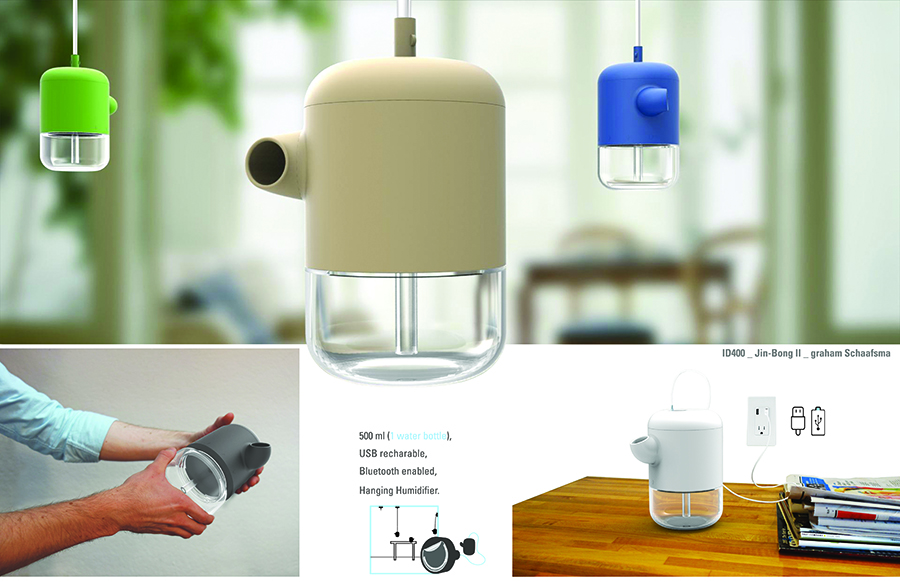 2016 IDSA Conference
The next stop for Schaafsma's little humidifier is the IDSA Conference in August. Jin and Schaafsma have been invited to Detroit to exhibit the humidifier within the Model Solutions booth. It will be a great opportunity to showcase the work of College of Design students.
The College of Design
When asked about his experience at the College of Design, Schaafsma is quick to praise it. "The program has been very research-based and characteristically hands-on, with a lot of rigor. I think that the more work you do, the better your experience is and you learn from yourself and reflect with others in a collaborative way. Not only from professors but real design firms and corporations."
He notes the many sides of design exemplified in the teachings of different faculty members—"Associate Professor of Industrial Design Dr. Sharon Joines provides the medical and human factors side and she is an empathy designer. Associate Professor of Industrial Design Brian Laffitte is the shop guru and empathy designer. Bong-Il Jin is the ID designer with lots of experience in product design and development. Associate Professor of Industrial Design Tim Buie is the tech guru and teaches all the elements of design. They all provide a different flare that makes for a great opportunity to learn."
"I am happy that NC State has such an emphasis on interacting with people, human-centered design. Schooling should teach you enough skill to enter the world competitively. You can't be competitive without being able to think, and you get this through experience."