Sonika Rawal: The Impact of Urban Park Design on Recovery from Stress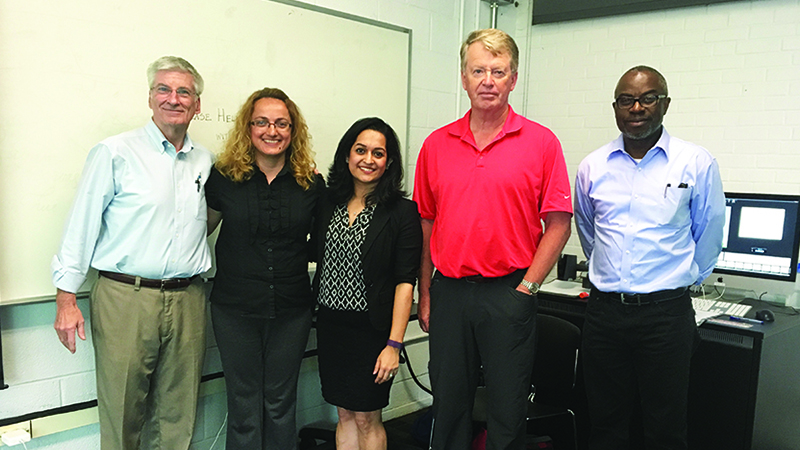 Congratulations go out to Sonika Rawal, who successfully defended her dissertation, "Impact of Urban Park Design on Recovery from Stress: An Experimental Approach using Physiological Biomarkers," on June 15, 2016 to receive her PhD in Design. It was an interdisciplinary work of research, with feedback and disciplinary perspectives provided by Roger Mitchell (Emeritus Professor, Department of Psychology) and Myron Floyd (Professor and Department Head of Parks, Recreation, and Tourism Management in College of Natural Resources).
Many thanks to the committee members who supported Sonika's research, including Committee Chair, Assistant Dean of Research and Extension, and Assistant Professor of Landscape Architecture Dr. Celen Pasalar.
Read the abstract of Sonika's dissertation below:
"Natural environments have been shown to help humans recover from stress and restore physical and mental health; by contrast, urban environments have been shown to hinder recuperation and amplify the hassles of everyday life. Even though now it is deeply ingrained that the experience of nature produces an array of positive benefits to mental well-being, much less is known about the amount of green exposure and the specific attributes of green spaces that produce these effects. The current translational study addresses this gap and investigates the amount of vegetation within urban parks that is most associated with recovery from acute stress.
A novel methodological protocol was developed that allows use of physiological biomarkers (salivary alpha-amylase and salivary cortisol) as pragmatic measure of stress, as well as 360 degrees panoramic Immersive Virtual Environments (IVEs) using Oculus Rift to measure unambiguous design characteristics of urban parks and their impact on acute stress in people. Data was collected using a quasi-experimental approach. Results of the statistical analysis indicate that as the percentage of vegetation cover increases from barren to greener scenes, there is a rapid decrease in stress levels until the density of vegetation reaches about 50% of the visible space; higher densities predict higher stress. This study also confirms the potential of IVE to become a ubiquitous methodological tool for researchers investigating human perceptions, preferences and responses to built and natural environments.
These findings can inform urban designers and landscape architects when designing healthy urban spaces, can influence policy and design guidelines concerning urban parks and finally can have an impact on decision-makers and local governments in cities (beyond designers)."