The Cultural Influence of Architecture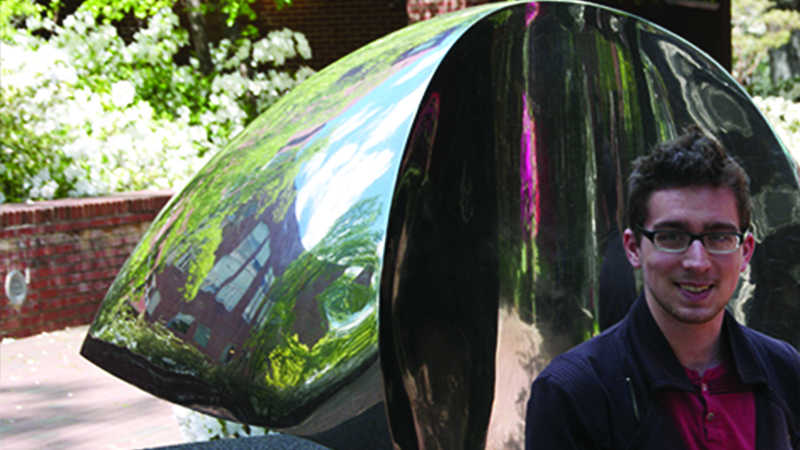 "This is an amazing opportunity, and I'm humbled by my knowledge of the other applicants and that I was selected. It's the beginning of the pattern of travel that I want to do in my future (with my life)," stated Dylan Impink in response to being awarded the 2016 Linda and Turan Duda Traveling Fellowship. It has the transparent goal of part of the long-term ambition to work or live in Mexico City.
Impink is a fifth-year Architecture student who will graduate in May and then venture to Mexico City to investigate the 'alternative modernism' influence of five unique architects. These architects include: Hannes Meyer, Max Cetto, and Mathias Goeritz of Germany; Félix Candela of Spain; and Clara Porset of Cuba. In this seven-week travel, he will visit numerous locations and document projects realized by these architects and other projects which influenced these designers. His plan is to select one project from each architect and to document in detail through photography and drawing perspectives, plans, and sections.
The Linda and Turan Duda Traveling Fellowship is an annual scholarship made possible through the couple's generosity and is available to architecture graduates who have demonstrated academic and design excellence. Turan is an alumnus ['76 B.Arch] of the College and partner of Duda | Paine, an award-winning, Durham-based firm. He is also an active member of the College of Design community. Duda|Paine is the architecture firm responsible for designing the Talley Student Union.
As a research assistant to Assistant Professor of Architecture Dana Gulling, Impink was responsible for researching many of the firms that Gulling referenced in the book she was working on. He was able to learn and appreciate the strength of the architecture community in Mexico and this was one of the igniters to pursue further investigation.
Impink has been working on formulating the research and developing a bibliography specifically in preparation for this fellowship opportunity. For the past several semesters, he has engaged in related seminars with Assistant Professor of Architecture Dr. Burak Erdim, Ph.D., and Associate Professor of Architecture Dr. Patricia Morgado, who he credits for much guidance and support for his efforts.
"I am indebted to all the faculty – truly each one – who have taught me lessons that I can attribute to each about the design process and design theory. They have influenced me in many ways."
Architecture is a deep-rooted passion for Impink who has had this career path in his periphery since a child. "I think you float around when you are young with what to do when you grow up, and architecture has always been there for me," Impink said without hesitation. "I took an art history class in high school and thought, maybe I'll be an architect."
He came to the College of Design based on the impressive reputation and close proximity to his home in Cary, NC.
"I like the architecture program (here at the College) because of the strength and influence of the adjunct faculty, and these teaching practitioners who work locally and pursue excellence in design and teaching," Impink stated. "I value that they do this three days a week – this elevates a practitioner. I think the adjunct faculty who come back is due in part because they like the distinction between practice and academia."
When asked about what he hopes to accomplish through his travel to Mexico, Impink is quick in his response. "I'm interested in discovering the cultural similarities of architecture. The journey of traveling by oneself is rewarding and challenging – in a really less than modest way. It is an attempt to reenact the journey of one who has immigrated to another country. I would like to find how these cultures moved back and forth and influenced architecture from Mexico City to other cities."
---
At the College of Design, our goal is to provide an opportunity for all students to live a Designlife! Every gift is important to the future of design education and has an impact on the College's most important mission: teaching students to design for life. For more information contact Jaclyn Hage at jaclyn_hage@ncsu.edu.