Class of 2019 Caldwell Fellow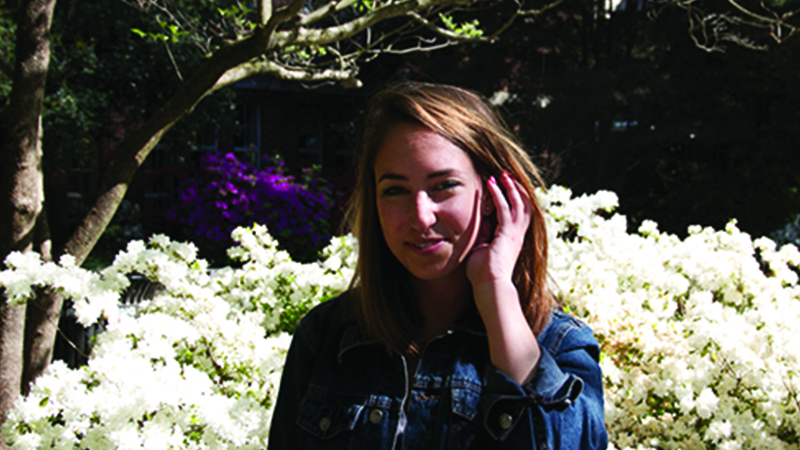 At the College of Design, we have some of the best and brightest in terms of our students (faculty and alumni too). It is amazing to meet with these young individuals and learn first-hand how intelligent they really are.
I recently met with Nikki Knapp who is a freshman in the Art + Design program working towards a degree in Design Studies with a concentration in biology. Two uniquely different studies, yet surprisingly complementary. "Biology has made me aware of how beautiful life forms are, how complex they can be. Things like genetics are so interesting. I think the application of design and biology are not that different."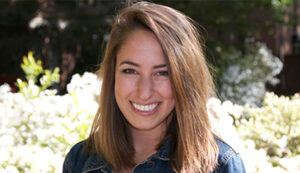 "I was almost not coming here (to the College of Design); I was going to Chapel Hill to study biology. Then all of these things started to show me different signs that led me to the College of Design. A TED talk about doing what you love was inspiring and I realized this was a sign," Knapp said emphatically.
Knapp has a positive outlook and is passionate about many things. She is optimistic and excited for what lies ahead. Recently, Knapp was selected as one of the NCSU Caldwell Fellows Class of 2019. This is a prestigious award for exceptional students who excel in the areas of outstanding character, leadership potential, scholarship, and dedication to service. Twenty-five students were chosen to be part of the NCSU program and the selection process is rigorous and intensive.
Applicants were required to complete three essays, seven response questions, and submit a three-minute video on how they fit within the Fellowship program. From these submissions, 60 candidates were chosen to participate in a day-long selection process. This process included numerous 30 to 40-minute interviews that determined the 25 recipients. "It was stressful but an amazing experience," said Knapp.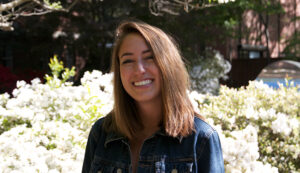 "I got to meet all the 2019 Caldwell Fellows at a retreat this past weekend. It was amazing. They all have so much substance; such a unique and inspiring group of people. We stayed up all night just talking and getting to know everyone."
The Caldwell Fellows program invests in students who possess a passion for learning, leadership for social change, and serving others. The program is in honor of Chancellor John T. Caldwell (1959-75) and his vision that encourages scholars to "Think BIG." It facilitates the opportunity for students to maximize their college experience through financial support for tuition, a stipend that provides travel and collaborative experiences, and coaching and mentoring from community and business leaders.
Recent past recipients of the College of Design include Class of 2018 Amanda Crawford (Industrial Design) and Sam Linville (Graphic Design), Class of 2017 Allison Press (Graphic Design) and Caswell Turner (Art + Design), and Class of 2016 Jocelyn Barahona (Architecture) and Bethany Faulkner (Graphic Design).
Knapp is thrilled to have been selected for this opportunity and is grateful for the chance to enhance her college experience. "I'm most excited about the travel. I've not traveled a lot and the opportunities (available through the Caldwell program) are about cultural immersion. The only requirement is that we have to write a reflection which is wonderful," she said with delight. "Every summer, I'm going to get to do something and it's going to be great."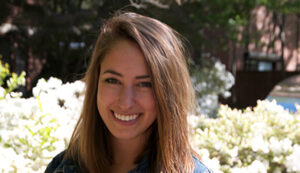 This summer, Knapp is taking part in a 'Mountain to Sea' backpack trip to the Pisgah National Forest and the Outer Banks. "It's a true experience. The benefits of being grateful for what you have and the opportunity for development and leadership skills as you work as a team," Knapp said are the reasons she selected this event.
Her reflection on the future: "I would love to teach. My passion would to some day be a teacher in the high school or college level. The people who have impacted me the most are teachers who have experience in the professional world and then became teachers for the love of what they do."
As a freshman, Knapp has learned much and participated in as many activities and programs that her schedule will allow. As the member of the Design Council, which is a student-run organization within the College of Design, Knapp is the Community Relations and Outreach coordinator.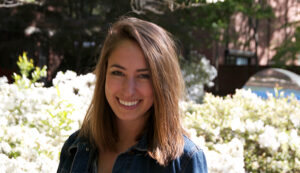 "Nikki represents the best of the College of Design – she's been a wonderful addition to Design Council as part of the Community Relations effort and she works hard to serve the student body in the College of Design. I'm very grateful for the privilege of working with her and the rest of the Design Council team," stated Sam Linville, President of Design Council and sophomore pursuing a degree in graphic design who is also a Caldwell Fellow.
Her favorite class: "I really enjoy design thinking. While you are in it, it may not seem like it's important and then you realize it's so critical. We have a lot of guest lectures that allow us to see what they have accomplished and how they apply design thinking. The most important person in the room is the one who is not supposed to be there. Someone said this in one of the lectures and it struck me as so true and powerful."
About Nikki: "I have a lot of passions. A big thing in my life is music. I've played the piano since I was young and just recently, I just started writing songs. I like lacrosse and played all through high school. I've thought about playing club or intermural but I don't have the time. I have a little sister who is my best friend and a large part of my life. She is a junior in high school at Cardinal Gibbons. I miss her. I always thought she would be great in design because she is so creative.
Knapp is ready to take on any challenge or opportunity presented to her. She is ready to live a Designlife.
---
At the College of Design, our goal is to provide an opportunity for all students to live a Designlife! Every gift is important to the future of design education and has an impact on the College's most important mission: teaching students to design for life. For more information contact Jaclyn Hage at jaclyn_hage@ncsu.edu.