2016 CELA Excellence in Teaching Award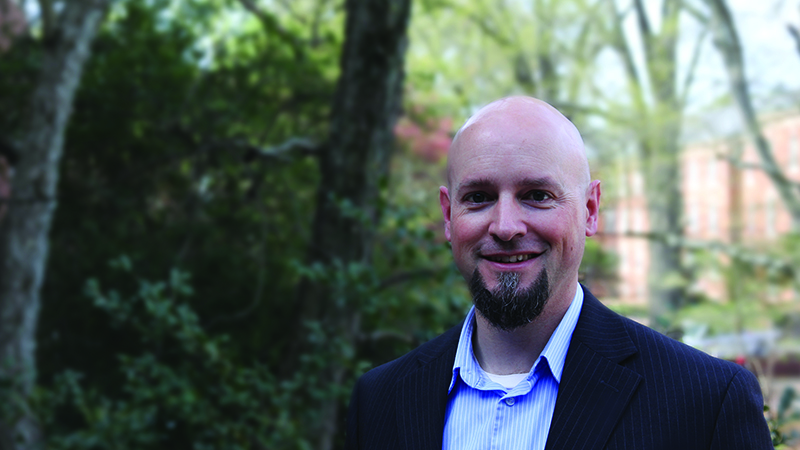 Associate Professor of Landscape Architecture, Co-Director of Coastal Dynamics Design Lab, and University Faculty Scholar Andy Fox, ASLA, PLA has been recognized by the Council of Educators in Landscape Architecture (CELA) for the 2016 Excellence in Teaching Award, Junior Level. This prestigious award recognizes Fox's continual commitment to the profession of landscape architecture and the innovative teaching practices and exceptional high standards to which he is known for. The CELA confers this award to honor a faculty member's excellence in creative, innovative, and effective teaching methodologies and practice.
The CELA awards program honors educators who dedicate themselves to higher education in the field of landscape architecture. Nominations are solicited from CELA member schools in good standing across the United States, Canada, Australia, New Zealand, and South Korea. The CELA can trace its beginnings to 1920, and for more than 90 years it has been concerned with the content and quality of professional education in landscape architecture. It is the premier international organization for educators in landscape architecture.
When asked about this award, Fox commented, "It's nice to have my hard work recognized at this level. I am honored knowing all the great educators out there and that I was selected." This is a humble remark from someone who has continually raised the bar of expectations and delivers exceptional results in his teaching and beyond. Professor and Department Head of Landscape Architecture Gene Bressler, FASLA, sums it up quite simply: "he (Fox) is a gifted and talented landscape architect in his own right, and a superb educator. And, one of the most deserving of the recognition afforded by the CELA Awards Program." Bressler continued, "When asked, Andy will tell you that 'being a landscape architecture professor is my dream job; it combines my love of design, ecology, construction, and public participation with a passion for teaching and creative experimentations.'"
Fox has consistently received high marks and accolades from faculty, students, and the professional community for his ability and willingness to develop leading-edge curriculum and outstanding educational experiences that cultivate successful future landscape architects. His achievements and awards are vast and include: 2014 Inductee: Community Engaged Faculty Fellows, NCSU; 2014 Inductee: Academy of Outstanding Teachers and 2014 Alumni Association Outstanding Teacher Award, NCSU; 2012 Outstanding Extension Service Award, NCSU; 2012 Inductee: Academy of Outstanding Faculty Engaged in Extension, NCSU; 2012 Outstanding Extension Service Award, NCSU College of Design; 2011 Earthwise Award for Outstanding Achievement in Environmental Sustainability on Campus, NCSU; Campus Environmental Sustainability Team and the 2011 Professor of the Year Award, Dept. of LA, NCSU College of Design; 2014 Opal Mann Green Engagement and Scholarship Award, and the very prestigious 2011 National ASLA Award of Excellence for SHIFT: Infrastructure Journal for which he was a faculty advisor. In 2012, Fox was named University Faculty Scholar, and in 2014 he was named a Park Scholarship Faculty Scholar.
Here are just a few of the comments submitted on behalf of Fox for consideration for this prestigious CELA award:
"His guidance has not only garnered the deep respect of students and faculty, it is not exaggerating to observe that he has considerable influence on a campus of thirty-five thousand students. This is simply astonishing for a junior member of the faculty. The recognition he has received for his teaching and service at the University and in the community is nothing short of spectacular."
— Dean Emeritus of the College of Design, Professor of Architecture Marvin Malecha, FAIA, DPACSA
"Fox has consistently exhibited the characteristics of an outstanding teacher equally adept at maintaining currency in the critical issues facing the profession as well as the most effective tools for translating these imperatives to the classroom"
—Associate Professor of Landscape Architecture Kofi Boone, ASLA
"Fox's innovative design/build studios challenge his students to actually construct what they draw, and the NC State community has benefitted from his student's work. Prof. Fox has led students in several award-winning design/build projects that have improved the aesthetic and functional quality of our campus. Professor Fox is an exceptional colleague, a brilliant thinker and designer, and a thoughtful, rigorous, and generous teacher."
—Associate Professor of Architecture, Co-Director of Coastal Dynamics Design Lab David Hill, AIA
"Andy Fox is an educator who combines his passion for teaching and professional abilities into a holistic classroom setting that provides students with indispensable knowledge and experience. His creative approach and methods to education undoubtedly builds future leaders in landscape architecture and instills within a them a sense of purpose to strive towards creating aesthetically pleasing and functioning landscapes that benefit people and the environment."
—Logan Free, MLA, Presidential Management Fellow [MLA '15]
"As a graduate student at North Carolina State University, Professor Fox was instrumental in shaping the foundation upon which I am now building my career in landscape architecture. While pursing my master's degree, I had the privilege of participating in multiple studios directed by Professor Fox. As I look back on my academic experience, these studios stand out as crucial influences in the shaping of my professional trajectory."
—Ben Roush [MLA '14], Design Workshop, Inc.