The Art of Inspiration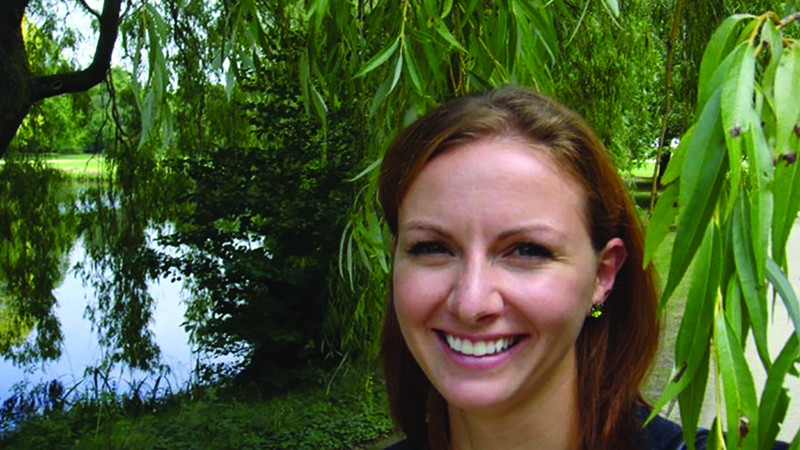 Have you ever met someone who has a deep passion for something inspiring? And their larger-than-life passion makes you want to learn more about what that passion is, with the hopes of achieving just a sliver of their true experience? I recently had the opportunity to spend some time with Assistant Professor of Art + Design Katherine Diuguid. I was amazed by how she has been so true and consistent in her passion of needlework and hand embroidery—so much so that it has infused all she has done, worked toward, and achieved over the past decade.
Diuguid grew up in western North Carolina and has a very close Italian family. Her fondest memories are times spent with her grandmother who influenced much of her passion and interests. "I have always been a creative person. Perhaps even weird as a child," Diuguid said. "In middle school when you were asked to write about what you did over the summer, I was the one who described picking boysenberries and dying fabric in my garage." Many College of Design students might not think this is strange at all.
"My grandmother taught me how to sew, crochet, and how to make patterns out of paper bags. When my grandmother came down to visit from Buffalo, NY, we would cook, stitch, and watch old movies." These memories and experiences are pivotal to Diuguid who understood at a young age what was important to her and what she truly enjoyed.
In addition to the many tactile experiences she shared with her grandmother, she had an opportunity to collaborate and learn about her grandmother's childhood and family history—which Diuguid emphasizes as influential and fueled her interests. "I've always loved to read biographies and learn about Hollywood actresses and fashion designers—like Audrey Hepburn and her relationship with Givenchy," she said with joy. Givenchy was a haute couture designer and fashion icon of the 50s. He was distinguished for designing many influential Hollywood gowns and costumes. The black dress that Hepburn wore in Breakfast at Tiffany's was a Givenchy.
When it came time to head to college in pursuit of her dreams, Diuguid had little trouble making her decision. "I looked at Parsons but it did not feel right. I loved NC State and wanted to do shoe design and decided on the College of Design for Industrial Design."
Diuguid was fascinated with the art of footwear and opportunity to learn something new. "The program at the College when I attended was very different than what it is today," she said. "We had fundamentals with Associate Professor of Industrial Design Bryan Laffitte and it was so important to the learning process." Having grown up with no formal art classes, Diuguid was initially intimidated by the other students—some of which were highly talented and had obviously been exposed to a wide variety of art and design classes. The intim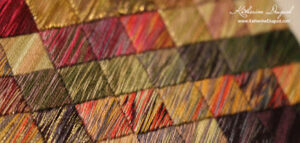 idation did not last long as Diuguid quickly found her way.
"I participated in Art 2 Wear and that was really exciting," Diuguid said. "I designed a small collection of cocktail dresses." A2W at the time was more of a "grassroots" effort that was held in the lower courtyard of Kamphoefner Hall, which is referred to as the "Pitt." "We used a large white sheet and a projector. There was nothing fancy, but it was so fun. It never occurred to any of us to even think of makeup," Diuguid recalled.
Following her graduation from the College of Design, Diuguid headed to New York and Parsons School of Design. At the time, Parsons did not have a graduate program, so Diuguid took part in their post-baccalaureate program in fashion design. Although this was a two-year program, she committed to completing it in one. "I did this because it was so expensive and I knew that if I focused, I could accomplish a lot. If I had taken more time, it would have allowed me to enjoy New York City, but it was not an option. I had to 'cultivate' the best out of the least amount of time," she said. This condensed experience forced Diuguid to focus on her studies and to quickly learn the best resources for fabric, notions and embellishments, and places of interest. Her portfolio and training achieved through the College of Design also allowed her to skip several introductory classes. The work ethic she developed at the College was also instrumental to her studies at Parsons.
"Parsons taught me the real way to sew and make patterns." One opportunity presented to her at Parsons was taking a course by an influential professor who happened to be well connected with many of the museum's curators. Part of the course involved visiting several museums and viewing some of the most beautifully handmade fashions from previous eras. "I lucked out with this course and the women who taught it. It made such an impact on me. I saw how structural stitching could be so beautiful–the construction of it, the craft, and the artistry. I had never been exposed to this type of hand stitching," Diuguid said with delight. "These were done beautifully and were still in such great condition–all done by hand–before sewing machines."
During this time, Diuguid was also an intern at Michael Kors in footwear and handbags. She was part of a small team, which provided great hands-on and invaluable experience. "I got to do a lot of things as an intern that you usually didn't get to do. I wrote up the fit comments that went direct to the factories for corrections. We would design the first samples and then production made sure everything matched the sample approved by the designers." "Fit comments" are the remarks to the samples. When a sample would be presented, Diuguid and others would try them on and comment on the fit. This could be a request to move the seam or remarks about the ball of the foot being too wide. These comments would allow manufacturing to better develop an improved sample based on the critical feedback.
Diuguid's final project was a wedding gown. "My senior project was in bridal design and I always wanted to do bridal. I created a biased cut and quilted gown inspired by southern quilts. It took me an entire semester to build." Her inspiration incorporated her childhood memories of bluegrass music and quilting with her grandmother.
It is of no surprise that Diuguid's final presentation was highly regarded and on display at Union Square Gallery representing the best of Parsons. Her project was extremely delicate and was a personal tribute to her appreciation to the art and history of fashion design. Diuguid was happy that it was in a static display rather than shown on the runway.
Using many of the skills acquired through her internship at Michael Kors, Diuguid held several positions in technical design. Her passion and talent for fashion design and hand embroidery were always evident in much of her personal projects. However, she really wanted to get back to bridal design. Diuguid began volunteering at "Arts 4 Life," a local nonprofit dedicated to providing art lessons to cancer patients and their families at Baptist Medical Center. This experience made her realize the importance of doing what she wanted and that teaching was something she truly enjoyed. She quickly decided to apply to graduate school at the College of Design.
Diuguid was interested in the Art + Design program because it was flexible and offered a hands-on approach. It was also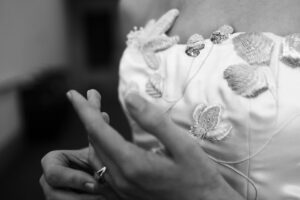 located in the U.S., something that was important to her and her soon-to-be husband. Within a short amount of time (ten days), Diuguid quit her job at Hanes, applied to the College of Design, got married, and started graduate school. She is driven, focused, determined, and knows exactly what she wants. She appreciates a challenge, especially if it involves learning a new skill.
As a graduate student, she focused on bridal design and couture fashion. Her final project was a wedding gown. She decided that she would cut no corners and use the experience as a once-in-a-lifetime opportunity to utilize all that she loved, learned, and appreciated. The project was also encouraged by the early life and first marriage of Consuelo Vanderbuilt Balsan to the Duke of Marlborough. Diuguid developed a blog to chronicle the making of this final piece (http://www.katdiuguid.blogspot.com/). "This project was completely couture, a hand constructed wedding gown. You only have one opportunity to do exactly what you want that is personal and passionate to you. A project of my lifetime – that i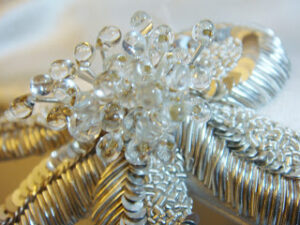 s exactly what I did."
Diuguid is constantly looking for opportunities to learn and share her love of hand embroidery. She worked on a special project with Alumni Distinguished Professor of Art + Design Susan Brandeis focused on goldwork embroidery. This is a highly skilled form of embroidery that dates back thousands of years and was widely associated with church vestments and hangings as well as clothing and furnishings for royalty and European nobility. " There are not a lot of people teaching this – especially in a creative way," Diuguid said. Because of this, she went to the United Kingdom and France to explore the history of hand embroidery and to expand her knowledge. She visited exhibitions, toured museums, and took a certificate course at the Royal School of Needlework at Hampton Court. "I loved it. As soon as I got home from my travels, I started planning my next trip. Every summer since then, I have been going back to the UK to take courses, research, and learn." Diuguid talks of many of her experiences including York Minster and the ecclesiastical history of embroidery. She is fascinated by all of this and her energy and excitement is palpable. "It is all so exciting to see and learn about what each of the motifs mean and why certain people were allowed to wear goldwork and why there are limited examples of this. I'm fascinated by royal biographies because those are the people who a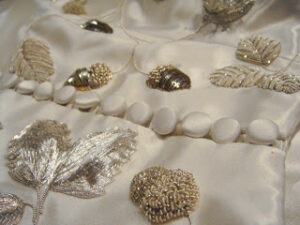 ctually recorded what they wore."
Today, Diuguid has leaned on all that she has learned in her travels, in teaching, and in what excites her to develop a unique study abroad program. The Summer in London program is her way of exposing students to all that she has learned and loved during the past seven or eight years. This opportunity includes course work at the Royal School of Needlework where students will learn traditional embroidery techniques and the history of stitching in the British Isles through a series of field trips.
"Part of the reason I love stitching is the aspect of community that is so important. When I was in London stitching, these people would share so many great stories of history and personal information. It was so exciting to me. It is an experience and an opportunity. We are not just stitching—we are passing down stories of interests and learning important facts of information."