Achieving the Dream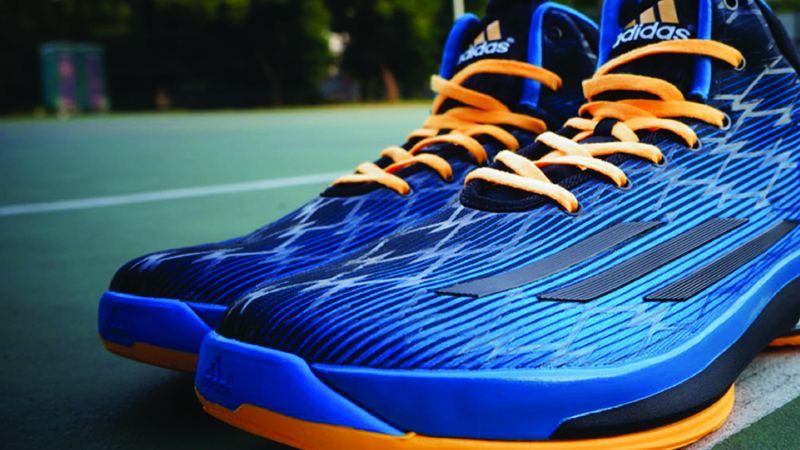 When your report card includes the added note of "A little less shoe design and a little more school work," you have to look at the positive. This is exactly what happened to Robbie Fuller in the fifth grade. Fuller was and still is fascinated with footwear—the design, the creativity it provides, and the process of designing something new.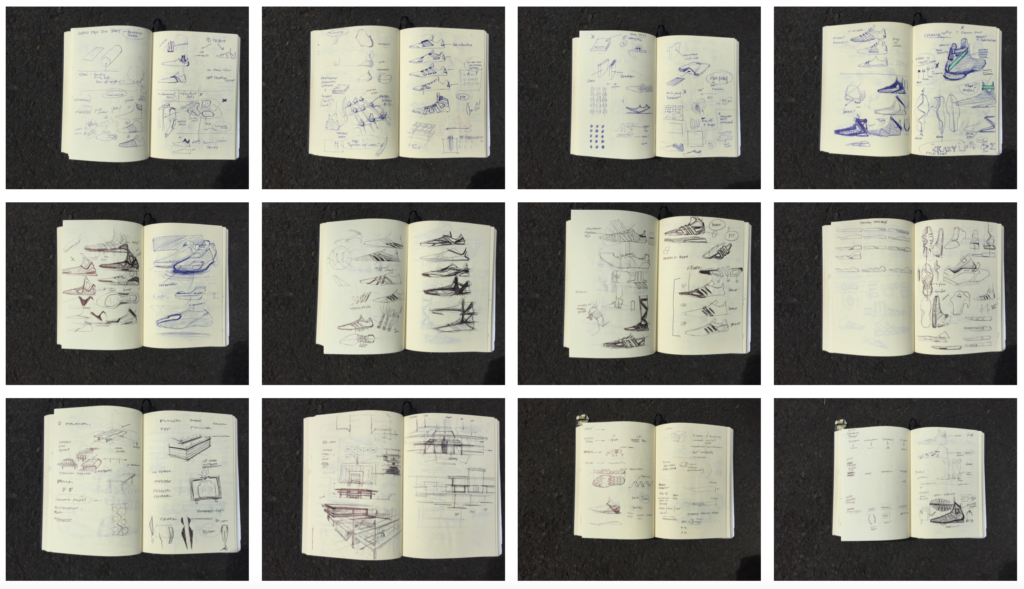 Fuller was hooked on footwear design at an early age. He grew up in Charlotte, NC and recalls a pivotal moment that may have been the trigger toward pursuing a career in industrial design that focused on his passion of footwear. "My friends and I went to the opening of Flight 23, and they were giving away key chains that had a sketch of a sneaker on it." He was in awe. The sketch and the collection of the sneakers within the store were a catalyst to what he would later pursue. Flight 23 is the iconic footwear brand by basketball great Michael Jordan and has storefronts of the same name.
Fuller's interest in footwear was no secret. He was constantly sketching and talking about one day being a sneaker designer although he didn't have any idea what was needed to become a sneaker designer. Luckily for him, his brother had the opportunity to ask someone who was working on a Converse sneaker commercial for some guidance. He was given a name and Fuller tracked this person down and asked, "What do I need to do to become a sneaker designer?"
It may have been serendipity or just sheer luck because this person informed Fuller he would need a degree in industrial design. He also told him about the NC State College of Design. Fuller enrolled in the industrial design program at the College of Design in 1996.
Fuller recalls living in Syme Hall and many of the memorable events and activities he participated in such as pulling all-nighters with his peers to get a project completed. One teacher Fuller speaks fondly of is Associate Professor of Industrial Design Bryan Laffitte, who is a very talented designer and artist. "He (Laffitte) was amazing at freehand sketching. Anytime he helped you with something, he would end up leaving a sketch and you would covet it because it was so amazing. I probably still have a few of his sketches." Many of the friends Fuller made during his time at the College are still some of his best friends today. He attributes this to the tight community environment and great experiences he had. "I loved the College of Design," Fuller said.
"I was a late bloomer in terms of understanding what product design was and what it could be. It was in my senior year when I really fully understood it. Through the exercise of learning and tackling the process of design – that finally made sense to me, and it worked." As a student at the College of Design, the process of ideation and collaboration are at the core of its curriculum. It is the inclusion of interdisciplinary classes and influence that provides a broader understanding of design principles, design process, and the purpose of design which makes our graduates so successful.
Fuller mentions the numerous alumni from the College who have made an impact on the footwear design world and how the culture, training, and foundation provided by the College are so important. Some of the alumni are: Jesse Rademacher ['04 BID] with Adidas, Guy Marshall ['89 BEDP] who also worked with Adidas, Ariat, The Fry Company, and Tommy Hilfiger, Gabriel To'oto'o ['02 BID] with New Balance, Michael Hesterberg ['05 BID] with Tailor-made-Adidas Golf, and many more. This is the benefit of having a top-notch design program within one of the largest university systems. "NC State University and all the degrees offered – the College of Textiles and College of Design are so impressive as a collaborative effort in design," Fuller says. He is convinced that collaboration is imperative for the success of any student and his past fifteen years of experience in the professional environment supports this belief.
In 2000, Fuller graduated from the College and quickly landed a job with Adidas. "It was a good time to graduate and I believe I had offers from New Balance, Timex, and Adidas." Adidas was a great choice. For the next 15 years, Fuller rose in the ranks. He was Senior Designer for the US Running Group and transitioned to the basketball business unit before he was promoted to Category Designer. In 2011, Fuller became the Design Director of Advanced Concepts with the Adidas Innovation Team (AIT), which is focused on transferring and steering innovations to all the Adidas business units.
Fuller has great advice for students in the industrial design program at the College of Design. "Become superior at one particular thing. This is a real strength. Maybe you excel at 3-D modeling, or maybe an amazing process that isn't a sketch process but a sticky note process. It can be less about the pen and more about discovering better aesthetics through model making or some other approach." His reasoning is that today's hiring managers are looking for something unique. "What can this person bring to the group that is unlike what we currently have?" Design is successful when collaboration occurs and when someone can infuse something new. "Diversity is important and doesn't require competition," Fuller says. "Build your brand online – this too is important right now as networking is key to getting you noticed and getting you hired. Generation X hiring managers are looking online at all social outlets to see who or what you are."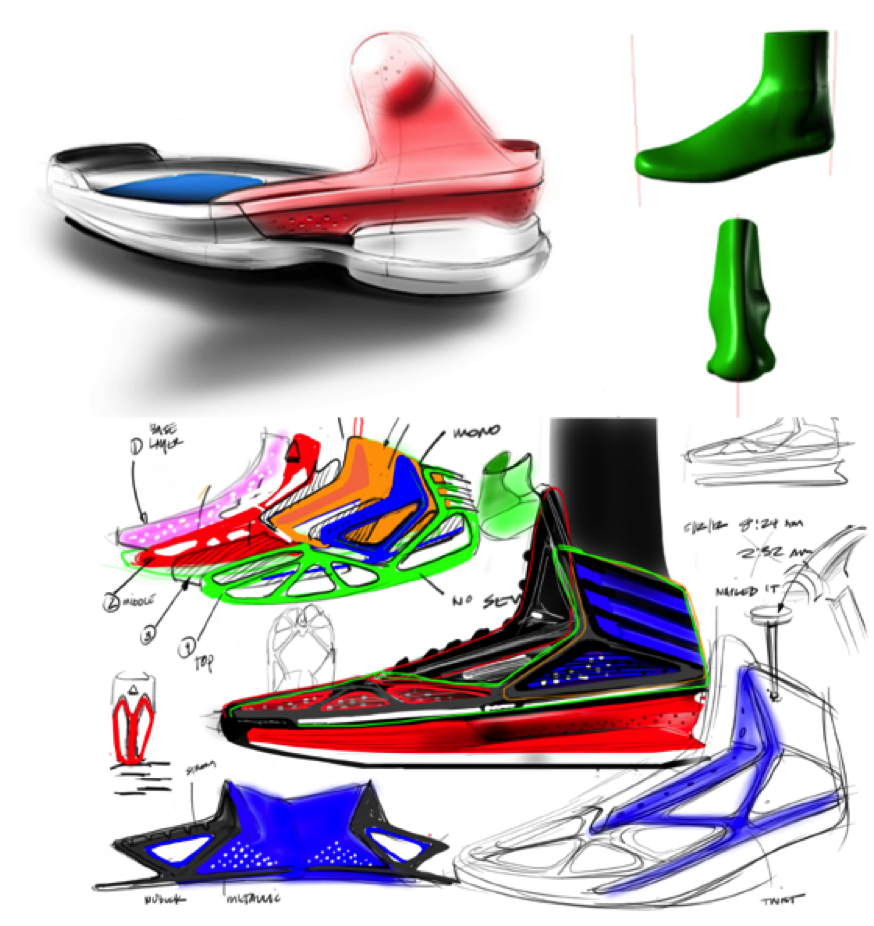 Fuller says, "remind students to hold on to the stuff (projects and works) they completed in the first two years at the College because they will laugh at it later." He further emphasizes that feedback is imperative and that you learn more from listening to the feedback than actually doing the project.
Recently, Fuller accepted a position with ANTA as the Lead Design Director and will be responsible for all footwear product lines under the ANTA brand. ANTA Sports Products Limited is a professional sportswear company and is one of the largest sporting good manufacturers in China. "It is an amazing job opportunity and the timing is perfect." Fuller has previously lived in Germany for three years with Adidas and has been to China almost 60 times. He is looking forward to the opportunity to live in China with his family.
Fuller will head to China mid-February with his wife Lindsey and two children, Max and Mattie. Lindsey owns Age To Come Apparel, a children's clothing company. And the best part—the factory in which she maintains business with is only an hour away from where they will be living. In addition, their son has been in a Mandarin Chinese immersion program for two years and is fairly fluent. It is likely that their two-year-old will also pick up the language quickly. "It is such a benefit to your career and your humanity." That is what Fuller thinks of his opportunity to live abroad and to start this new chapter.

When asked what he is hoping to achieve in his new role at ANTA, Fuller is quick to respond. "I want to change the way people think about China and the design of footwear. Especially in sports." He continues, "People think of China as a mass producer – I want people to think if it's made in China, then it has to be good."