Exchange of Ideas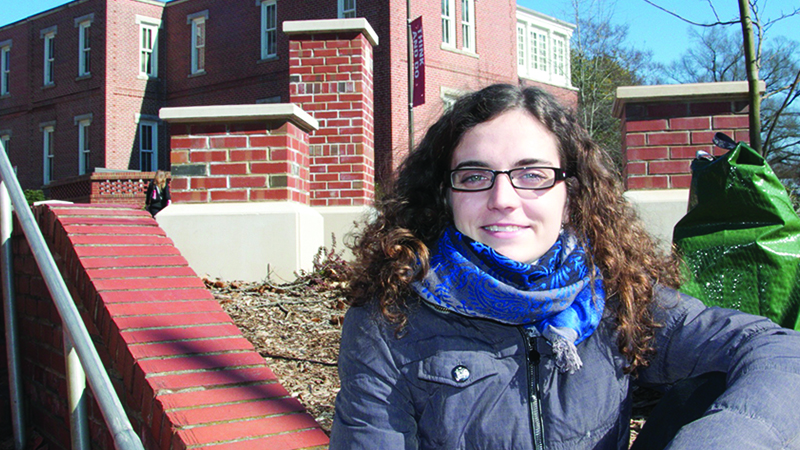 Opportunity and wonder: two words that describe Tereza Faltysova's experience as an exchange student at NC State College of Design so far.
Faltysova is a fourth-year student studying Architecture. She's visiting from Czech Technical University in Prague for the spring semester. What attracted her to NC State was the opportunity to learn different perspectives of architecture. "I was not sure if I was getting the full perspective in Prague – I like the experience and to also to learn from other students – to see the different styles and ways." She is considering site planning as a possibility for her master's degree when she returns to Prague.
As an exchange student, Faltysova is constantly fascinated by the differences between her home university and at NC State. What is of particular interest to her is the interdisciplinary aspect of learning that the College of Design provides. She is currently taking a special topics architecture course with Design Initiative for Sustainability & Health and Research Associate Dr. Traci Rider who she describes as amazing.
"'Diverse Sustainability' – it's about green buildings. I'm not used to other students from outside colleges participating in class. It's interesting because we talk a lot and discuss ideas, opinions, and experiences with these other students. I've never learned about some of these topics and they are so open to share. We can see the connections and other points of view. I like the collaboration."
Faltysova has been met with lots of generosity and hospitality during her time at NC State thus far. She recalls some positive moments in her Landscape Architecture course.
"The students are so great, so helpful; they just are willing to help me. I have met some teacher assistants from the Design Build studio. Associate Professor of Landscape Architecture Andy Fox is great. It's unbelievable that you get to design and then build it (a studio project). I really want to design and I was happy that it worked out. I wasn't able to take another class and this was my option that turned out amazing. There are only four students in this course. It is mixed discipline: there is someone from horticultural science – she has such a different point of view. She understands plants and it is so helpful. So together we can solve problems. I love it so much. I am so excited about it and I did not expect something like this."
In her civil engineering class with Dr. William Rasdorf, a Professor with the College of Engineering, she made a helpful connection with him. "When I first attended (the class), I went to introduce myself to Dr. Rasdorf and told him my story. When I told him I was from Prague he gave me a picture from his office – which was a group of students in Prague. He had gone to Prague with students and he was so excited to tell me about his experience there. So this teacher has turned out to be so helpful. He takes the time to explain things and helps me to understand. He also invited me to participate in a dinner with some of his international students. Its been great to meet so many people and make it enjoyable. He's a great teacher. The class is hard but he really provides good slides and information to help you prepare and understand."
As Tereza continues her coursework, she is also making plans for future travel during her remaining time in the States.
"I go home around May 7…I have 30 additional days with my visa and I think I am going to try and travel to learn more. I have to go back and take my exams that I missed in January (by coming to the U.S.)."
"There is a difference of where I want to go and where I can go. I'll probably travel in and around the East Coast – New York City. I might try to travel during the semester. I've gone to Asheville (it was awesome!) and I'd like to go to Washington DC. The city (Raleigh) is so different than Prague – so much traffic. It's made for cars, not walking or biking."
Faltysova's hobbies include adventurous activities such as rock climbing, skiing, tennis, snowboarding, and slacklining. NC State's Recreation Center has given her the opportunity to participate in her favorite activities and with a larger community. "In Prague we do a lot of sports and trips but this is so different – it's a much bigger thing, a larger community. We don't take it so seriously."
"It's a huge opportunity to come here," Faltysova concludes.
We wish the best for Tereza during her remaining time at NC State.
Article written by Caretta Davis, currently pursuing a B.A. in English with a concentration in Language, Writing, and Rhetoric