Design with a Capital "D"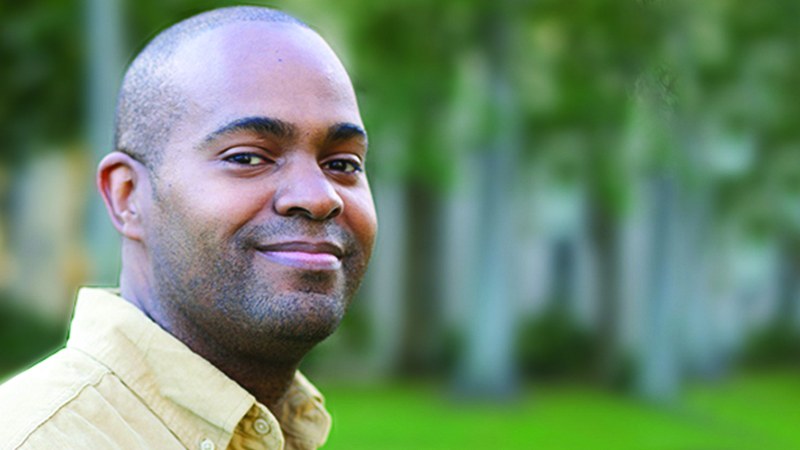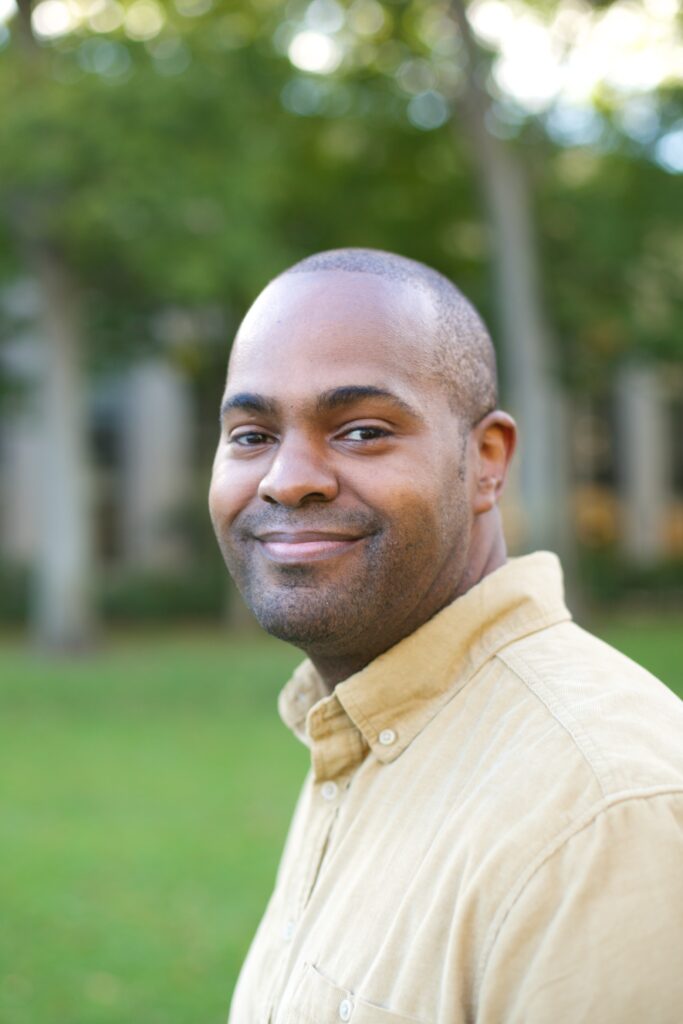 Dr. Derek Ham has been the source of much praise as a new faculty member in the College of Design. It's been noted that he has an abundance of energy and has a passion for teaching and making things better.
Ham's personality traits as praised are proven through his achievements and endeavors. He holds a bachelor's of architecture from Hampton University, a master's of architecture from Harvard University, and Ph.D. in Design Computation from Massachusetts Institute of Technology (MIT). Ham also was the recipient of the Leon Hyzen Fellowship, Georgia Tech Focus Fellowship, Harvey Fellowship, MIT Presidential Fellowship, and the Alpha Rho Chi Bronze Medal. Ham's teaching positions include the Rhode Island School of Design, Harvard University, MIT, NuVu Studio, and Florida A&M School of Architecture and Engineering Technology. In addition to teaching, Ham has worked in public practice as an architect.
Currently, Ham is Assistant Professor of Graphic Design and is leading several innovative classes at the College of Design and in collaboration with other colleges within NC State. The story of how he arrived to the University is of interest. While at Harvard, he was invited to visit NC State through the Building Future Faculty Program (BFF). This program reaches out to doctoral and post-doctoral scholars from around the country who may be interested in pursing academic careers in higher education. The BFF invites individuals to learn more about NC State through a planned visit and provides participants the opportunity to get acquainted with the university's culture, to meet with current faculty members, to learn about the many degrees offered, and to learn about the "Think and Do" philosophy at the University. The goal of the BFF is to cultivate talent and diversity with individuals who have a passion for making a difference. Ham came for a visit in 2014 and was impressed. "This program is one of the reasons I am here today. I plan on working with them [BFF] to pay it forward, in a sense. I will be speaking with other individuals who are visiting the University through this program with the hope of encouraging them to learn more about NCSU."
Growing up, Ham had a passion for the arts. "I was in the direction of fine arts in high school. I painted, did clay models, did some digital 'stuff' with Microsoft Paint." His original intention was to continue after high school. I wanted the path of the arts; however, my parents didn't think that was the best choice for me." Ham was encouraged to enter the field of architecture with the premise that designing buildings or structures was "art."
As an architecture student, he faced a mismatch of interests—things that were not part of designing buildings. Within his discipline, there were far less interesting aspects and responsibilities involved. Ham also realized that his bachelor's degree was not enough to be an architect and that it was necessary to continue his education at Harvard for his master's in architecture. "Harvard taught me that design was more than architecture. Design with a capital 'D.' I took a wide-range of courses such as furniture studio and I interacted with design through different disciplines." He was also introduced to people and organizations from major design studios in addition to learning the many facets of design—what design is and isn't.
The professional world of architecture can sometimes present another impression. Ham had the opportunity to work as a professional architect and his moment of enlightenment came when he completed a major project in Africa. "The last project I completed was a cafeteria in Nigeria. After this experience, I realized my full passion was not this [architecture]. This was my wake up moment. When it was all done, you would expect to be elated by the completion of it. I wasn't. From this point on, much of my interests and passions were focused on digital tools and computation."
"I wanted to create and explore digital tools to expand the horizon of new technologies," Ham says. This desire to learn and follow his passion led him to Massachusetts Institute of Technology (MIT) in pursuit of a Ph.D. in Design Computation. This was a pivotal point for Ham, who assessed all his past experiences and became intrigued by the broader sense of design. "The future of graphic design–right now–is at a cross-roads. New technologies and computational processes in graphic design are emerging. It's a fertile environment. There is a new frontier in the approach, methodologies, tools, and processes for design thinking."
In 2003, Ham stumbled upon a teaching opportunity at a Philadelphia charter school program that offered him personal fulfillment. "I was drawn to it [the school] for the mission of the program. The school had a majority of African American students and they were there to study design. I thought about the need to expose diversity to design," Ham states. The school, Charter High School for Architecture + Design (CHAD), was created to provide opportunities to the underserved. It is geared towards urban minority students with the premise to prepare African American students in particular for collegiate study and training in the fields of architecture and design.
"MIT prepared me to think about design more broadly in meaningful ways – in education and in the professional setting. What I found as I got more into teaching was that the research environment is something I love." Ham wants to expand what has been the traditional idea of design thinking to "think bigger." "I want to create digital tools and practice," he says. The College of Design is the perfect setting that may provide him the audience and opportunity to share this passion.
As technology continues to evolve and open up new channels of thinking and doing, Ham foresees the importance of interdisciplinary sharing of ideas and the necessity for designers to consider new tools. This goes as far as how designers approach coding and how they need to examine what code can do before they start the design process. "The designer needs another skill set because, 'a chef doesn't need to have every recipe in the book to cook, but they do need to understand the methods and tools of how to cook.' As extensive as design systems are, we can still break them down into a certain recipe. When it gets to computational things, we [designers] begin to shy away and give it to someone else to complete and this doesn't work," Ham says. He would rather see designers take on the challenge of "what can be done."
Presently, Ham is teaching two graphic design studios: GD 202, which is a second-year design studio that encompasses designing for people, settings, and use, and GD 510, a special elective course that encourages students to get involved with coding and program languages. For many designers without backgrounds in computer science or advanced mathematics, working with programming languages can be difficult. Ham hopes to stimulate design students to learn more about design interfaces, navigation, motion graphics, as well as exploring the narrative and hypermedia approaches to the organization of content. This studio includes emerging VR (virtual reality) and AR (agumented reality) technologies. The students will be working toward developing projects that potentially will be entered into The Vizzies, a science and engineering competition sponsored by the National Science Foundation and Popular Science. Ham would like to see the sciences, engineering, and design on a collaborative playing field.
Traditionally, STEM disciplines have had limited interest or ability in the execution of visuals to present their work and the way they share their data. Ham believes that there is a need for collaboration where designers can show what can be accomplished in terms of visually enhancing the data – to make it engaging and impactful. "We [College of Design] have to have an investment in STEM with project-based design. They [STEM] use design engineering and our approach is completely different. I am looking at engineering education and how design can impact this. "That is the real big one these days – trying to bridge the gap of what we do and what engineers do – how our approach is so vastly different. We include aesthetics when we look at design projects – beyond the beauty – but the usability and the functionality." This is where Ham can make a difference. As an educator, his passion and understanding of design and what design can be is palpable.
Ham is participating in the MBA Consumer Innovation Practicum (CIP) with the Poole School of Management. This program works with a partner company to investigate consumer behavior through custom designed research projects based on questions posed by the participating firm. The current group of students working with Ham are exploring what the "pharmacy of the future" looks like. This includes ethnographic research and focuses on how to engage millennials beyond the experiences that they currently have of going to a Target or Walmart pharmacy. This may not be a design course, but Ham hopes to introduce the need to incorporate design thinking into broader disciplines.
As a coordinator in a Ph.D. seminar, Ham is introducing Ph.D. candidates to faculty members who can encourage them in their research. The hope is that the faculty members can provide relative experience and guidance. In addition, Ham seeks to build the Ph.D. program to be more collaborative within the College of Design and the University. "Ph.D. in design is fairly new, and it is important to show these students what life looks like after they receive their degree and how they fit into the academic landscape. It's a brand new world in design."
In his spare time, Ham enjoys learning new gadgets and technology trends. Currently he is working with an application he has designed that works with the Google Cardboard Virtual Reality headset. The application is called "Bible VRX" and it can work with most phones providing a visually rich and engaging interpretation of Bible stories. "It is a playful way to share stories like Adam and Eve. I am the son of a preacher and this is a unique intersection between me and bible studies. I'm having fun with it," he says. As the father of three, he knows this is a great way to share these stories and experiences with his children.
---
At the College of Design, our goal is to provide an opportunity for all students to live a Designlife! Every gift is important to the future of design education and has an impact on the College's most important mission: teaching students to design for life. For more information contact Jaclyn Hage at jaclyn_hage@ncsu.edu.