College of Design Students Honored at Disney Imagineering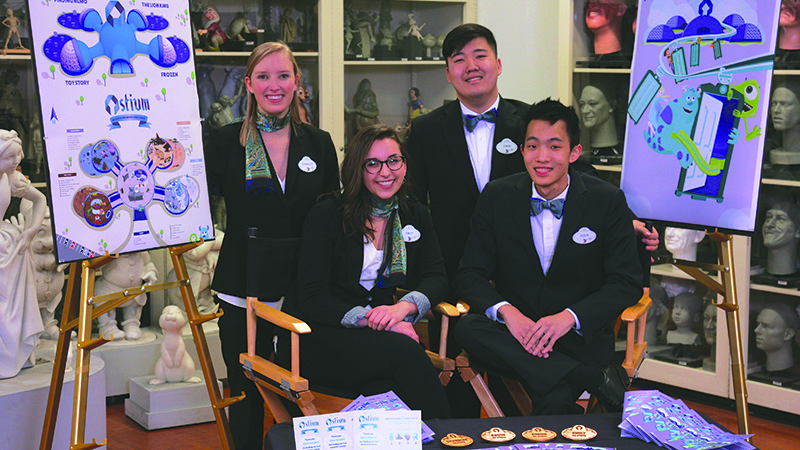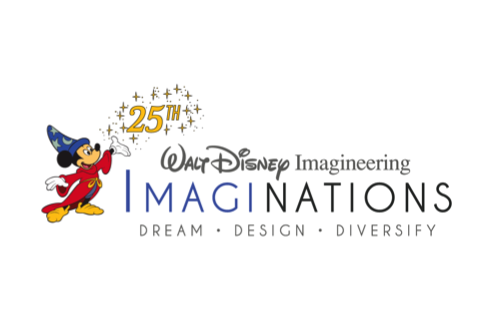 University Students Take Honors for Innovation and Creativity in Walt Disney Imagineering's 25th Imaginations Design Competition
January 29, 2016 | Glendale, CA – The winners of the Walt Disney Imagineering's 25th Imaginations design competition were announced today during an awards luncheon at Walt Disney Imagineering headquarters in Glendale, California. Imaginations is one of the creative and unique ways that Imagineering uses to search for the next generation of talented theme park designers. Started in 1991 by Disney Legend and Imagineering executive Marty Sklar, the design competition has since grown to include a separate version sponsored by Hong Kong Disneyland.
For this year's competition, students from American universities and colleges were given the following challenge: Design a traveling experience that could tour small towns across the United States for families who do not have the opportunity to travel to a Disney park. This temporary venue would operate in each community for two to three days, should take no more than a day to set up and break down, and embodies the kind of family entertainment that Walt Disney envisioned when he first built Disneyland.
First place was awarded to Geoff Backstrom, Katie Eastman and Courtney Irby from Ohio University and David Borning from the University of Washington for "Mickey's Magic Garden," which uses the concept of a magical dandelion to bring Disney magic to towns across the country. "Mickey's Magic Garden" features multiple themed lands, custom designed rides, walk-thru attractions, character greeting experiences, and a wide array of themed dining opportunities.
Second place was awarded to Kevin Chen, Whitney Chen, Kevin Graham and Amy Woon from the University of Texas at Austin for "Hueroic," which takes guests on an unforgettable journey to explore the wonder and beauty of art and imagination. Thrust into a black and white world where colors have never existed, Guests are sent on a race against time to rescue a kingdom and unlock the magic of color, light and inspiration.
Third place was awarded to Simon Park, Kevin Lee, Chandler Williams and Emily Wise from the North Carolina State University for "Ostium: An Adventure Behind Every Door," an expandable, portable experience using interactive media and real world character greeting experiences to allow guests to step into their favorite worlds, inspired by the magical Disney and Pixar stories of The Lion King, Frozen, Toy Story, Monsters, Inc. and Finding Nemo.
Twenty students from eight universities were finalists in Walt Disney Imagineering's 25th Imaginations design competition. The finalist teams were selected by Walt Disney Imagineering, the design and development arm of Walt Disney Parks and Resorts. The top three placed teams are awarded cash prizes, and an additional $1,000 grant is awarded to the first place team, to be equally divided among its sponsoring universities.
The six teams of finalists visited Walt Disney Imagineering's main campus in Glendale, Calif., from January 25 to 29 to meet and network with Imagineers, go behind the scenes where Disney magic is created, and interview for paid internships during their visit.
A panel of Imagineering judges applied the same criteria to the entries as they would to their own work, including the team's ability to collaborate across different disciplines and backgrounds; the mastery of their individual skills; whether the project provides an engaging Guest experience; a good understanding of families living in small towns across the country; the ability to tell a compelling and engaging story; and knowledge and passion for the Disney brand and Walt Disney Imagineering. Additionally, the project needed to be unique in that it was not limited to what Guests already experience with traveling fairs in local communities.
Throughout the years of this program, hundreds of students from universities all across the United States have participated and had the opportunity to present their projects to Imagineering executives. Many have gone on to secure internships or eventually become full-time Imagineers.
Imaginations opens up the opportunity for students to showcase their skills and talents to Imagineering through a hypothetical project. Provided with a project challenge, students and recent graduates work in teams to deliver a concept in a similar way to how Imagineers develop their own blue sky ideas. In a matter of weeks, teams have to leverage their various artistic, technical and communication skills to prepare a submission that will appeal to judges whose backgrounds include a wide array of creative and technical disciplines.
Walt Disney Imagineering
Walt Disney Imagineering is the unique, creative force behind Walt Disney Parks and Resorts that dreams up, designs and builds all Disney theme parks, resorts, attractions, cruise ships, real estate developments, and regional entertainment venues worldwide. Imagineering's unique strength comes from the dynamic global team of creative and technical professionals building on the Disney legacy of storytelling to pioneer new forms of entertainment through technical innovation and creativity.
For more information on the Imaginations Design Competition, visit www.disneyimaginations.com.
Contacts:
Mark Witko – Walt Disney Imagineering, (818) 544-2142
Tim Choy, Peter Goldman – Davidson & Choy Publicity, (323) 954-7510
 The projects and concepts presented are not necessarily intended to be built by Disney – they are a way for the entrants to demonstrate their skills and creative abilities. In consideration for the opportunities provided by the Imaginations Design Competition, submissions become the sole property of Walt Disney Imagineering and Walt Disney Imagineering retains all rights to use and/or display the submissions and the materials contained in them.