Repeat Pattern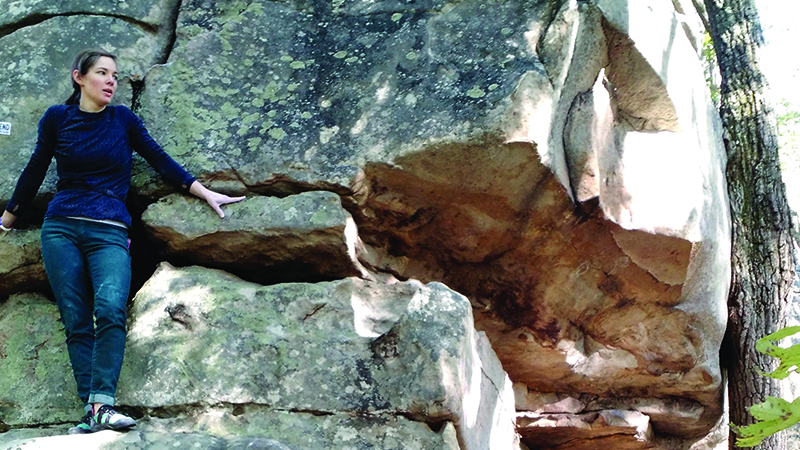 She is prompt for our meeting. My instinct tells me that she is process-driven and organized because she is fluid as she enters: purposefully placing her coat on the back of the chair, adjusting the chair just so, and positioning a notebook and writing utensil strategically on the table in front of herself. She is two-time NC State alumna Chrissie Van Hoever, who graduated in 2008 with a bachelor's degree in Graphic Design and – after several years in the professional arena – returned to pursue a master's degree in Art + Design and graduated in 2014.
After Van Hoever received her graphic design degree, she worked at Fearington Village in Chapel Hill as a graphic designer and marketing associate. It was work in a retail environment that she found interesting but not quite satisfying. Van Hoever says she "wanted to share real stories and be a part of an experience that allows people to learn." Her aspirations lead her to work for Design Dimensions, an exhibit firm here in Raleigh, as one of the lead graphic designers involved in the development of interactive designs for exhibit spaces and museums. "The work was really interesting, and I wanted to learn more about animation, digital media, and interactive design," Van Hoever said.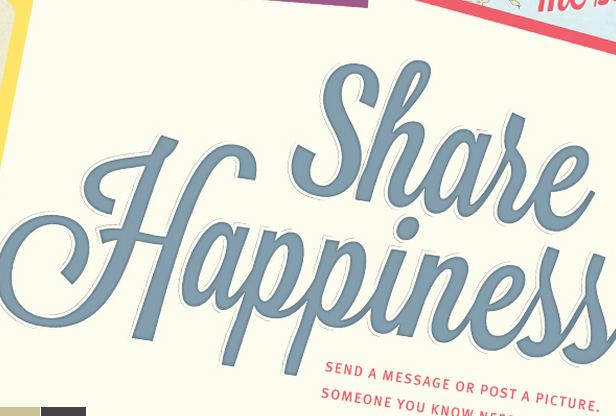 Back Again
The desire to learn more led Van Hoever back to the College of Design to pursue her master's in Art + Design with a concentration in Animation + Interactive Media. "When I came back for my master's, I incorporated education as part of my interactive focus. Repeat pattern design that can turn into a learning tool that incorporates history and a community application that you can share and learn from others; all in a real-time environment," she says, referring to her final project: a diverse and multi-functional application that is also interactive, inspirational, and educational.
Returning to college for the second time provided a new perspective as a student for Van Hoever. Much of this was due to personal growth and an awareness of the value of learning. "The most rewarding thing for me when I returned to the College of Design was that I was expanding on skills I already had—I was more focused. Having spent four years outside of college and acquiring professional experience, I felt that much more motivated. I was here by choice; I was driven by the opportunity." This is evident in the work she produced throughout her master's curriculum and the commitment she placed on formulating and developing her final project.
Van Hoever took advantage of learning new software and new technical skills by seeking out opportunities to work on projects that incorporated many different programs, such as Adobe Flash or AfterEffects. In addition, she expanded her understanding of some of her other passions, such as fibers and surface design, illustration, and new media. All the while, her goal was to focus on learning about new ways and new tools that would allow her to create richer, more educational experiences as a designer. "I want to use my visual communication design skills as a way to inform, teach, entertain and surprise, and share meaningful stories about inspiring people and the world around us."
The Why?
As a communicator, I'm interested in learning the "why" when speaking with students or alumni from the College of Design. Why did you choose the College of Design? I am always inspired and sometimes intrigued by the wide range and diversity in response. Each individual has something unique to share, and Van Hoever is no different. "The range of exploration and the full spectrum of opportunity available to students is amazing. There are so many different immersive environments and tools available here at the College of Design and within NC State. Just within the College of Design student body is a great resource of talent to collaborate with." Van Hoever explains, "and the professors are amazing. They each provide a different perspective."
"Two of my favorite classes were with Alumni Distinguished Professor of Art + Design Susan Brandeis. In one of the courses, Surface Design, I learned repeat pattern, which sparked the content idea for my final project. The second course, Surface Embellishment, was primarily embroidery and was just wonderful. It was a break from being on the computer and working with my hands, doing something on a small scale," Van Hoever says, and she raises her hands in a motion that emphasizes the importance of this learning experience to her. Van Hoever speaks about how Brandeis influenced her and so many other students. "She pushes you hard but in a very good way to get the best work out of you. You always knew that you could learn something from her class," Van Hoever emphasizes.
The Final Project
Van Hoever's final project is a textile topic and an interactive media piece in one, entitled: "Pattern: Learn, Create, Share, Repeat." It is intended to be an educational and interactive application which is currently in a prototype version that can be developed into a final version and used in a commercial setting. The concept for this project involves interactive applications that enable and inspire users to learn about design and share repeat patterns through a four-phase network: "Learn, Create, Share, Repeat." Interactive features within the application allow users to actively engage with the content, providing a rich user experience. It can also provide users with the digital tools they need to create their own repeat patterns, which they can share with other users. This sharing feature is similar to Pinterest and other social media engagement tools.
Van Hoever explains, "There are four sections to this project. The first incorporates the history, where the intention is to provide people a better understanding of pattern design, trends, artistic movement styles, and to find inspiration. Section two is what I refer to as the 'Handbook,' which are tutorials that combine text, images, and animations and provide instruction on the principles of repeat pattern through the lens of historical examples. 'Design' is the third section, and it allows users to create their own patterns and experiment with repeat. And the final section, 'Community,' encourages sharing of personal pattern designs," she concludes.
And the Winner is…
Van Hoever entered her final project into the 2016 Communication Arts (CA) Interactive Design competition. The competition is a juried competition and the interactive category includes submissions for websites and microsites, environmental, mobile, social media, other interactive media, tablets and handheld devices, and student work. Since 1959, CA has published the best in visual communications from around the world and consistently ranks as one of the most influential design publications. It came as no surprise to me – after meeting with Van Hoever and learning about her final project – that she was chosen as the winner for the student work category. Her project will be featured online and in the March/April 2016 issue of CA, along with all the winning entries in each of the Interactive categories. Winning any of the categories places contestants in the highest ranks of their professions.
Education it is!
Van Hoever is currently working for Distance Education at NC State University. This is part of the Digital Education and Learning Technology Applications (DELTA) unit, a division of the NC State University Provost's Office. She is a Dynamic Media Designer and works with the New Media Development (NMD) team on course development projects. It is exactly what she wanted to do – to use interactive design to teach, educate, and inspire. "The awesome thing about this job is that I'm working with a ton of different faculty in different areas across the University, and I get great exposure into education. I've worked on some really interesting projects including something for physics, plant pathology, farming and agriculture, and a home horticulture course. It is all quite fascinating," she says.
DELTA has a long history of hiring College of Design students. In addition to Van Hoever, Michael Cuales is the current Creative Director for the NMD group is also an alumnus ['97 BGD]. "Chrissie has been a wonderful addition to the NMD team at DELTA," says Cuales when asked about Van Hoever. "She is a Dynamic Media Designer who focuses in animation, illustration, and motion graphics. Our team collaborates with faculty and staff across NC State University to design and develop effective rich-media applications and learning materials for online education. Chrissie's background provides a strong foundation for the design of engaging learning materials and instructional tools that directly contributes to student success."
Words of Wisdom
What is the advice that Van Hoever would give to other prospective Masters students or to any student considering the College of Design? "This is a great place to learn. However, be prepared to be challenged and confused and not know what you are doing. I did this a lot. I struggled with what my focus was. It can take time to sort this out," she explains. "You think you know what you are doing, but you don't really know. When I finally settled on my project topic, which incorporated things that interested me – pattern, surface design, and interactive media – was when I finally felt settled." Sometimes it is when a student looks within themselves to really focus and rationalize – why am I here? – that provides the energy and commitment to take advantage of all that is offered through a College of Design experience. It's what we call living a "Designlife."
Van Hoever also attributes her success to her committee members for her master's project, which consisted of Assistant Professor of Art + Design Tania Allen, Assistant Professor of Art + Design and Graduate Director Marc Russo, Alumni Distinguished Professor Susan Brandeis, and Assistant Professor of Art + Design and Co-Director Graduate Program Dr. Cecelia Mouat Croxatto. "They guided me, and Tania Allen, who was my chair, provided great support and helped me focus my ideas and do research. Each person has a different background and provided great advice that really helped me."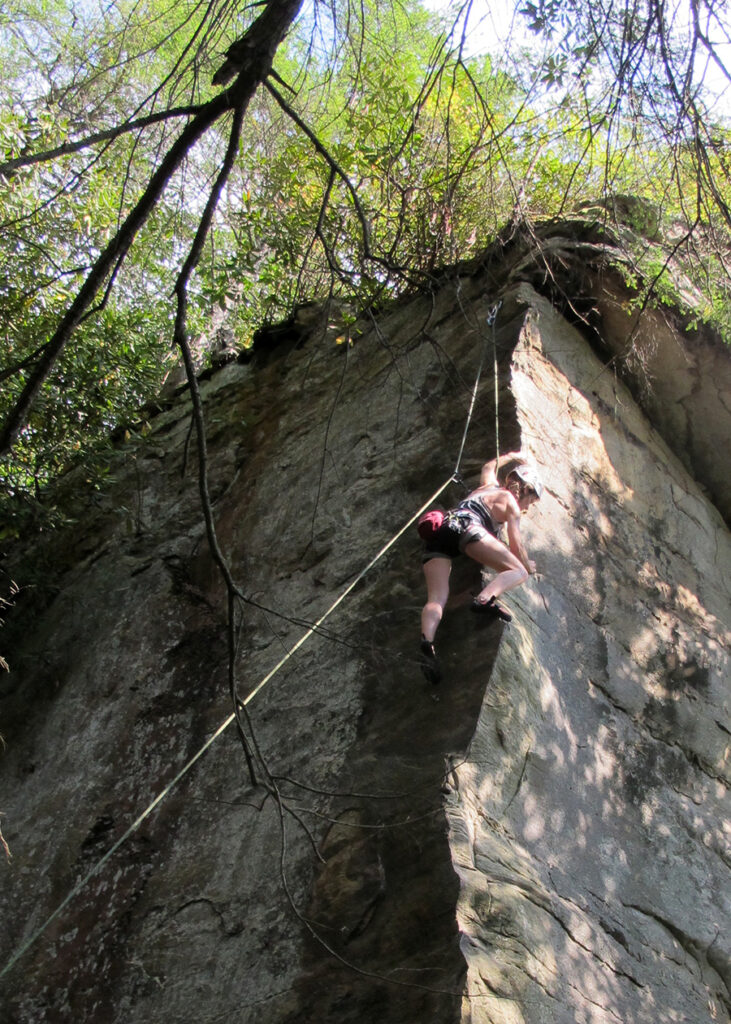 Bonus:
Chrissie and her husband are avid rock climbers who have had the opportunity to experience climbing in: New River Gorge in West Virginia, Red Rock Canon, Las Vegas, NV and Smith Rock in Oregon.
She has a perfectly spoiled dog name Avery (who was the subject matter and inspiration of some of her design work).
One of Chrissie's favorite places at the College was the Design library. "I like books and flipping through them and finding inspiration. Being able to walk down any isle and pick up a book and find some inspiration is amazing."