Volunteers Needed for PhD in Design Research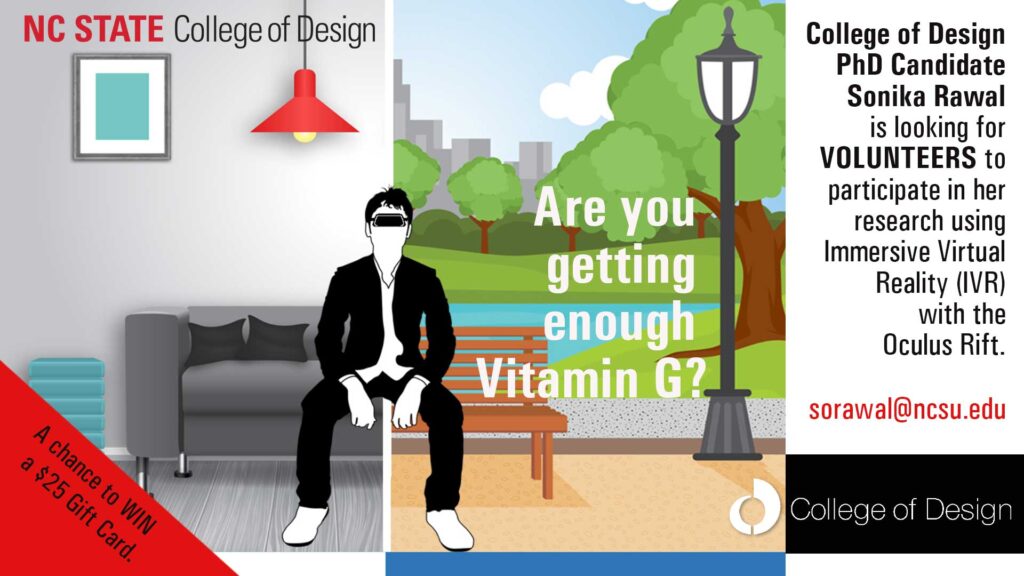 Oculus Rift on Campus!!!
Now if that caught your attention, you may be interested in participating in a design inspired research study. This is an exciting way to start the new semester and help out a fellow College of Design peer!
I am a PhD Candidate and conducting a research study that seeks to investigate the amount of green or nature exposure beneficial for health of urban park users. I invite you to participate in this study titled "Rx Vitamin G". The results may enable designers to create urban parks that are not only supportive of physical activity but also promote mental well-being.
If you are between ages 18-35 with no history of cardiovascular diseases, depression, or post-traumatic stress disorder, we invite you to participate in this study. Qualified participants will get to experience Immersive Virtual Reality (IVR) environments using Oculus Rift. You will also have a chance to win one of the five $25 gift cards for NC State Bookstore that will be given as prizes. Winners will be selected through a drawing at the end of the study.
The study will require about an hour of your time and is being held in the Design PhD Room, 1st Floor Leazer Hall, NC State University-Main Campus.
 If you wish to participate in the study, please contact me to schedule a date and time.
Thank you for your interest.

Kind Regards,
Sonika Rawal, PhD in Design Candidate
phone: 919-325-6061
Please Note: You are being asked to voluntarily take part in the study. You are not required to participate regardless of whether or not you are a student in the design curriculum, or know the researchers involved. You should only participate if you want to contribute to this investigation/research. All the information collected from you during the study will be kept confidential and will not affect your student status at NC State in any way. We appreciate your support and thank you for considering participating.