Chuck and Marjorie Flink: Influence for the Future of Landscape Architecture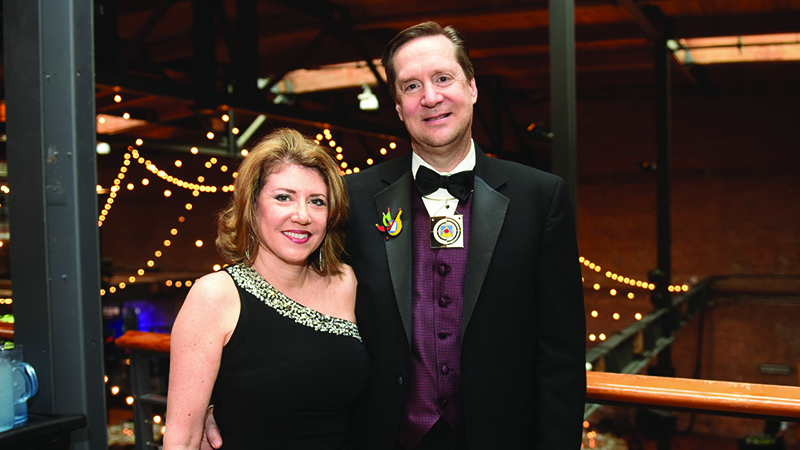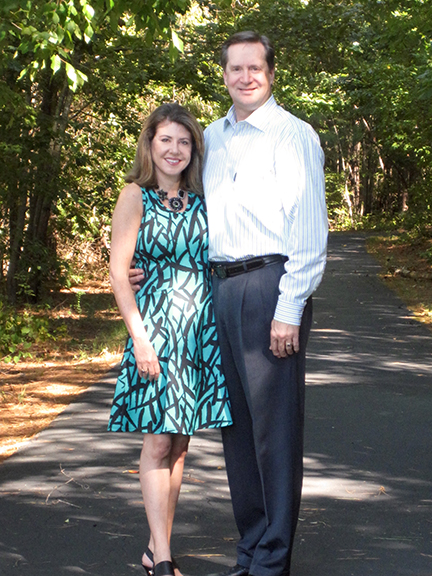 As a youth, Chuck Flink, FASLA, PLA, ['82 BEDLA] was accustomed to spending a lot of time outside. "I grew up in the outdoors; my Mom and Dad saw to that," Flink recalls. "Our entire world was outside and we probably spent more time outdoors than we did indoors. We were out from sunup to sunset." With this sort of early enthusiasm and appreciation for outdoor activity, it's easy to understand how Flink could go on to establish a career as one of the leading recreational trail designers at work today.
Though he's now renowned in the field of greenway design as a founder and principal at Greenways Incorporated, which is now affiliated with Alta Planning + Design, Flink remembers that at first it took a little time for him to learn how to navigate the profession. He recalls how, as a transfer undergraduate student from Missouri, he didn't immediately find his place in N.C. State University's landscape architecture studios. "I came out of the Midwest and didn't really have a background in design at all, so the program definitely shaped me," Flink said, his voice brightening at the recollection of when things began to click.  "The College of Design was so influential. It's one of the reasons I feel so strongly about the educational experience." In particular, the tutelage he received from faculty members Lewis Clark and Randy Hester paved the way for Flink to develop his own voice in design which he now shares with others through his teaching in the Landscape Architecture Department each spring semester. "I'm fortunate to be able to teach here and work with students, which is a great joy for me," he said. "You have a chance to give them that confidence and the tools to solve problems. It's a very rewarding thing for me to be involved with helping them." 
Striking a balance in the field of practice is something that Flink has been keenly aware of throughout his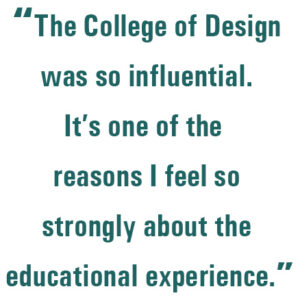 career as a landscape architect. "When I graduated in 1982, there was a big recession, so it was tough for a couple of years to get my footing and realize what it would take to be an accomplished professional," Flink remembers, though his patience would eventually pay off. "In 1986, when I formed Greenways Incorporated, it was an amazing thing," he says, "because I was able to catch a wave of interest in greenways, trails, and the outdoors – everything that I really wanted to do." The venture was not without its twists and turns, however. Flink vividly recalls a story from 1989 when two National Geographic writers on assignment to write about the burgeoning greenways movement arrived at his doorstep. They were "looking for the grand old man of greenways," said Flink, and, since he was only in his late 20s at the time, he recalls with a chuckle, "I was not him."
While working for the public interest has long been a source of inspiration for Flink, he readily admits that the challenges that come with leading one's own firm are distinct from his College of Design responsibilities. The daily reality of knowing how to effectively work with your client base is always present, as is the obligation that comes with balancing their expectations. "Clients are very different, since they have to worry about the bottom line," Flink describes, "whereas academia is about the process of learning and acquiring tools and knowing who you are as a designer." He considers his thoughts for a moment, weighing them carefully before continuing, "In the private sector, it's about the practical application," he says. "You have to be able to think and move fast and be very efficient with the way you're delivering design services." The unique seasoned experience that Flink brings as both a veteran business professional and design entrepreneur is what distinguishes his professional perspective as well as his contributions to the academic environment.
Though he would like to be able to devote more of his time to teaching, Flink's other professional commitments place significant constraints on his schedule. Currently, he is the Project Director for the Wolf River Conservancy's $40 million Greenway Project in Memphis, Tennessee, which will occupy a major portion of his time extending into late 2018. The project grew out of Flink's involvement with the Walton Family Foundation's Razorback Regional Greenway in Northwest Arkansas, a successful planning effort that led the Conservancy to seek him out to help realize its own decades-old vision. Flink is clearly excited about the Wolf River concept. "It's a fascinating project from a lot of different perspectives," he says. With some 20 miles of greenway trail extending from the Wolf River's intersection with the Mississippi River and downtown Memphis to Germantown, Tennessee, the Wolf River Greenway Project is notable, including a large amount of private funding supporting the cause. Among the exciting aspects of the project is the variety of communities and people the greenway will serve. "What's really fascinating is where it goes," Flink points out, noting that the greenway will go "through some neighborhoods in North Memphis that have historically been underserved from any sort of investment point of view." As he continues, it becomes apparent that Flink has thoughtfully considered the role his work in Memphis may have for the greater good of the community. "There are significant challenges in accomplishing the project, but the rewards are also very significant when it's done," he said. "We firmly believe that it will be a catalytic project and spur additional investment in neighborhoods and parts of the community that really need it."   
While the Wolf River Greenway will undoubtedly involve considerable work coordinating the design and construction issues that always come up on a project of this scale and complexity, "I like to tell people that probably the least challenging aspect of this project is building the trail," Flink says with a broad smile. "Because there are so many other things we're taking on –social issues, economic issues, health and wellness, safety and security – there are just so many other topics." He goes on, clearly energized by the scale and robustness of the effort, "We've been challenged by the funder to look at the long-term engagement results of this, including job creation and business incubation." For Flink the project really becomes holistic, striving to "lift all the boats in these neighborhoods so we can have positive socio-economic benefit from this project. When you layer that into a project like this, it becomes about a lot more than just where we put the asphalt trail."
Reflecting on projects like Wolf River and his career as a whole, Flink is forthright and points out his own surprise about how it has all occurred. "The whole experience has just been amazing." Flink said. "I always had this sense of my career as this sort of accidental tourist." He pauses a moment before continuing with a self-imposed question," You know, 'Did you have this specific plan?' No, I could never have envisioned it. In fact it's been an evolutionary journey." As he speaks, it's apparent that Flink is a landscape architect who has spent careful deliberate time considering his approach to the profession as well as what the future might bring for greenway design. "The one thing I've tried to do with my company and with the whole notion of greenways is to enable it to continue to grow, expand, and change," he said. "Greenway design can't continue to be what it was in the '70s, '80s, or '90s. It has to continue to morph and evolve, and that's what I think is so fantastic."
This sense of growth and change also strikes a chord in Flink's outlook on professional practice and academic endeavors in general, stoking an idea of giving something back in a way that can bridge both worlds. It's a very strong notion for Flink and is, in fact, what has driven Chuck and his wife Marjorie to earmark a future multilevel estate gift to the College of Design that will support graduate landscape architecture student fellowships, a faculty endowment fund, and a landscape architecture departmental enhancement fund. For the couple, it's a chance to give back in a very direct way, to help NC State University and the College by giving future landscape architecture students and faculty a chance to succeed. "When it comes to our gift to the College," Flink said in describing what he and his wife have planned, "we know that the economics now are very different than the days when we were in college and that both the faculty and the students need that support. It's really the motivation behind our deciding to make the gift to the University."
One thing about Chuck Flink's contributions to his profession is certain: the path to the future looks bright indeed. 
This is reprinted from the Desiglife magazine, Fall 2015 issue.
---
At the College of Design, our goal is to provide an opportunity for all students to live a Designlife! Every gift is important to the future of design education and has an impact on the College's most important mission: teaching students to design for life. For more information contact Jaclyn Hage at jaclyn_hage@ncsu.edu.