Summer in London at the Royal School of Needlework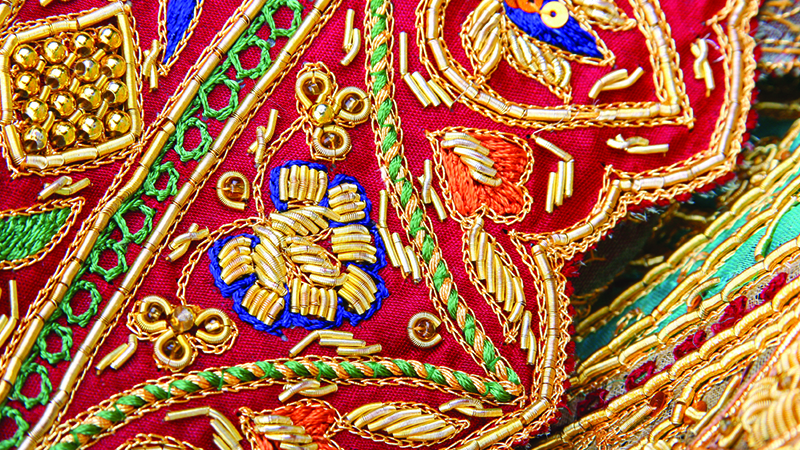 Spend the summer in London: Stitching A Cultural Identity Study Abroad Program
DATES: June 25 – July 31, 2016
Join Assistant Professor Katherine Diuguid who be hosting a virtual info session on Wednesday, January 20 from 12:00 to – 1:00 pm to share more details about this Study Abroad opportunity and to answer any questions that you may have.  Please feel free to share this with anyone that you think may be interested in applying to the program.
This program partners with the Royal School of Needlework (RSN) at their headquarters in historic Hampton Court Palace, just south of London. Students will learn traditional embroidery techniques with an RSN tutor and the history of stitching in the British Isles through a series of field trips. This program takes advantage of the rich history of embroidery in the UK and the richness of its museum and private collections. Additionally, as British culture has been affected by other cultures across the globe, students will see the influences of each culture in the embroidery and will discuss the importance of stitching in people's lives throughout British history.
Link to NCSU Study Abroad Website:  https://ukstitchingstudyabroad.wordpress.ncsu.edu/
Collaborate Session Invitation:
You are invited to join the Collaborate session "UK: Stitching a Cultural Identity- Virtual Info Session" by kaguerra@ncsu.edu.
DATE: Wednesday, January 20, 2016, 12:00 noon to  1:00 p.m.
You may join the session up to 15 minutes early.

Click here to join the session:
https://collaborate.wolfware.ncsu.edu/join/?join_session_id=rcq8PXJKAHc