'Kung-Fu' Designer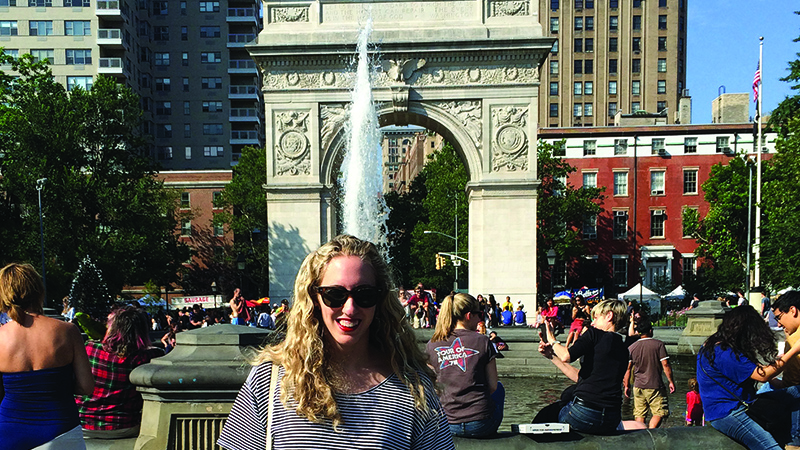 Since the age of three, Lauren Vance has been involved in gymnastics, dance, and cheer. At eight, she transitioned into competitive cheer and focused her ambitions on one day becoming a collegiate cheerleader at a large university. Fast forward several years, and Vance became a cheerleader at NC State University as an incoming freshman. She had several other cheerleading options, but it was the design program with the College of Design that helped her make the final decision.
Originally Vance had the intention of majoring in physics. However, while touring Virginia Tech (VT), she accidentally entered a wrong building and wound up in the industrial design studios. "I was so impressed and inspired, I immediately changed my mind and decided to go into design," Vance state, "It was a perfect accident to go into that building." Many would say it was serendipitous.
Although Vance was offered a very impressive one-year cheer scholarship to a college in Hawaii, but she knew that she would inevitably end up transferring to another university. Choosing between VT and the NC State College of Design was an easy decision for Vance. "I chose NC State because I liked the school better; the atmosphere, the environment, and they have a much better reputation. Plus, the cheer squad was definitely better," she adds.
Vance did not have a portfolio and decided to apply to the Design Studies program with plans to transfer into Industrial Design. She is now working towards a degree in Industrial design with two minors – Art + Design and Textile Technology – and is expected to graduate this spring.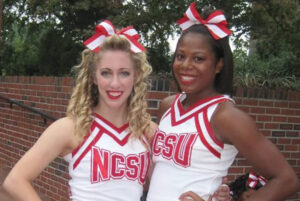 Cheerleading demands a great deal of commitment. "It was a lot of work. Time consuming with so many practices, and then there were games. You really have to find the balance of being a student and an athlete," Vance says. When she was touring schools and meeting with cheerleading representatives, she was impressed that NC State placed so much emphasis on prioritizing academics over cheer. "It is really important to me to do well in my classes, experience college life, and do well at cheer." Finding this balance in addition to the first year studio classes was challenging, but she made it work. Cheer also provided Vance with the opportunity to meet friends who together built a great support unit for each other. Since many of the girls on the cheer squad were going through the same experiences, they could all relate to similar highs and lows.
In her sophomore year, Vance decided to discontinue cheerleading so that she could focus on her studies. "I was tired and burned out. My body was hurting and there were other sports I thought I might want to pursue. I realized I could not put 100% of my focus on cheer and I really wanted to focus on school," she continues. "I picked up Brazilian Jiu-Jitsu." This is a form of martial art and combat sport that teaches a smaller person how to defend themselves against larger adversaries by using leverage and proper grappling technique. She joined a local gym where she has been practicing for the past two and a half years. Vance, who is athletic but petite, loves the idea of taking on this new sport because it offers the opportunity to learn and excel at something completely different than gymnastics or cheer. "Jiu-Jitsu gives me a certain feeling (high) that I get when I practice. It's something that I can be solely responsible for – it's a personal sport and provides personal gratification. I get out of it what I put into it," says Vance. It also doesn't hurt that this sport is a great stress release and keeps her in shape.
This past summer, Vance had an amazing opportunity to intern in NYC at Micheal Kors. This iconic American designer and past Project Runway judge is known for his high-priced women and men's fashion, jewelry, footwear, accessories, and widely recognized handbags. Vance was a footwear design intern and worked for the Creative Director as his research assistant. "I liked working with shoes and it offers a good connection between ID and fashion. Who doesn't like shoes?" Vance asks with a chuckle. Working for a large company that is one of the top brands in the fashion world provided Vance with great exposure and insightful opportunity to learn.
She talks about the fascination with how a product goes into production and all the different phases required. "Its pretty complicated, and while I was there, I regained my 'fire' and that was really exciting," she says. That may have been her biggest learning experience – reconnecting with her 'energy' to do things differently and to go outside of her comfort zone. "This internship had an impact on me. Maybe it was the environment? It did, however, make me realize that I want to focus my energy on things I really care about doing–not to just do them for a grade. This really opened me up to other things that I had not considered," she says.
Vance is now working towards an independent study. "My independent study incorporates my interest in Jiu-Jitsu to design a Gi (pronounced 'GEE') and other active wear. Before, I would never have considered doing this, and I realized, 'why not?' I got some great exposure to technical design, and next semester I will learn more about this," she explains. Technical design in clothing or fashion may include quality assurance, things like making certain each pattern is accurate and that the stitching will align. Vance considers this a type of problem-solving, which has been a focus of her education here at the College of Design.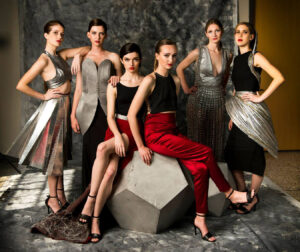 One of her fondest memories and experiences thus far been has been her participation in the iconic fashion event Art2Wear (A2W). In her junior year, Vance and Kaitlyn Sulser-Young ['14 BPD], who was a student at the College of Textiles, entered their design collection "Metal." Their unique designs incorporated various materials made of metal, including non-traditional items like chains. It was a huge undertaking that provided personal growth and amazing learning opportunities.
The involvement provided life lessons and an amazing sense of accomplishment. "It was a lesson in a team challenge. Working on a collaborative team and learning each other's strengths and weaknesses," she pauses and closes her eyes, "going through the process of building a collection and feeling that you have more failures than success." As with any designer, the process can be cathartic in the positive and negative. "There was so much time and energy that went into this event, but I was thrilled with the final results," she says. Two of the pieces in the collection are still her favorite personal works. But most important was her ability to overcome any and all challenges that she faced throughout the experience.
Does Vance think her decision to come to the College of Design was a good one? "Absolutely. I love the professors. They are so personable, and you can talk to them. It's a tight community, and it offers such a great experience. Associate Professor of Industrial Design Tim Buie was my sophomore studio professor, and he is also my adviser and has been so influential," she adds. "He was our 'leader' when I went to Prague with almost the entire ID junior class. We all respect him so much."
And the admiration is a two-way street. "In a generation of 'delicate snowflakes,' Lauren is a kick-butt 'kung-fu' designer. If you work with her, you better keep up or keep quiet," Buie states.