A Master Plan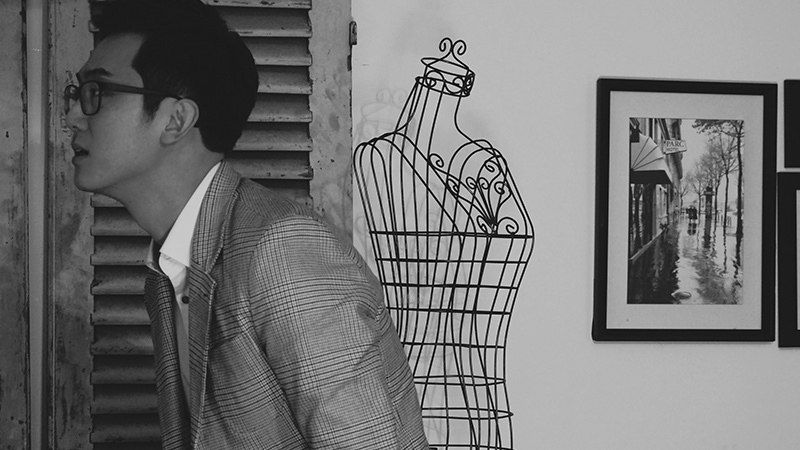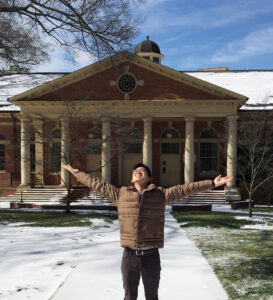 Originally from South Korea, Byungsoo Kim came to North Carolina in 2014 with a plan. Kim earned a degree in product design from Hongik University in 2011 and had the opportunity to work in the design field for several years, which eventually lead him to the decision to continue his education. He worked for a design laboratory focusing on design research that included a wide variety of design projects. His work often involved interaction with individuals who held Ph.D. or Masters-level degrees in design and whose knowledge and extensive understanding of design principles, theory, and application of methods impressed him. Kim decided to learn more about universal design, which led him to pursue his Masters in Industrial Design at the NC State College of Design.
Kim is well versed in universal design, and he learned much about it from his colleagues, peers, and the Center for Universal Design (CUD). He eagerly talks about Ronald L. Mace, who is the visionary behind universal design, and how Mace's design philosophy and teachings inspired Kim to come to the College of Design.
Mace was the founder and program director of CUD (1989 – 1998), which was started here at the College, and he is a nationally and internationally recognized architect, product designer, and educator whose design philosophy challenged conventional thought and provided a design foundation for a more usable world. He coined the term "universal design" to describe the concept of designing all products and the built environment to be aesthetic and usable, to the greatest extent possible, by everyone regardless of their age, ability, or status in life. He was a devoted advocate for the rights of people with disabilities, which his work. Mace was instrumental in the passage of national legislation prohibiting discrimination against people with disabilities through the Fair Housing Amendments Act of 1988 and the Americans with Disabilities Act of 1990. "Ronald Mace is highly regarded in the design world, and in much of my research work we referenced his materials from the CUD website," states Kim.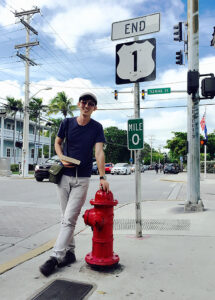 Currently, Kim is refining the ideation and design process of a drone concept for a unique design competition with GM. He has been selected to participate in the final round of the GM 2016 Interactive Design Competition: a multi-phase competition where entrants must complete and pass each phase to move on to the next. Kim is entered in the product design category, the goal of which is to produce a GM-branded drone that is guided remotely or can navigate autonomously to complete a task. Entrants are encouraged to be original, know their customer, know their brand, make it perform, and make it "aesthetically interesting." The competition started in early September with the final phase to take place in January at the 2016 North American International Auto Show (NAIAS) held in Detroit, Michigan. Finalists, including Kim, are invited to the show where the winners will be announced.
The NAIAS is the destination where next-generation products and technologies make their world debuts. It is a collection of the most amazing automobiles the world has to offer, including brands such as Aston Martin, Bentley, Ferrari, Lamborghini, Porsche, and Rolls Royce. In addition, executives and designers responsible for the creation of these products will be on hand to discuss the brands. This is an amazing opportunity for student designers to get firsthand experience and possibly meet with some of the most distinguished automotive designers in the country.
Kim first heard about the GM design competition from a fellow classmate and thought it would be interesting to enter. When he learned more about the specifics of the contest and the parameters, Kim wanted to use the opportunity to address a personal experience that he recently encountered. Kim had purchased a large piece of furniture through Craigslist, and because he does not own a vehicle or know many people in the area, his dilemma was transporting the furniture to his apartment. "My experience with purchasing the couch and the difficulty I encountered is something that many people face. For the purpose of this contest, I wanted to develop a furniture transporting service design solution with a drone," Kim says. "I think that there are a large number of people who could use help moving furniture, especially students or someone who has recently moved to a new area. And renting a moving truck can be a complicated process."
The design contest is a conceptual project with specific attributes that the entries must address in order to move to the next phase. In the first phase, referred to as Ideation and Development, Kim sketched his ideas for what he termed the "GMC L Ant: Furniture Transporting Service Design," and he was not limited to the number of pages or concepts submitted. He used "ant" because his concept was based on the idea of ants working together in units. His concept involves the ability to expand through the use of interlocking "ants" that would allow the drone service to accommodate moving furniture of different sizes.
In the second phase – which was also the semi-finalist and visualization phase – participants had the opportunity to further develop their ideas by collaborating with a mentor from GM. Mentors reviewed concepts and provided feedback, and contestants had to refine their submissions based on the discussions. In this phase, there were more specific parameters on the number of sketches and problems that needed to be addressed. This phase was also completed via an online 'chat,' which allowed mentors to view submissions and any modifications submitted. Sixteen finalists, including Kim, were then selected for a video interview and also invited to the Detroit auto show. The winner in each category will receive a three-month paid internship at GM's Tech Center in Warren, MI, where they will work alongside the design teams from Cadillac, Chevrolet, Buick, and GMC.
One of the unique aspects of this contest was the opportunity for contestants to interact with design professionals who have extensive experience in the automotive industry, the GM culture, and the process of design ideation and refinement. The ability to have real-world experience of working through a project within a team environment and to receive critical feedback was a great learning opportunity for Kim. " I've participated in several design competitions thus far, and I've not had the opportunity to speak directly with mentors or designers to improve my work in any of them. This gave me a 'taste' of what the designer's process includes and how collaboration improves a project," comments Kim. "I've learned time management skills because of the short-term turnaround to get changes accomplished and submitted." In addition, Kim believes this competition provides an organization like GM with an advantage of hiring interns that have the skillsets and talents they are looking for. "I think more companies should consider something similar; that will then allow the organization to cultivate a designer that fits in their work style," says Kim.
Prior to entering the competition with GM, Kim had formulated a proposal for his final degree project, which is part of his graduation requirement, that coincidentally relates to car interaction design, on a broad level. His objective was to develop universal design guidelines for the secondary functioning elements of the interior of an automobile. The primary functions are the driving wheel, gearshift, and those items that have standardized locations (e.g. gas pedal, brake). The secondary functions for drivers are things like knobs vs. buttons, locations of light switches, and other features that can be unique to the make, model, and vehicle type.
Kim went to dealerships to survey all the different secondary functions available and discovered that there is no standardization. "They are all so different—the locations are different—the kind of actions needed are different. It can be complicated for someone to get into an automobile for the first time and figure out how to use these secondary functions. By unifying these functions, a user can get into any type of car and feel comfortable," says Kim. He believes that the automotive industry is in need of developing better user interface standards for the car experience.
The opportunity for Kim to attend the NAIAS is an amazing stroke of luck. He had been struggling with a way to seek out expert feedback for his project and to learn more about industry design standards. This event may provide the perfect platform to get these questions and more answered.
Kim has learned and grown as a designer through his experiences and interactions here at the College and with the GM competition. He also has shared a unique sense of design and ideas based on his cultural diversity. Kim is thoughtful in his work. He studies and analyzes the problem or situation and develops a process and strategy to move forward. He absorbs feedback and has a unique way of filtering elements that are relevant to improving the product or project, and then incorporates them.
"Byungsoo is a wonderful working partner who is receptive to my ideas and he appreciates the guidance," states Associate Professor Dr. Russell Flinchum, who worked with Byungsoo on his final project. "I am proud of Byungsoo's many accomplishments, including the L. Franklin Bost Industrial Design Fellowship, which he was recently awarded."
Kim has also worked with Associate Professor of Industrial Design and Director of the Research in Ergonomics and Design Laboratory Dr. Sharon Joines. She leads the RED Lab, which focuses on research and investigation into technically difficult questions that are asked about the manner in which people interact and react to products and processes. Investigations in the RED Lab consistently recruit participants' representative of the potential user population and often include students. Working with Dr. Joines has been a great opportunity for Kim to expand his understanding of universal design and to work towards the focus of his original action plan.