A Sketch-Monkey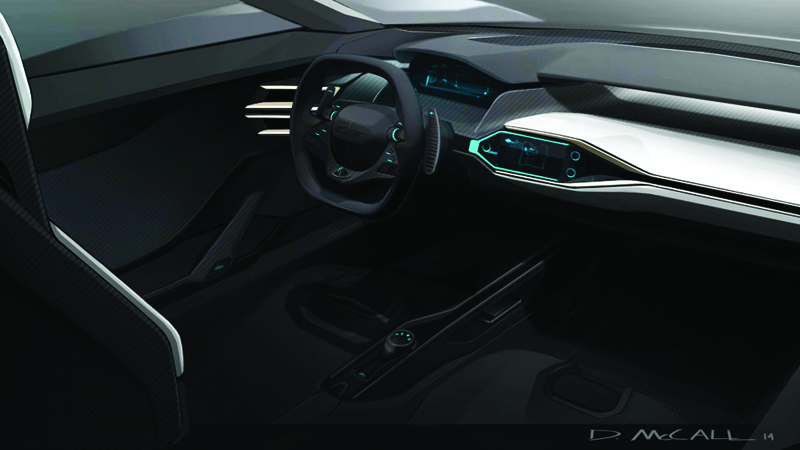 Lead Designer for Ford, David McCall ['10 BID]
Many talented students from the College of Design become successful professionals that impact design in our lives. David McCall ['10 BID] is one of these special individuals. He is a Lead Designer with Ford Motor Company – a career that he dreamed of as a child but didn't realize existed.
"I was a 'sketch monkey' and had no idea that there was a career path or degree for Industrial Design or what ID was. I owe this to my older brother Alex," states McCall on a recent interview. McCall was known for 'embellishing' his folders, book covers, and school papers with sketches of futuristic cars and Star Wars-like vehicles. "I just love to sketch."
Alex McCall was a freshman at NC State when he learned about industrial design and that this degree required a lot of sketching. He immediately shared this with his brother. Luckily for David, he also learned that the College of Design had a summer camp program that exposed students to design, design thinking, and various design disciplines. He participated in Design Camp and was hooked on pursuing a degree in industrial design. "It was a great experience to meet current design students from the College and see what they were doing.  I actually learned how to refine my skills and to 'really' draw cars.  This was pivotal in the direction I chose."
McCall did not have a formal portfolio and was what he refers to as "late to the party" for applying to design school. He didn't get accepted into the College of Design on his first attempt and decided to attend Savannah College of Art and Design (SCAD). While there, he learned color theory and honed his drawing skills. He also applied to a posted internship with Husqvarna – something else that possibly started his path to success. The internship was usually reserved for upperclassmen, but McCall applied anyway because he thought it would be a good experience and figured he had nothing to lose. In fact, it was his portfolio – a book of sketches – that landed him the job, because Husqvarna was seeking an intern who loved to sketch. It was during this internship that he had the opportunity to work alongside talented professionals who provided him with priceless experience. "From day one of that internship, I really had the opportunity to improve my drawing skills and be exposed to what it was like in the professional world," says McCall.
McCall was accepted to the College of Design and flourished as a student and designer. "The College of Design was such an amazing place," he says emphatically. "Every class was so important to me; the studios and the collaboration as a team; the open work environment and the relationship with the teachers – everything mattered." McCall highly regards Associate Professor of Industrial Design Brian Laffitte, who had the most influence on his success. "He (Laffitte) is one of the most talented artists I've known. He has this profound ability to draw with such fluidity. I really thank him for showing me how to draw."  McCall still has a drawing of a motorcycle that Brian gave to him.
McCall also reflects fondly on shop class (Materials Lab). "I always thought that shop class was one of the least helpful courses however, but it has had the greatest impact on me as a designer. There have been many instances where I am part of a diverse team, and I need to articulate what it is I am trying to accomplish with my design. Having the ability to reference my experience in shop class has been a great advantage that I appreciate."
Today McCall is riding a wave of success and achievement that he could previously only dream of. He is one of the youngest Lead Designers with Ford and has just completed the redesign of the iconic muscle car: the Ford GT. This redesign marks the 50th anniversary of the Ford GT racecar and was a high-profile project for both Ford and the entire automotive industry.  The new GT is officially a '16 model.
McCall is not entirely sure how he landed such an amazing opportunity, but part of the pattern of his success stems from his positive attitude and fearless nature to give anything a try. Remember, he landed an internship that no other freshman would even consider applying for and succeeded.  When he graduated, although there were few opportunities of companies hiring ID grads, he didn't give up. In fact, he developed a list of all the companies he would love to work for and sent them his portfolio. Eight months later he received a call from someone at Ford asking for an interview. He was hired as a contractor and worked his way up. When Ford was formulating the team to redesign the GT, a large group of highly skilled and decorated designers were in the pool of candidates along with McCall. "I was the new guy. There were several accomplished designers, including those who redesigned the Mustang and F-150. I really had nothing to lose and only experience to gain," says McCall. And when they announced that he was included in the design team, "It was just unbelievable."
The redesign was a secret project, and for more than a year, nobody could speak of it. "It was so hard; I had all this energy and excitement and could not say a word. I was by myself being happy," McCall shares. Fast-forward 12 months. Now the secret is out, and he is sharing his happiness.
McCall's advice to aspiring designers is this: "Sketch until your arm falls off. Real world experience is so important. Try working with professionals as much as possible while you are in school. Experience is key: whether an internship, freelance, doing something for free – it will make a difference."