MAKE, BELIEVE: The Work of Alexander Isley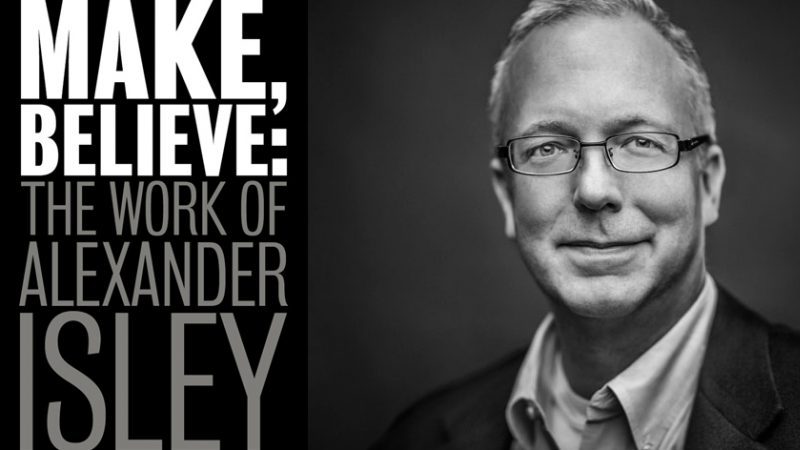 MAKE, BELIEVE: The Work of Alexander Isley
Alexander Isley kicked off the inaugural Designlife® Alumni Lecture Series, hosted by the NC State College of Design, with a presentation of his work. The event was held at the Hunt Library on NC State's Centennial Campus. Alexander first gained recognition in the early 1980's as the senior designer at M&Co. He went on to serve as the first art director of Spy magazine. His work is in the permanent collections of the Museum of Modern Art, the Smithsonian Institution, and the Library of Congress. Isley the recipient of the 2014 American Institute of Graphic Arts [AIGA] Medal of Honor, the highest honor of the design profession, awarded for distinguished achievement and contributions to the field.
Award-winning designer and former NC State student Alexander Isley drew hundreds of attendees to his lectures in D.H. Hill and Hunt libraries where he discussed how his time at NC State helped shape his career as a successful graphic designer and business owner Thursday evening. Isley, a former student in the College of Design, was invited back to NC State to speak on behalf of the NCSU Libraries' Amazing Alumni series and the College of Design's Designlife series. Immediately following the Amazing Alumni event at D.H. Hill, Isley spoke at Hunt Library for "Make, Believe: The Work of Alexander Isley," kicking off the inaugural Designlife Alumni Lecture Series.
"When I was a student, I didn't know what kind of designer I wanted to be, and I still don't," Isley said. "I like designing all different types of things." Over the span of his career, Isley has had the opportunity to work with a number of organizations. After attending NC State, Isley became the senior designer at M&Co., an influential design firm, and then became the first full-time art director for Spy magazine, a publication known for its satirical content throughout the '80s and '90s. Isley has been the creative director for his own company, Alexander Isley Inc., since its inception in 1988. "We are identity and communication designers," Isley said. "We work with companies and organizations to help develop their identities and convey a mission statement to the public through design."
Isley's company has worked on a number of influential projects, including branding for Youth Service America, Armani Jeans and Goodwill. "When we start any assignment, we talk to our clients and make sure they know who they are, and that they are confident in what they are before we start designing things for them," Isley said. "We start asking them questions like, 'Tell me in a sentence what makes you different' and half of the time people can't even do that, so we go through experiences to help establish what their position is." Isley was invited back to NC State to help create the communication and signage systems for Hunt Library. His company also designed the colorful backdrops found in the computer workstations.
"I was always inspired by the color wall that is in D.H. Hill that was designed by Joe Cox, who was an artist and teacher at NC State University many years ago," Isley said. "So what we decided to do for the computer workstations was to tie the missions of the two libraries together to echo that look, so we took the colors from his wall and created over 80 different panels, and no two are alike." Isley also reflected on how he first became interested in pursuing a career in design. "My dad was an architect, and also a graduate from NC State's school of design," Isley said. "I would watch him draw up a building, and then a year later you could walk through it. That, to me, was just magic."
Isley took the inspiration from his father and began designing and building playgrounds for the kids in the neighborhood at the age of 14. "I would get paid to do this," Isley said. "And this is when I started to realize that design was a good way to make a living." When deciding where to attend college, Isley, a Durham native, was not always set on coming to NC State. "I looked at a lot of schools, and they either wanted to see a portfolio, or they wanted to see grades," Isley said. "NC State was the only place that wanted to see both, and that impressed me."
Isley left his audience with a piece of advice. "I think it's really important to put yourself in a position where you are over your head and terrified because once you start feeling really comfortable you have to move on to the next challenge," Isley said. "If you are comfortable when you are 22 years old, then you are not doing something right. You need to keep learning, and I think that goes throughout your whole life." Nick Sorensen, a sophomore studying history, said he also feels that people should continue learning throughout their entire lives. "Having challenges builds character and makes you a better, more successful person," Sorensen said.
Re-published from a recent article in the NC State University student newspaper, The Technician, by Staff Writer, Rachel Smith
About Alexander Isley
Alexander first gained recognition in the early 1980s as the senior designer at M&Co. He went on to serve as the first full-time art director of Spy magazine. In 1988 Alexander founded Alexander Isley Inc. in New York City. In 1995 he relocated the firm to Connecticut.
Alexander holds a degree in Environmental Design from the School of Design at North Carolina State University and a BFA from The Cooper Union in New York. He has taught graphic design, typography, and exhibit design at Cooper Union, RISD, and the School of Visual Arts. He has also served as a lecturer and critic in the graduate program of the Yale School of Art.  In 1993 Alexander was named an inaugural member of "The I.D. 40," a survey of the country's leading design innovators. His work is in the permanent collections of the Museum of Modern Art, the Smithsonian Institution, and the Library of Congress. Alexander is a recipient of the NY Art Directors Club Herb Lubalin Memorial Award for Art Direction and Design, the NEA International Design Education Fellowship, and the Federal Design Achievement Award. He is past president of AIGA (the professional association for design) New York, and is currently a member of the AIGA/CT advisory board and an AIGA Fellow. In a recent Graphic Design USA magazine poll, Alexander was named by his peers as one of the most influential designers of the past 50 years.
Alexander Isley is a 2014 recipient of the AIGA medal of honor, the highest honor of the design profession, awarded for distinguished achievement and contributions to the field.
www.alexanderisley.com
The event was generously sponsored by:
AIGA Raleigh
http://raleigh.aiga.org/
New Kind
www.newkind.com