A Chat with Valen Lin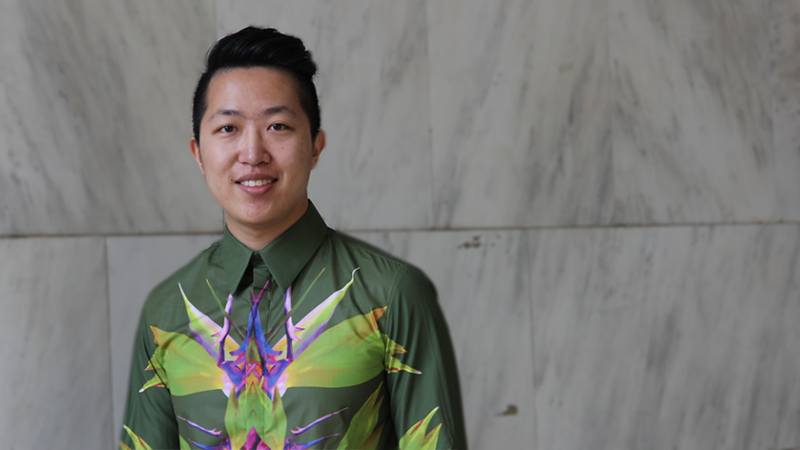 Q: Why did you choose to attend the College of Design?
We have the most outstanding and experienced professors in the U.S. teaching courses at our school, and some of them are great designers, educators, and pioneers. Thus, teacher resources are one important aspect that attracted me to choose the College of Design. Another aspect is the field that our department focuses on design research, design thinking, and research methods, which create a more professional academic atmosphere that I like. These focuses are applied in the current design environment, such as User Experience, User Study and User Interface design.
Q: What experiences in your background led to your desire to become a designer?
When I was 5 years old, I started to paint. I enjoyed the process of recording beautiful things around me by drawing them. I never gave up painting, because I love it. I love to record what I see from the physical world. When I was 16 years old I attended the most well-known professional art high school in my hometown. After three years of training, I entered the number one art school in my country, Central Academy of Fine Arts, to start my undergraduate study. This was a transition point for me, because instead of becoming an artist, I choose to be a designer. I still enjoy as an observer, I paint everything combined with my understanding and emotion, but I can never change it or make it better in the real world.  I began to take design courses in college, and it was a joyful experience to solve problems with design thinking, which can help make things work in a more effective way as well as an appealing form. All these experiences created my desire to become a professional designer.
Q: What are your favorite courses?
My favorite courses are Studio and Seminar in Graphic Design. Studio is more about executing research and investigation oriented design projects, where research methods are addressed. Studio makes me productive, and I enjoy the process of how strategies come from early stage of research and investigation. While Seminar is a great chance for me to read books and articles around one large topic each semester, such as social cognition, cultural theory, and the implications of technological change. Writings in Seminar also keep my thoughts clear about different emerging issues in current design practice.
Q: What are the top-level things a designer needs to know/be able to do to be successful?
From my point of view, a designer should always be clear about how to execute their work in a structured way or method, and consider things from a larger context to build communication. In this way, a designer will understand where design will sit in specific parts of a big system. And how his or her work will better help the system to work in an effective way. It is quite important how a designer observes, analysis, researches and finally to execute an idea, which starts with a sophisticated relationship between user and design.
Q: What is the "culture of design" at the College?
Research and investigation oriented design practice would best describe the "culture of design" at the College of Design. The practice activities contain both making and writing, which are focused on how to execute design thinking as well as design methods between different topics of projects. Thus, research plays a quite important role through out a design process, which leads students' decision-making in a more professional way.