Art: At the Speed of Change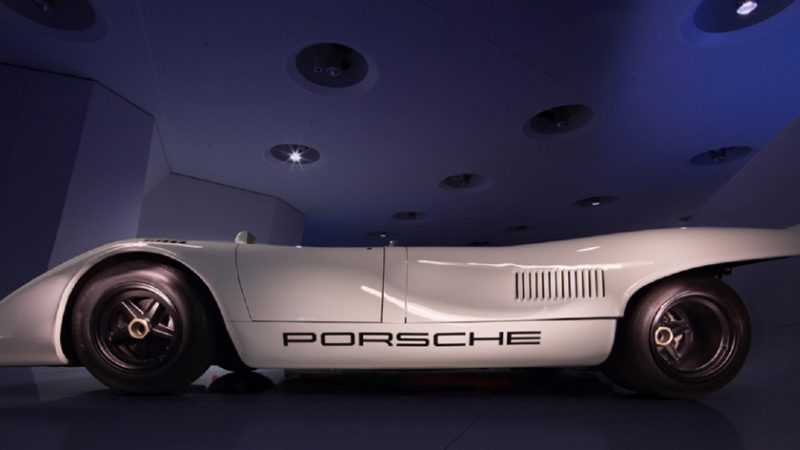 The North Carolina Museum of Art recently ventured into new territory with the Porsche by Design: Seducing Speed show. Intended to attract new audiences, the exhibition marked a departure from the museum's traditional curatorial programming and was its first large-scale exhibition focused solely on automotive design. Barbara Wiedemann ['91 MPD] co-curated the show along with automotive consultant,  journalist  and former Museum Director, Ken Gross. She sat down for a brief Q&A with Designlife feature writer, Dave Delcambre, to discuss the planning and logistics of displaying 22 sports cars in a space reserved for painting and sculpture. 
Q: How did you get involved with the NC Museum of Art exhibition in the first place?
Barbara Wiedemann: I went to director Larry Wheeler with a proposal for "Porsche by Design" in 2011—he'd requested fresh exhibition ideas from the staff. Unbeknownst to me, the seed for a car show had been planted by an architect here in town, Bill Hopkins ['70 BARCH], and North Carolina artist Robert Irwin ['78 MPD], who are longtime friends of the Museum. Bill and Bob had pitched a car show to the NC Museum of Art, which helped to get things rolling [no pun intended!] by the time my proposal came along. In 2011, the Museum's very successful Rembrandt show had just ended, and future projects were up for discussion. My friend Rory Ingram had just invited me out to see the Ingram Collection [of vintage cars] in Durham. Because I'd grown up around Porsches, I realized this was a phenomenal collection of world-class cars. That collection and the Ingram family's generosity about sharing their passion for Porsche were an inspiration. I did some research on design departments at different museums and cars in art museums. It felt like a natural fit for North Carolina. Larry and Caterri Woodram [CFO of the NC Museum of Art] agreed that the proposal was worthy of presenting to the curatorial staff. It built pretty quickly from there. Automotive writer Dan Neil, Pulitzer Prize-winning senior editor for the Wall Street Journal [and Raleigh resident], was a great resource. He recommended our guest curator, Ken Gross, who came on board in 2011. Ken had done a car show with the High Museum in Atlanta and worked with other art museums on these types of exhibitions. In October 2011 at Porsche's "Rennsport IV" event in California, we began talking with many of the most important Porsche collectors in the world about lending us their cars. Usually, the course of planning a show is three or four years out, but this show was a little more condensed.
© 2014 NC Art Howard
Q: It sounds like Ken's experience helped lay the groundwork. Did this help you know what to expect and plan for?
BW: Ken brought a lot of knowledge to the table. He is a really encyclopedic resource about cars in general and art museum exhibitions specifically. He is also a writer, and his  connections and experience were invaluable. I did a series of Porsche by Design videos with local filmmaker, Art Howard, and that was really impactful as they could be shared through the Museum's social media and website and as a media tool. The videos captured dynamic, unscripted conversations about cars alongside vintage footage from the Porsche archives. Our members and the general public got an early glimpse of what was to come. Jay Leno is probably the best known "gearhead" in the world, and it was a thrill for me to talk with him and have his iconic presence in our very first video, released six months before the opening.
Q: This show obviously demanded a somewhat different approach in term of education and marketing. What was most different for the Porsche show?
BW: Hugely important was that the lenders allowed photography. Most of our shows [as with most museums] prohibit photography of the artwork. Initially, the Rock and Roll Hall of Fame, with their Janis Joplin convertible, wasn't on board. Fortunately, they relented. People went wild! Everybody that came to the show could say, [sticking out her hand as if taking a mock cellphone picture] "Hey, guess what I just saw" and offer their own interpretation of it. It had an immediate viral effect. And those videos drew a lot of media attention, because writers could embed them in their posts and blogs. "Faster, Farther!" became a Vimeo "Staff Pick" seen by over 90,000 viewers. We recorded over 650 newspaper, magazine, TV, radio, and online stories in the US and Europe about the show.
Q:  What were some of the logistics in terms of getting the cars to Raleigh and getting them into the Museum?
BW: With a painting show, trucks unload all of the paintings into a holding area. With these large racing and sports cars that came from all over the world, we had to roll them into the galleries immediately. Our registrars, art handlers and exhibition design team did an incredible job of coordinating the installation. The cars were rolled into place with one person at the wheel and an art handler at every tire. Our staff designed these gorgeous platforms and systems to lift them up and put them in place and arrange them as needed. It was all highly orchestrated. The conservators had to maintain each car with painstaking detail. Every Monday [when the museum is closed] they checked each car and dusted it. Although these are highly collectible cars, a lot of the Porsches are still raced in vintage races. Even if they don't race them, all of the collectors get them out on the track or on the road regularly to keep everything functioning. The chance to see the cars being driven was another reason we liked those vintage videos so much.
Q:  So the response to the show was positive?
BW:  It was terrific. We had close to 90,000 visitors, I believe from all 50 states. I met some folks from Germany, Canada, and Australia in the galleries. It's a very passionate crowd — we had a bunch of Porsche Club of America groups who came from Maine to Florida to Tennessee to see this collection, many traveling along the highways in long parades of their own Porsche sports cars.
Q:  I got the feeling with this show that a major component of it was outreach to people who might not normally go to an art museum?
BW: That's always one of the goals for an art museum – how can you bring the art to more people or bring more people to the place to have an incredible experience with art? I would go through every day and watch people interacting with the cars. I saw lots of new faces. I'd also visit with the cars off-hours, when the galleries were empty. We were really thrilled that Ralph Lauren lent us his sleek silver Porsche 959. At the opening of the Louvre's Musée des Arts Décoratif show: L'Art de l'Automobile: Chefs-d'Ouvre de la Collection Ralph Lauren, Lauren said, "All the cars are talking to each other and are excited to be here." Alone in the galleries, I knew exactly what he meant. I could almost hear the cars whispering amongst themselves.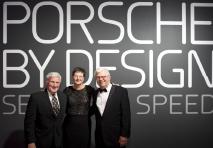 Q: Do you think it might lead to other design shows as well?
BW: I hope so. It was the first design show of that blockbuster scale that was done at the Museum and shouldn't be the last. Design is a pretty broad and rich topic.  We had a number of state legislators and corporate and community leaders come through, and I enjoyed doing those special tours and sharing my pride in this stellar state art museum's collection and campus. That shared level of excitement was fun.
Q: Was it difficult for you coming from more of a graphic design background to work on an industrial design show? Was that difficult for you to transition over?
BW: It was fun because it was going back into my past and my dad's work. He brought our family to the US from Canada when I was a year old and worked for Porsche, Audi, and Volkswagen in America. Dad and mom came to the show and Dad got to spend time with the cars he had actually worked on. He stood in front of the [Type 718] RS60 and said, "I spent a year of my life working on this race car. I studied this engine and I had to take it apart and could probably put it back together today." I loved that. Many curators are called on to work in areas that are outside of their area of expertise, and over time they become very knowledgeable. As publications director, I never thought I'd be managing curator of a design show but now when I think about it, I think, "That was cool. That was a good fit. I want to do that again!"