Mia Blume Gets Everyone On Board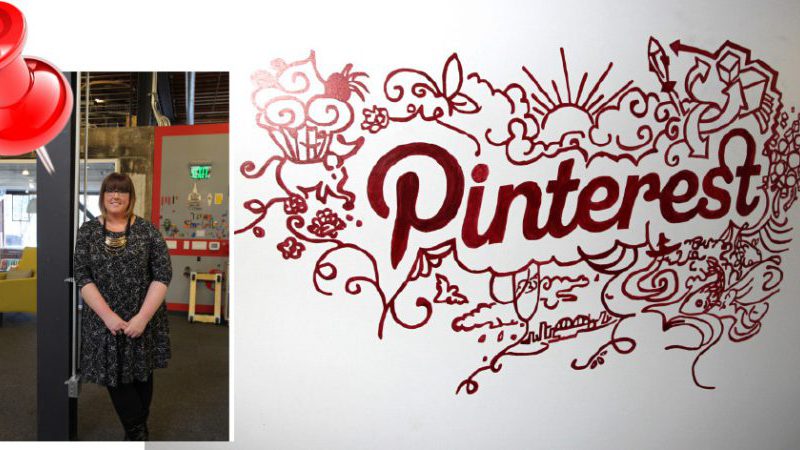 Looking back on her time in College of Design studios, Mia Blume ['05 BGD] notes, "I think that was the first moment where I really realized my two passions, art and technology, could be fused into a career." An interdisciplinary perspective has undoubtedly helped Blume in her current post where she leads the product design team at one of the hottest social media companies in the world, Pinterest. The company is based in the trendy SoMA district in downtown San Francisco, where walls are constantly being torn down to make room for more office space to house the growing number of "Pinners" who work there.
"I had been a 'Pinner' [an avid user of Pinterest] before I realized I wanted to work at Pinterest," Blume recalls, "When I worked at IDEO, Pinterest was a tiny startup literally across the street from our building. Every day that I went to lunch or walked down the street, I passed Pinterest and I was always kind of curious." While those lunchtime walks didn't directly lead to Pinterest at first [she had several other ventures in between], Blume was quick to get on board when the opportunity arose. "Pinterest was a product that I enjoyed using on a regular basis. It brought out a lot of my inspiration and creativity because it was a product that I was so passionate about personally. It was inevitable that I was going to become part of the team to help build it and make it better than it is today."
Blume wears many hats at Pinterest. Her work is focused on "setting the product design team up for success," as she puts it. Blume seeks out new talent for the company, supports individual designers on various assignments, leads new design projects, and works closely with other team leaders to build a company culture that helps "build awesome stuff," as she likes to say. Pinterest's mission is poised at the intersection of art and technology and the company is currently situated in the hottest place for such fusion to occur, Silicon Valley. When asked about the company's mission, Blume turns philosophical. "From a people perspective, I feel that both technology and design are trying to accomplish the same thing – create things that allow people to do things that they couldn't do before," she says.  "Both designers and engineers are problem solvers. There's an alignment around what we want to achieve, but the skills we bring are different so we're a perfect blend of talent and collaboration. If our designers aren't sitting next to an engineer, prototyping and collaborating, they're not going to build the kind of product we want to build. Designers and programmers have to learn each others' languages in order to build a more holistic, well-rounded product. There's not some designer sitting in the corner coming up with some magical idea then throwing it over the fence to engineering. That just doesn't exist here."
Blume notes that the last few years have been especially fruitful for collaboration to flourish, emerging in particularly dynamic ways in Silicon Valley and New York. "That model has existed for a longer time in the physical world but not the digital world." she says.
"Now we're starting to see a much higher bar for what a great product looks like and feels like that is evidence of that fusion of technology and design. I think it was kind of inevitable."
Using Pinterest, users create their own unique experiences by developing galleries akin to traditional thumbtack boards – a type of visual digital diary that is half personal identity and half personal wishlist – which simultaneously personalizes contributor content and generates an organizational framework for individual experiences.
Coming full circle to her thoughts on design education, Blume is quick to cite the importance of design fundamentals. She finds close parallels with the fundamentals employed at Pinterest and the ones she learned while at the College. "A lot of the fundamentals are the same – understanding the fundamentals of design, the history, and what it means to give and receive feedback. Without those, you're not going to survive."
"No matter what the skills are, the things we build are out in the world." she says. "I would advocate for a design curriculum that supports more collaboration with technology and engineering – to push the boundaries of building, not just designing. Getting into the construction of what we're making, not just the craft, but the product thinking – which is a fusion of business and technology and design. That is where we're headed!"