Design on Demand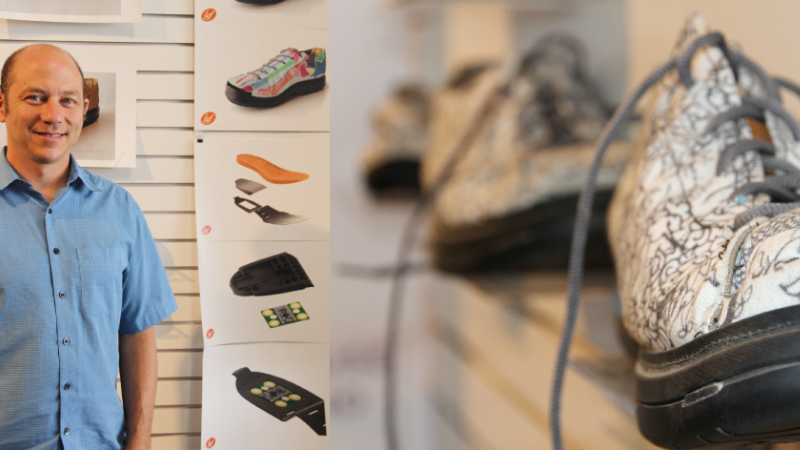 "To be a designer you have to be an entrepreneur, period." says Aly Khalifa ['90 BEDN, '93 BS in Product Engineering] You have to be someone who's thinking creatively and energetically about the market as well as how social networks play into the use of your product. That's a big change from the way I was taught design originally." 
To be a designer you have to be an entrepreneur, period." says Aly Khalifa ['90 BEDN, '93 BS in Product Engineering] You have to be someone who's thinking creatively and energetically about the market as well as how social networks play into the use of your product. That's a big change from the way I was taught design originally."
Khalifa points out how his time at the College of Design still broadly influences his work as a product designer, especially in the interdisciplinary context of his student days when he was also studying mechanical engineering concurrently, which Khalifa has dubbed his "bipolar education." "With mechanical engineering, you have a focused amount of attention on something very specific and it was all about content. In constrast, design school was a  24/7 type of experience, not as linearly focused and always project-based," he says. "I recall my lessons better from design school than I did from engineering school, but engineering gave me the skills and tools to be a better designer. On one side I was getting my technical chops and on the other, I was getting my mind opened up. I just loved my experience there."
Khalifa, a member of the College's Leader's Council, founded Designbox, a "creative hub" for multidisciplinary designers who work within the space in downtown Raleigh. His firm is Gamil Design, which he manages with his wife and designer, Beth Khalifa. "I don't think to be a 'product' designer makes sense, or to be a 'graphic' designer makes sense. I think you have to be a designer first, then you add on your own unique abilities to it all," says Khalifa, who is a strong advocate for multidisciplinary study and practice.
He emphasizes that a product designer's role is generally to create things that can be mass manufactured. "Product designers are intimately involved in the manufacturing of what they design. Often the biggest challenge is understanding how things are made with regard to the user as well as your own passion for the work. If you are making stuff in a factory that you don't feel good about, what's the point?" he explains. The inherent issue of product lifecycle and use is another significant factor. "A lot of times we only think about the single use of a product. We don't think about its pre-use or where the product is going to end up." he says. "Is it going to the landfill or is there a way to design for recyclability or even disassembly? Can you use open-source principles so people can repurpose certain components?" he asks. "That's another big challenge as a designer that I still aspire to. It means the designer has to think beyond a component."
Khalifa is currently embarking upon an exciting new product line called LYF Shoes. "We're rethinking the design model of making customized footwear on demand. We can do it in 15 minutes, right in front of your very eyes, via a method called the 'Digital Cobbler,' " he says. "The on-demand factor is cool enough but the real wow factor is their über hipness. Compare them to Chuck Taylors made just for you and only you and in your unique color scheme. The shoes can be digitally printed from whatever image you want to provide and come in a endless variety of patterns and colors.
The LYF concept is not simply a design challenge. "We're looking at all these metasystems – where the materials come from and how we rethink the manufacturing to delivery model. When you stop and think about how many feet there are to clad in the world and the extreme individual appeal of LYF shoes, the possibilities are endless. Not content to stop after the design and purchase phases, Khalifa and his team have also put careful thought into the afterlife of the shoes. "We've designed a full life cycle for the shoes – when the user is done with them, we purchase them back at a discount to recycle so they can be completely landfill free. Additionally, this method of specific customer-focused manufacturing allows the user the ability to customize new ones based on their last pair." Khalifa explains, "It is a closed loop story for the materials as well as the customer that will hopefully become part of a community where the shoes could be manufactured in downtowns everywhere and distributed locally. LYF Shoes are designed to fuse people, planet and profit into a new and disruptive model to bring customized, nontoxic footwear manufacturing back to our downtowns."
While not available on the market just yet, LYF shoes have already generated interest via a Kickstarter campaign. "Crowdfunding is an amazing experience." Khalifa marvels. "We thought we knew our supply chain until we started this campaign, then a lot of people started contacting us about how they could help with it. Now we're going to re-engineer and improve some things as a result. Where we thought we'd be in ten years we can now do by next year. We feel like we're in touch with a global community about this project. For us, this is a real game changer. It's all about looking at systems engineering and stepping outside what design would normally be. That's top on our list."