A New Social App That Takes the Cake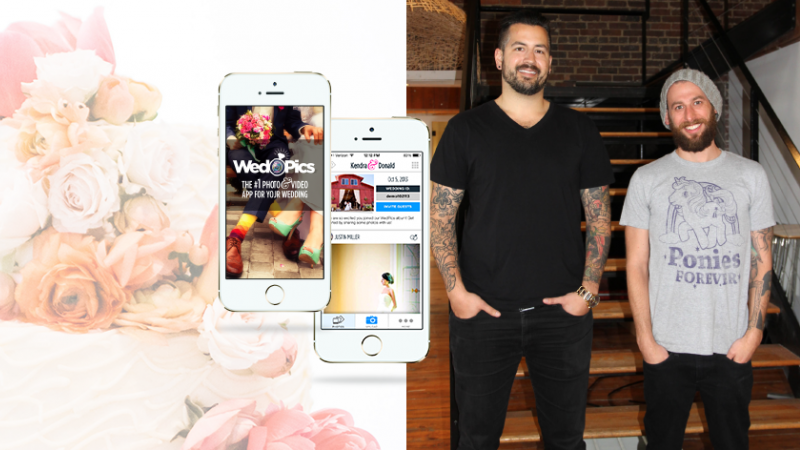 Justin Miller ['03 BGD] and Andy Heymann ['04 BGD] knew each other during their time at the College but headed down different paths after graduation. Miller went the corporate route, taking a job with IBM as an art director. Heymann had a plan to do one job a year in the world of graphic design with the goal of learning as much as he could, all the while keeping RaleighDesignLAB as his freelance business, which he still runs today.
In 2010, Miller came up with a concept that enabled people to collaboratively share photos and videos based on shared experiences or locations without being socially tied to one another. Two weeks later, he pitched Heymann his idea. Miller decided Heymann was the only guy in Raleigh crazy enough to try and do it, and at the end of 2010 they created their first app, Deja Mi, with funds raised from friends and family. Though Deja Mi didn't create the impact they wanted, it led them to create WedPics, a similar concept but more specifically focused on the wedding industry.
Miller describes the WedPics philosophy: "I see us as being game changers and re-inventors. WedPics is reinventing the wedding industry which has been very stagnant. We are bringing the social element that people experience on a day-to-day basis into the wedding experience. We have exploded into this market with only one wedding season under our belts, and capturing 10% of the US market in one year. It really showcases the fact that a group of guys like us could build this for a market that couldn't be more different than we are – and could reach people who didn't even know they needed this product." The skill of designing for a specific audience is a strong concept learned at the College that has carried into their business. Heymann explains, "They taught me how to think like a designer. I don't fit my own target audience so I have to put myself in the head of a bride-to-be. The College taught me concept thinking – realizing why I am doing everything I am doing."
WedPics was recently featured on TechCrunch and just finished raising 1.5 million dollars from venture capital investors all over the country. WedPics is now used in 150 countries worldwide and many large-scale public companies are showing interest, which further validates what they are doing. Heymann says, "When we think about how many apps exist and how many you hear about on a daily basis, we are part of that very small percent that are actually making it." They are not just making it – they are demonstrating how a social app company can succeed in Raleigh, NC, where they plan to stay and continue to grow.
Heymann said, "The exciting part is really growth. Building your team, giving people jobs, creating something a bunch of other people have tried to create but doing it better. I like the idea of winning which is sort of what we are doing right now, we are crushing our competition and that's what keeps me going."