Blazing NEW Trails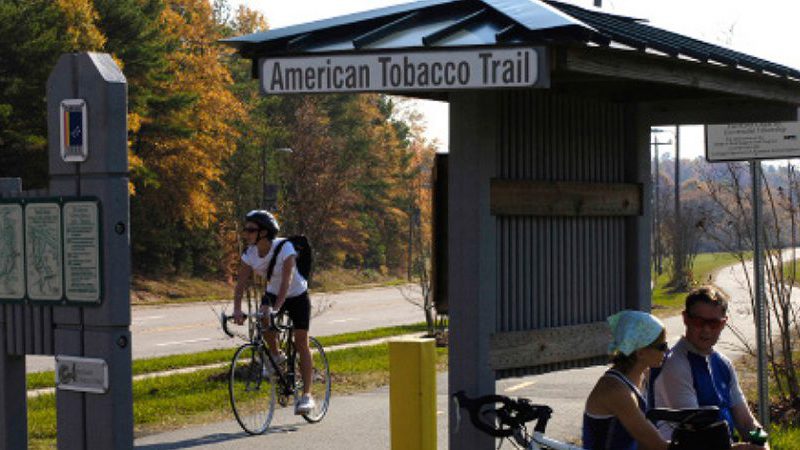 Associate Professor of Landscape Architecture Kofi Boone helps Raleigh-Durham residents reclaim the American Tobacco Trail as a safe and beautiful retreat. 
Kofi Boone loves unwinding at the American Tobacco Trail [ATT]. If you've ever visited, you'll know why he finds the ATT so special. The 20-mile trail winds from Apex to Durham. Pretty shade canopies hug an abandoned railroad bed, historic tobacco huts and homes. "This is a stunning and tranquil place to be," Boone says.
However, recently, simple assaults and robberies on the trail are scaring and even deterring trail users. Worse, many North Carolinians wrongly assume low-income minorities living near the Durham entrance to the popular trail are responsible for the crimes. This has created tension, blaming and anger among Durham communities, Boone says.
North Carolina Rail-Trails, Inc., a land trust helping create trails for public use on abandoned rail corridors, views this as social injustice. With Boone's help, the group, along with representatives from NC Central University and Carrie Banks, executive director of North Carolina Rail-Trails, secured a 12-month grant from the Z. Smith Reynolds Foundation. The grant will help researchers find out why users visit the ATT and plan and host workshops with residents – including Southside and Hayti locals who many accuse of the increasing trail crime.
"Traditionally this group is excluded from these conversations," Boone says. "Our goal is allowing people to speak on their own and include those narratives and perceptions in any decisions on improving trail safety," Boone says.
Boone [and a student research assistant funded by the grant] will help design the process, research the community issues around the trail, crime data, trends, and locations. The group already knows, for instance, most trail users are there for health benefits — jogging, walking or cycling, while others use the trail as a pedestrian corridor for commuting or shopping. They also hope to find ways to better integrate the communities and the trail. The group will tap the NCRT blog, local media and the City of Durham's Trail Safety Taskforce to share the findings.
"We hope to make the trail a place where you can safely meet all your daily needs—shopping, eating and visiting the university, without a car," Boone says. "Innovative project design will help achieve this."