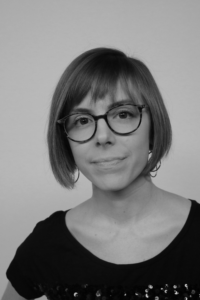 Katie Rant and Ty Van de Zande
21-ology
Graduate Students, Art + Design
Concept Statement: Nature's diverse collection of various phenomena contribute toward shaping our terrain. While time is an abstract measure, we can still comprehend its passing as a collection of independent effects which visually construct our climatic, geologic, and geomorphic regimes. Mother Nature continuously molds the earth's surface, and we simultaneously are impacting these patterns. Humans seemingly desire to curate nature regardless of the sometimes negative impacts. 21-ology, a zero waste collection, is inspired by the culmination of transformative, organic processes governed by nature. It celebrates unique qualities and embraces a lack of predictability. The integration of twinkling "screen printed" elements serves as a blissful outlook on a future of possible sustainable electronics.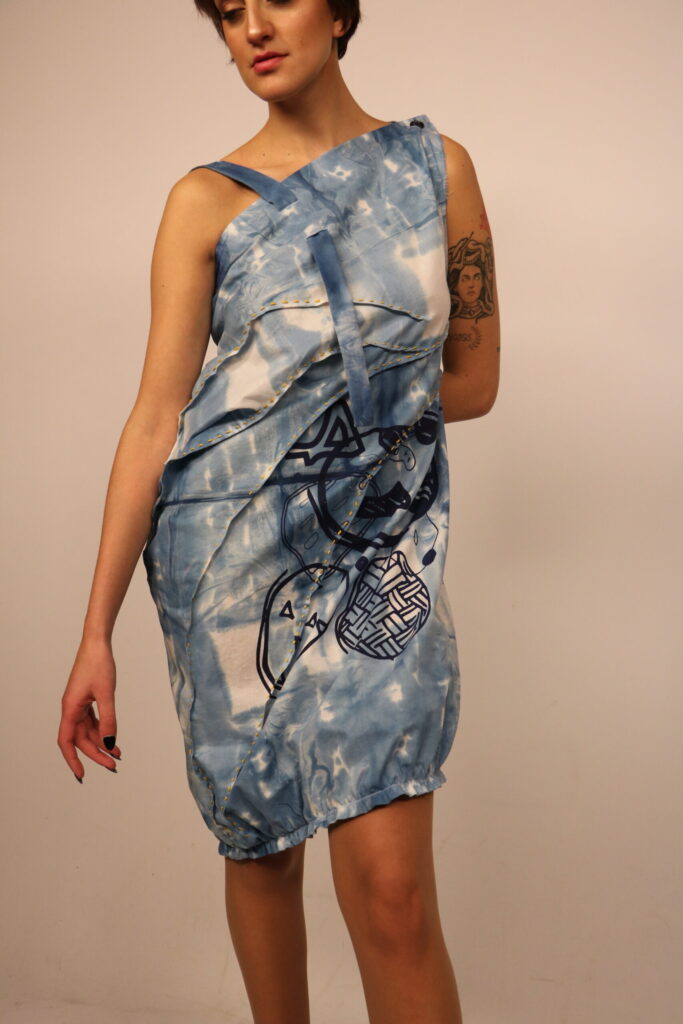 What were the main fabric or fabric manipulation processes you used in your garments?
Fabrics used: Organic Cotton, Organic Linen, Organic Knit. These natural fibers are dyed with Osage Orange, Organic Indigo, Madder Root, Alkanet, and Cochineal. All dyed fabric was later screen printed with water based inks. The illuminated, electric fabric was screen printed onto reclaimed fabric, using recyclable inks. Snaps are used to connect all electric fabric to the garments, so they are recyclable and interchangeable. Additional techniques included: hand smocking, random tucks and slashing. The garments were constructed with zero waste pattern making techniques. This process involves altering the patterns so that all otherwise unused fabric does not go to waste.
What will you take away from your time working with Art2Wear?
Katie : "From my collective Art2Wear experiences, hard work takes patience and time but a deep sense of accomplishment will follow."
Ty: "ya gotta be friends with the people you work with……..befriend the materials."
How has Covid-19 affected your collection, if at all?
This collection always embraced unpredictability. From natural dying, to mixing screen printing inks, to collaborating with another student, surprises became serendipitous. Covid-19 affected our production schedule. We had to finish printing and dying before the school locked us out. We studio-ed long, last minute hours. We were racing against time, but we finished those crucial tasks. Collaborating then transformed into video chats: we couldn't exchange samples. This flattened our intertwined processes. This was a new type of pressure to work under.
As someone who has designed for Art2Wear previously, how has this year been different?
This collection required more discipline and focus overall. Balancing graduate work and Art2Wear isn't an easy endeavor. It was completely different collaborating with another studio and not taking the Spring Art2Wear studio. Communication is key and you have to be flexible with scheduling. It also takes a great deal of trust.
Special thanks to Precious Lovell, Moms, Dads, Sisters, Lynn Yanyo, Juice Dog, and our charming future models.

Katie Rant and Ty Van De Zande

Graduate Students, Art + Design

Selcouth; (adjective) rare, strange, unfamiliar – yet completely marvelous