Julia Koff
Kalopsia
Senior, Art + Design
Concept Statement: Color, pattern, texture. When combined in perfect unison, a selcouth expression comes into being. This collection, Kalopsia, focuses on the abstract unity of different textures and colors, creating a strange yet marvelous look. These pieces are completely created from upcycled bedsheets. The sheets were laser cut and dyed to transform a generic bed spread into something spectacular. While we are constantly immersed in the consumer culture, with fast fashion at the forefront, my collection challenges our spending habits, as almost every material was found or donated, not purchased. The title Kalopsia alludes to the idea that the looks were made from a mundane, everyday home good, but transformed into beautiful garments.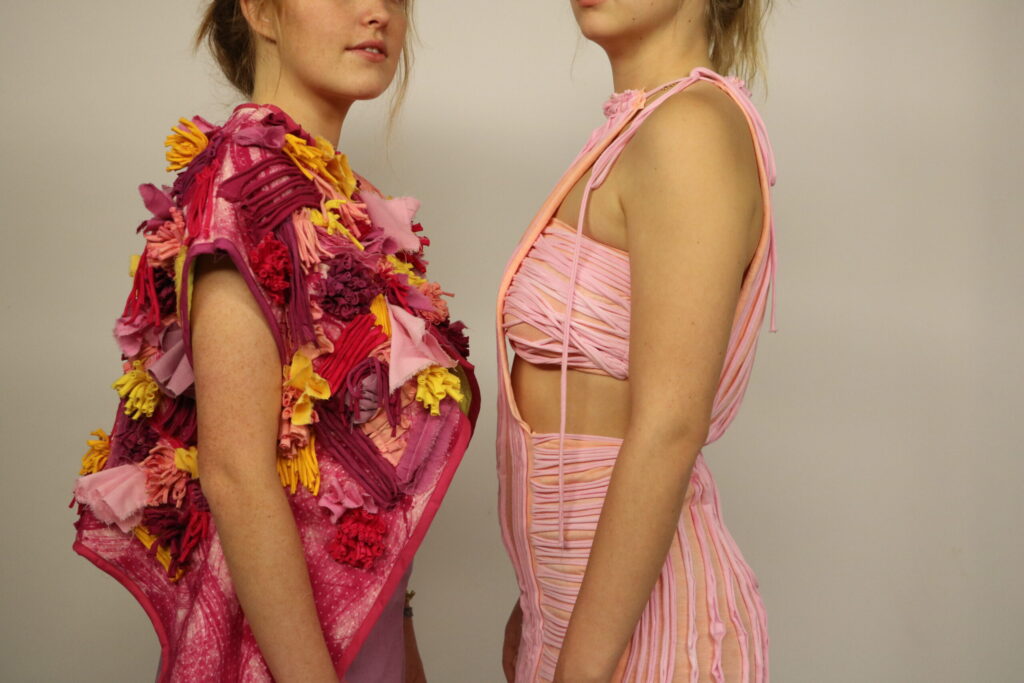 What was the inspiration behind your collection?
Combining fantastical design with upcycling, I wanted to make something new from old parts to show that new materials are not needed to freely create.
What were the main fabric or fabric manipulation processes you used in your garments?
It's composed completely of over-dyed upcycled bedsheets. I played around with many fabric manipulation techniques to create unique textures. I used the laser cutter to quickly cut fabric strips to then combine to add dimension to the garments.
What will you take away from your time working with Art2Wear?
It's amazing how it is almost completely student-run, and I appreciate the work we (as students) were able to accomplish.
How has Covid-19 affected your collection, if at all?
I wasn't able to complete it without the resources NCSU offered.
Shout out to my momma!
Shout out to my momma!

Julia Koff

Senior, Art + Design

Selcouth; (adjective) rare, strange, unfamiliar – yet completely marvelous