Art2Wear 2018: Defined by Design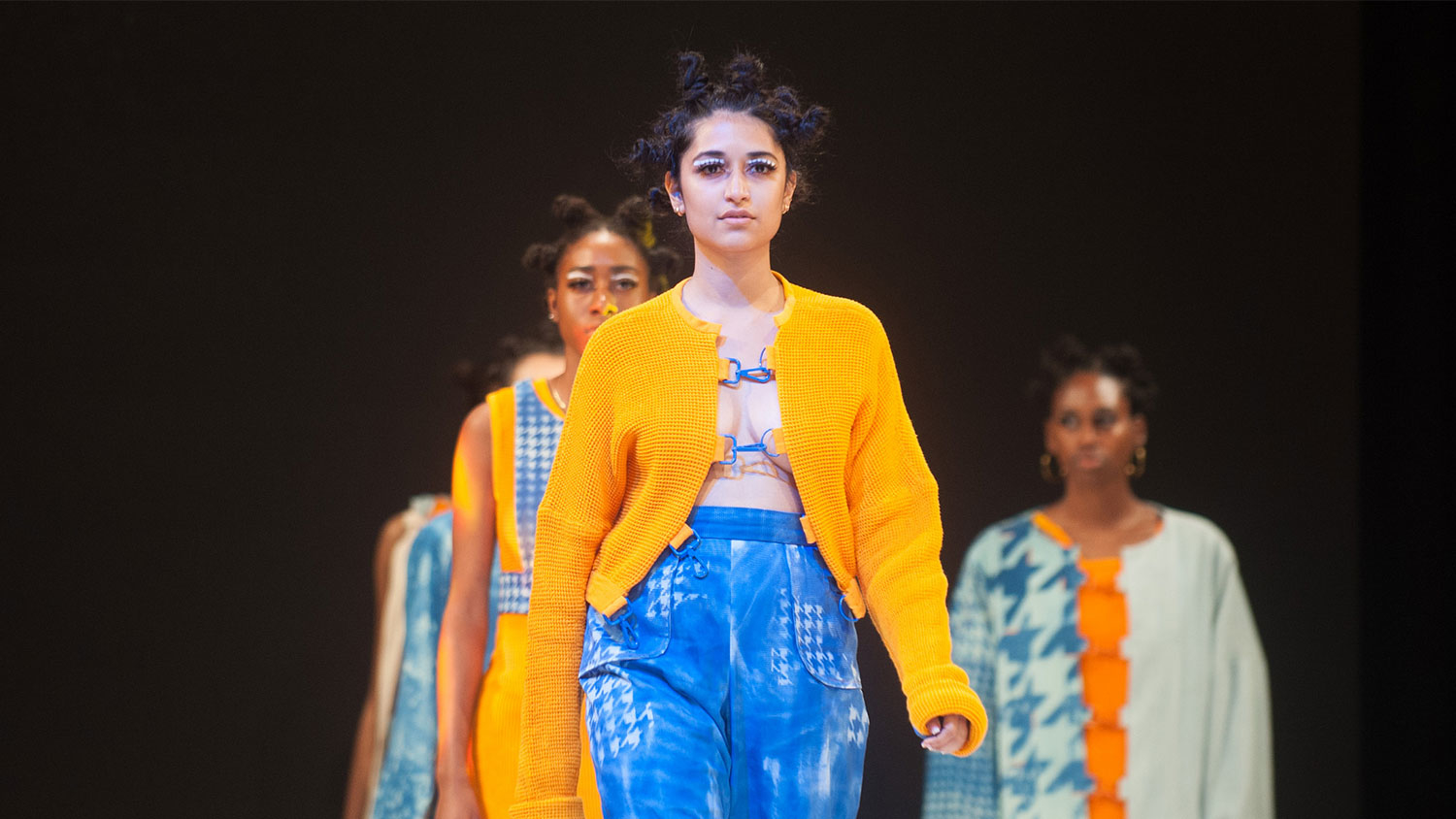 Art2Wear — the annual fashion show created by students from NC State's College of Design — takes its 17th strut down the runway on April 20.
Organized by the college's Art + Design department, Art2Wear has quickly become the largest student-run fashion show in the Southeast. To date, 240 participants have clocked in more than 26,000 hours of studio time and run through 4,000 yards of fabric to transform their visions into show-stopping garments.
This year, 12 designers will link up with student models, hair and makeup artists, videographers and more to present their fashion, costumes and wearable sculptures. Tickets for the show — which takes place April 20 at 7:30 p.m. at the Talley Student Union — are still available.
Designing New Definitions
Since its beginning, Art2Wear has challenged designers and audiences to push beyond the conventional boundaries of fashion.
Designers have woven in wearable technology. They've constructed pieces with laser cutters and 3-D printers. They've drawn inspiration from nature, film, engineering and everything in between. And it's all in pursuit of changing how fashion is seen and understood.
So it's fitting that Art2Wear has created its very own definition of fashion:
"There are no limits to fashion," says Justin LeBlanc, assistant professor in the College of Design and Art2Wear's faculty advisor. "Art2Wear is an opportunity to break the mold and to allow the designers to make their wildest dreams come to life through fashion and art."
Each designer in this year's show brings their own definition of fashion — whether it's a cultural language, a reflection of values or an exploration of their personal identity. And they've created a tapestry of diverse perspectives, hailing from departments across NC State.
Architecture majors Sam Lackey and Cameron Elliott say that their studies of conceptual architecture — focusing on form, shape and materials — helped inspire their collaborative collection.
"Our line is very abstract and strange to a lot of people, like 'Why would you make a dress out of wood?'" says Lackey. "We wanted to challenge ourselves to manipulate these shapes and materials to interact with the body, and really challenge the norm of fashion."
For faculty advisor LeBlanc, a two-time 'Project Runway' contestant who got his start in the industry as an Art2Wear participant, fashion holds a personal meaning.
Born deaf, LeBlanc says verbal expression can be challenging — and fashion design has become his preferred outlet for expressing himself. "[It's] given me the ability to tell my story for the world to see," he says.
Gala at the Gregg
This year, the Gregg Museum will host a new event for Art2Wear supporters: the Art2Wear Gala. And fans of the reality TV show 'Project Runway' can expect to see some familiar faces there.
Justin LeBlanc will be joined by fellow alumni of the fashion design competition, Dom Streater and Mondo Guerra.
LeBlanc, Streater and Guerra will present mini-collections inspired by pieces from the Gregg Museum. Attendees can bid on their designs, and all proceeds of the benefit will go to Art2Wear.
"The proceeds will allow Art2Wear to continue its growth and will foster the development of future designers," says LeBlanc. "The main goal of the Gala is to unite the public with the students of Art2Wear. Art2Wear is a student-run event that cannot succeed without the support of the community."
Tickets for the gala, which takes place on April 19 at 7:30 p.m., are available online.
Follow Art2Wear as it unfolds on NC State's Twitter and Instagram.
This post was originally published in NC State News.