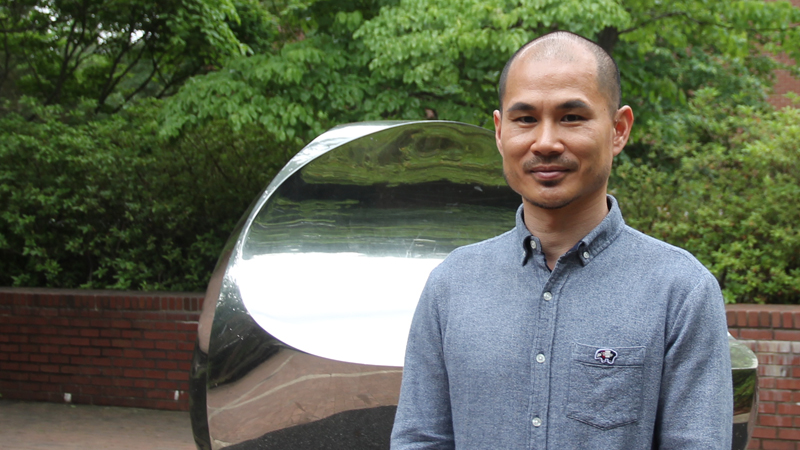 Alumnus, Junji Kawabe [MID  '08] was a Franklin Bost Industustrial Design Fellowship recipient (06-07) and who recently received an iF Design Award Gold. We had the opportunity to do a Q & A with Kawabe to learn more about his passion and experiences as a designer.
Q: You have an undergraduate degree in engineering and a master of industrial design. What led you to pursue both degrees?
A: As a kid, I was always interested in drawing, but I didn't know what design was. I drew out of my imagination. At the same time, I was interested in engineering. My father was an engineer, and so that was the path I followed. I studied aerospace engineering at NC State [BSAE '00]. After graduation, I returned to Japan and worked for two years as an aerospace engineer. I did not know there was a field of design—industrial design—that fit my interests and talents. When I came back to Raleigh, I learned about the industrial design program. It was only the 2nd year they offered the Track 3 program*. I thought it would be interesting, so I applied and got in.
* Track 3 is a graduate program for someone with a non-design degree.
Q: Engineering and industrial design are very complementary. Has this been a benefit to you?
A: Yes, this has been a major strength. One offers the understanding of technology and complex details, and the other provides the aesthetics and usability. As a designer, I can talk with engineers on their terms and solve problems quickly.
Q: What do you remember most about the College of Design?
A: I remember the long nights and lots of hard work, but there was a lot of inspiration from the other students. So many of the students were very creative. Because of the Track 3 program, there were students from other disciplines, and I got to see how they think from different perspectives. The discussions of how to solve certain problems provided me great insights and valuable advice through critiques. It was a very good environment, with lots of stimulation from other students and faculty.
Q: What did you do after graduating from the College?
A: I remained in Raleigh, doing part-time work but focusing on design competitions. I was trying to see if I could promote my design, and then I gained some recognition and I prototyped a few things that took me to London, where my designs were exhibited in a museum. I was also doing some graphic design work on the side. After a year, I returned to Japan to do some exhibitions. Then I heard from Bong (Professor of ID Bong Il Jin) about a position in Beijing, China, with Lenovo and thought, "Why not?" I interviewed and was offered the position. I was there for three years working on a range of accessories for PC and mobile devices. I was a freelance designer in Shiga, Japan, after that until I landed at f/p design, where I am now working.
Q: What are some of the projects that you work on at f/p design, and what is it like working there?
A: f/p design is very multi-disciplinary, and collaboration is important. It is a German design firm, and we develop and create products and services in the fields of industrial design, user interface design, architectural design, and communication design. In addition, we have worked with companies on design strategy and corporate design. The headquarters are located in Munich, Germany, and I work in the Kyoto, Japan, office. This is a great environment, as it is actually in a traditional Kyoto house, which offers a very Zen-like feel. It is small, as there are only three designers, including me. It is in the middle of a residential area. One of our neighbors, who is a teacher of traditional Japanese flower arrangements, comes by and provides arrangements for our entrance.
Munich does most of the international work, and the Kyoto branch takes care of the domestic clients. This includes a variety of clients from different industries. It has been mainly medical, but we have worked on furniture, some hand tools, and of course, medical products.
I do some product design and also work on graphical user interface (GUI) projects, exhibition design projects that may involve interior layouts and designing props to showcase products, and some graphic design.
Q: What are your strengths in Design?
A: I understand both inside and outside from the engineer's perspective and a design perspective. I can talk to [engineers] and understand what they are saying and then apply design on top of it. Also, part of my strength comes from my cultural background, since I have lived around the world. I am half-Chinese by my mother, and my dad is Japanese. Having this cultural awareness is a benefit. The bigger part is the communication within an international environment. For example, when I was in Beijing at the Lenovo design center, and there were designers from different countries, I was able to discuss certain things in a mutual way, without any communication or cultural barrier. It was natural.
Q: You recently won a very prestigious award; can you share more with us?
A: Yes, an iF Gold* award, and I am very honored. It was for a [f/p design] client, and I was part of the team. I carried out the detail design and also worked with engineers to refine some of the details and bring it all together, to be a much better component. It was [the Veraview x800 dental 3-D] X-ray machine. It was very tall, very big, and very technical. There was a lot of technical limitation as well, a lot of administrative regulations because it was a medical device. This adds a whole layer of additional criteria.
The product offers panoramic and cephalometric scan capabilities in a single unit. The high-definition image capture features eliminate unnecessary exposure for patients, have improved patient/provider comfort, and are suitable to accommodate persons with disabilities. The intuitive GUI screen makes it universal and provides ease of operation.
This was a two-year development project, and the client provided extensive user-testing and data collection, including physical data and imagery. This was important to the detail, including the physical dimensions of the machine, and from an economic standpoint.
What was interesting is this was a full model change from a previous version. The redesign was completely different.  There were certain things they wanted to keep from the original design and others they wanted to give up. In this project, the engineers wanted to stay on the safe side, and we had to push them to understand that to improve the new future potential, there needed to be changed. The project design is not only to make the machine better but to make the company brand and corporate image better.
I did the GUI for this product, and it needed to be simple to operate and simple to read. The client had already planned on exporting this product to different countries, so the GUI has to be language-barrier free—very visual, with icons and limited text. It needed to be fairly well-recognizable and intuitive. There are different layers of GUI depending on what is taken with the machine, simple and clear so that the technicians can immediately understand how to operate it.
*Each year, iF International Forum Design GmbH organizes one of the world's most celebrated and valued design competitions: the iF Design Award. It is recognized as a symbol of design excellence around the world and welcomes over 5,000 submissions from 70 countries every year. An iF Gold Award is the most prestigious of all the awards.
Q: What is the best product you have worked on?
Certainly, it is the dental X-ray. It challenged me in many ways. For one thing, it is a very big product, it has many components and many modules. In addition, it was a complex project. Also, this was my first project since joining the company, and I was grateful that my boss gave it to me. It was great to win such a prestigious award for my firm and the client.